Irish's epic win and more musings
February, 11, 2013
02/11/13
9:08
AM ET
Monday musings on yet another entertaining weekend. This one may be hard to duplicate:
[+] Enlarge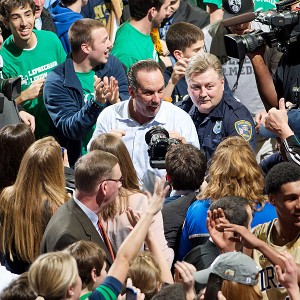 Matt Cashore/USA TODAY SportsNotre Dame coach Mike Brey had a lot to smile about after the Irish's five-overtime win over Louisville.
Here's how I would rank the storylines from Notre Dame's 104-101 five-overtime win over Louisville on Saturday:
1. Jerian Grant hits 3 3-pointers in the final 50 seconds to force the first overtime for Notre Dame. 2. Garrick Sherman scored 17 points in the overtime periods after not playing in regulation for the Irish. 3. Russ Smith continued to botch the end of regulation/overtime possessions for Louisville. 4. Chane Behanan scored 30 points. 5. Jack Cooley fouled out in regulation and played only 32 minutes. 6. Eric Atkins played 60 minutes for Notre Dame. 7. The banged up Pat Connaughton played 56 minutes and earned a double-double with 16 points and 14 rebounds. 8. Peyton Siva scored only 2 points, while Wayne Blackshear was held scoreless. 9. Luke Hancock scored 22 and made 4 key 3s for the Cardinals. 10. Mike Brey's joy throughout the game, and Rick Pitino's frustration from the 39th minute on.
• Let us pause a moment -- for the pass. Or in this case, the passes. Brandon Paul's bounce pass to Tyler Griffey in Illinois' win over Indiana and the zip-line proficiency of Mike Bruesewitz's pass to Ben Brust for Wisconsin in the overtime-forcing 3-pointer were clinically good. Paul and Bruesewitz should package their inbound entry passes. So often the highlight is on the shot, not the pass. But the shot does not happen without the pass. I talked with Griffey and Brust, and both were so appreciative of the passes that made their plays iconic for this season -- and beyond.
• If Wisconsin gets a share of the Big Ten title, is there any question Bo Ryan wouldn't be the league's coach of the year?
• That was a championship-level performance by Indiana over Ohio State on Sunday.
• But as of late, Miami has been as dominant, if not more, when the game matters most.
• There is no question Indiana's Victor Oladipo will be in my top three for ESPN.com's straw poll this week.
• If you're talking about one of the most important point guards in the country, the list better include Miami's Shane Larkin. He has helped transform this team into a title contender.
• Syracuse may have had modest success sans James Southerland, but the Orange are a more productive and versatile team when Southerland makes shots. When he can hit 3s, like he did Sunday against St. John's, they are so much more viable as a title contender -- in the Big East and the nation.
• If you're looking for a player who may be as valuable to his team as anyone, don't forget Virginia's Joe Harris. The Cavs are a perplexing bunch after losing to Georgia Tech, smashing Clemson and then beating Maryland -- all in the span of seven days. But without Harris, this team isn't close to its potential.
• The more you watch Ohio State, you realize the Buckeyes are more limited offensively. The ceiling just doesn't seem as high as it did a few weeks ago.
[+] Enlarge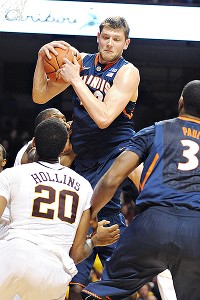 Marilyn Indahl/USA TODAY Sports Tyler Griffey and Illinois proved their win over Indiana was not a fluke after beating Minnesota on Sunday.
• Illinois' win over Minnesota on Sunday should go down as one of the biggest of the season for any team. The Illini proved the Indiana win wasn't a fluke. This is now who they are -- a team worthy of the NCAA tournament despite losing seven Big Ten games. Griffey scored 16 off the bench and the Illini made 11 3s against a Rodney Williams-less Minnesota team.
• The Pac-12 is now officially wide open. Arizona fell to a Cal team that has found its groove again. The Golden Bears earned a Sunday night win over the Wildcats behind Allen Crabbe's 31 points. The Bears split their road trip to Arizona State and Arizona and are now two games out of first.
• Stanford split the trip as well but lost to Arizona and beat ASU to move to 6-5 in league play. The Cardinal frontcourt awoke during the trip. Dwight Powell and Josh Huestis were major factors as Powell averaged 23 points and 10 rebounds on the weekend, while Huestis had his fourth straight double-double performance on Saturday.
Arizona is still the pick to win the Pac-12, but there's no reason why UCLA, Oregon, Stanford, Cal and yes now Colorado (Arizona State may have slid off this list) can't either. The Buffs swept the Oregon schools over the weekend to put them back in the mix.
• Lorenzo Brown played Sunday for NC State, coming off the bench to score 15 points and dish out 4 assists with only 1 turnover. Yet, the Wolfpack still needed a Scott Wood 3-pointer to beat a Clemson team that got smacked by Virginia last Thursday. NC State has a softer slate than the rest of the ACC and desperately needs to get its confidence and edge back.
• The Ivy League was turned a bit upside down when Harvard and Princeton lost to Columbia and Yale, respectively. But both schools remain atop the standings, which means the Princeton at Harvard matchup on Saturday will be the first of two barometers for the automatic bid race.
• Kentucky has that look of a team from a major conference that will excel much more in the NCAA tournament than it did during the regular season.
• I had no idea Tennessee had beaten South Carolina 12 straight times. Who knew?
• UNLV got a must-win game against New Mexico on Saturday. There is no way this wasn't a game the Runnin' Rebels had to win after losing at Boise State and Fresno State. They looked like they were more NIT than NCAA-worthy in those setbacks.
• BYU lost to San Francisco. Cougars coach Dave Rose is an inspiration for his cancer battle and is one of the most genuine men/coaches I've met in 22 years. But he can't work miracles with this team. BYU simply hasn't proven itself to be NCAA-worthy.
• Matthew Dellavedova has had plenty of career highlights at Saint Mary's. He may need another one when the Gaels host Gonzaga on Thursday.
• Is there a more unfortunate player than JT Thompson? He suffered his third ACL tear at two schools -- Virginia Tech and now Charlotte.
• If Kansas doesn't win the Big 12, does it make the Jayhawks more dangerous? Something tells me this KU team will figure out how to play together, make shots, defend the perimeter and finish games in March.
• If you had to take one team from the Valley to advance in the NCAAs, do you trust Creighton, Wichita State or Indiana State? It's not good for the Bluejays that this is a fair debate and each one has a case.
• Memphis has quietly put together a terrific season and no one has noticed. The Tigers' win at Southern Miss sends a statement that they are the clear class of Conference USA. The remaining Big East teams should be thankful Memphis is coming.
• The most disappointing team may be Florida State.