Opportunity ahead for Kentucky, Irish
February, 15, 2013
02/15/13
3:38
PM ET
Kentucky and Notre Dame are the two most intriguing teams heading into the weekend for two completely different reasons.
The Wildcats will be playing their first game without Nerlens Noel after he suffered a torn ACL Tuesday night in Gainesville. Noel is out for the season and has been a dominant presence for the Wildcats on the defensive end.
[+] Enlarge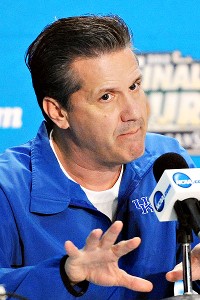 Richard Mackson/US PresswireJohn Calipari is eager to see how his Wildcats play without Nerlens Noel.
The Wildcats' season, selection and seeding is at stake when they start the final seven games of the SEC regular season beginning Saturday at Tennessee.
Meanwhile, Notre Dame is still feeling the lingering effects of last Saturday's five-overtime win over Louisville. The Irish had to go to overtime to knock off DePaul midweek at home, and they have a dangerous game Saturday at Providence.
The Irish, who beat Kentucky in South Bend in the SEC-Big East Challenge earlier this season, are still trying to figure out how to play without Scott Martin.
The two teams aren't locks for a deep run, but they have become interesting to watch down the stretch.
Kentucky coach John Calipari said Friday that the Wildcats have had only one practice without Noel. He wasn't pleased with the play of at least two players during the Gators game. "We had some no-shows,'' Calipari said without naming names.
But Calipari was quick to say the absence of Noel can't be put all on Willie Cauley-Stein -- he'll need to have help. "I don't want it to be all about him,'' Calipari said. "We need other guys. This is a great opportunity for our guys. We'll stay positive.''
The Wildcats finish with four home games and three on the road. The Cats get Florida and Missouri at home. But nothing can be taken for granted, especially with road games at Arkansas and Georgia following Saturday's in Knoxville.
The onus will be on Alex Poythress and Kyle Wiltjer to do more in the post. Calipari said the way the Cats defend will change without the anchor inside who can deflect, block and alter shots.
"Everyone is counting us out,'' Calipari said. "Maybe we'll surprise. We are what we are, and we'll see what we can do."
The Irish don't have to worry about selection, with wins over Kentucky, Cincinnati and Louisville. But the final stretch of games against Providence, Pitt, Marquette and Louisville on the road are dicey, as are home games against Cincinnati and St. John's.
[+] Enlarge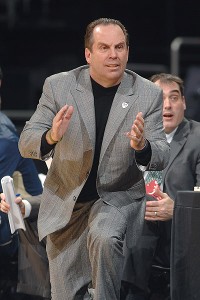 Mitchell Layton/Getty ImagesMike Brey has learned to enjoy the twists and turns of a season.
Regardless, Notre Dame coach Mike Brey is embracing this season and what's left. He's having a great time coaching this team, and he's not going to change his demeanor.
"I just want to have fun with this thing,'' Brey said. "I remember in the huddle against Louisville and thinking back to the four-overtime game against Georgetown 11 years ago and thought about how much fun I had during that game. I was having fun with this game. We were so fortunate to even be in that game.''
Brey said he's figuring out how to play with this team not having Martin on the court. He wouldn't rule out a return this season, but it's not a lock.
Garrick Sherman has earned double-digit minutes off the bench after his extra-period play against Louisville. Guards Eric Atkins and Jerian Grant have never been an issue, and neither has Jack Cooley. But Brey is now working out more of a two-man platoon system with the four forwards -- Cooley, Sherman, Tom Knight and Zach Auguste -- and that has worked well.
Brey said he has to be loose with this group.
"I don't want us uptight,'' Brey said. "That's my biggest thing. We're still improving. Because we're playing more players, everyone is engaged. The lineups aren't set, and the whole team has been so positive. It has made for a good February so far. I'm not uptight, and our team reacts well to that."
Calipari has his most challenging weekend -- and weeks -- ahead since he arrived at Kentucky. Brey is facing one of the more enjoyable times in his career. Both have plenty of security to experiment and maximize this time.
"I've got a 10-year contract,'' Brey said. "Maybe younger coaches can't afford to be looser. But I can.''