Quite a day for Missouri's Frank Haith
February, 20, 2013
02/20/13
1:37
AM ET
Missouri men's basketball coach Frank Haith won't be charged with unethical conduct for his time as head coach at Miami, but apparently has been accused of failure to adhere to an atmosphere of compliance, a charge he will gladly fight over the next 90 days during the appeal process.
The news that Haith had been cleared of unethical behavior was met with euphoria when he was told by his attorney at 4 p.m. CT Tuesday, just hours before the Tigers hosted SEC frontrunner Florida in Columbia.
Reached by phone late Tuesday after the Tigers' 63-60 victory over the No. 5 Gators, Haith said his attorney received the notice of allegations from the NCAA and forwarded it along. He said he shared it with Missouri officials verbally and will forward it over to them Wednesday before he launches his appeal.
[+] Enlarge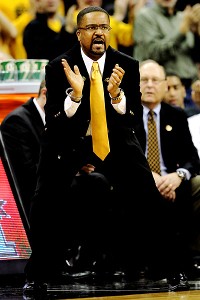 Jamie Squire/Getty ImagesWithin a matter of hours, Frank Haith received a notice of allegations and saw his team pull out a top-5 win.
"We know the allegations and there is no unethical conduct despite what was reported earlier," Haith said. "I've had 20 months dealing with this stuff. I've had constant conversations with our staff here. Everyone has been very supportive."
Mizzou is not at risk for any penalties and was only a part of the case because of Haith's previous connection as Miami's head coach. Missouri had been referred to as Institution B in the case, and as athletic director Mike Alden told ESPN.com recently the Tigers would suffer collateral damage only if there were serious charges against Haith.
Alden told ESPN.com a few weeks ago that he supported Haith, which he reiterated to local reporters after Tuesday's game.
"Let's go ahead and deal with it and move forward," he said. "I'm looking forward to working with Frank for a long time."
Haith was never a major player in the investigation that centered primarily on Miami's football program, but there were accusations that could have stuck to him had the ethics charge been levied. That charge could have led the NCAA committee on infractions to impose some sort of show cause penalty. But the atmosphere of non-compliance charge is an offense that can be overturned since it would be hard to prove Haith knew exactly what was going on with a particular violation. The charge is usually made in a subjective manner and one that may be hard to stick since the case has already been tainted by NCAA enforcement staffers being fired over unethical conduct during the investigation.
Miami received its notice of allegations the day after NCAA president Mark Emmert announced the findings of an independent review into the conduct by the enforcement staff that led to the dismissal of the lead director who oversaw the case. Emmert called the incident embarrassing.
Haith got the news that he was cleared of the most serious charge as he tried to prep for the game.
"I was so focused on coaching my team," Haith said. "But when you get the news, something that you've been personally dealing with, it just allows you to get some closure. This has been going on for a long time and the stress and pressure and tension on me and my staff and family the last three months has been incredible."
The Tigers desperately needed this game after being blown out at Florida by 31 points on Jan. 19 -- the first game Mizzou played without its top player, Laurence Bowers, who was then out with an MCL sprain -- and losing two road games by two points at Arkansas and at Texas A&M.
Bowers is back and scored 17 points and grabbed 10 rebounds against Florida, while Phil Pressey added 10 assists.
"I get this news going into the biggest game of the year," Haith said of the win that put the Tigers at 8-5 in the SEC, 19-7 overall heading into Saturday's game at Kentucky. "We had prepared well and we knew we had a chance. I just had to coach my team and put this behind me."
Haith said he was thrilled that his former recruits -- the core of the current No. 2 Hurricanes -- can also put this behind them and not have a shadow of distraction floating over them without knowing if it could affect the season. Miami has 90 days to file an appeal, so this notice will not have any affect on the Canes this season, if at all, going forward.
Once an appeal is filed, the committee on infractions will schedule a hearing on the case, likely in the late spring, and then the penalty phase could take as long as six months before the punishment is handed out.
"I'm so glad for the kids at Miami to put this behind them," Haith said. "They've worked their tails off, and Jim [Larranaga] has done a tremendous job with that team. I'm so proud of them."
Miami beat Virginia on Tuesday night to go to 13-0 in the ACC, three games ahead of second-place Duke.
As for Haith, he will still need to spend time on this case, but without the stress or fear of facing a more serious charge. He is confident he can overturn any violation, even one as abstract as an atmosphere of non-compliance, once given the chance to defend himself.
For his Tigers, there is still plenty of work to do to improve seeding (some road wins would help), but any doubt in terms of an at-large bid was erased with the win over Florida on Tuesday night.
And any question as to whether or not Haith was safe in Columbia was also probably answered with the notice of allegations being released and no ethics charge being levied.