Rebels' cause? A tournament-worthy finish
February, 21, 2013
02/21/13
12:22
AM ET
COLUMBIA, S.C. -- Frank Martin made an impassioned plea to the assembled media and beyond to not punish Ole Miss for losing Wednesday night.
He made it clear that he is good friends with Ole Miss coach Andy Kennedy; the two worked together under Bob Huggins at Cincinnati and share the same agent and lawyer. But in this case, that was irrelevant.
"I don't want to hear anything about the SEC is weak and Ole Miss doesn't belong in the NCAA tournament because they lost on the road,'' Martin said after the Gamecocks snapped a six-game losing streak and beat Ole Miss 63-62.
Under normal circumstances, Martin's argument does have merit. Losing a conference road game shouldn't be an automatic disqualifier for a team making the tournament as an at-large team.
But then there is a look that a potential tourney team has. Things are going to have to change for Ole Miss to have that again.
The Rebels lack patience on offense, looking for the quick shot too early in their possessions. Marshall Henderson has been carrying the load for most of the season and when he shoots 4 of 17, and 3 of 11 on 3s, the way he did against the Gamecocks, the Rebels likely have no chance.
[+] Enlarge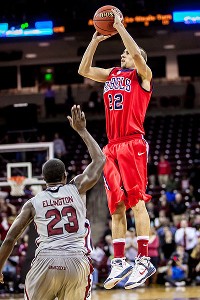 Jeff Blake/USA TODAY SportsA little patience on offense from Marshall Henderson and his teammates could help the Rebels get back on track.
Did Henderson come down on a break at one point and launch a deep 3 to get the Rebels going? Yes. But there were other empty possessions when he shot too quickly and gave no time for a rebound inside where Reginald Buckner or Murphy Holloway could come up with the ball.
The Rebels had 24 seconds left to win the game after a 3-pointer by South Carolina's Eric Smith. Henderson was going to take the shot and launched a 3-pointer with 16 seconds left. The Rebels failed to get the rebound and after a missed free throw by Smith, Henderson had one more attempt, a corner shot that Lakeem Jackson blocked.
Henderson was despondent. And like many of the Rebels, he left the building quickly after the postgame.
There wasn't much more to say. "Basically we weren't paying attention to detail,'' said Ole Miss senior Nick Williams. "We were trying to get into stuff. We didn't have the awareness to calm down and run our stuff, and there was pressure that we felt we had to make a play.''
Henderson is clearly the go-to player on the Rebels. That's why it was even more perplexing to see point guard Derrick Millinghaus launch errant shots so quickly into the possession. Millinghaus scored 11 points but took 13 shots, just four fewer than Henderson and as many as Holloway. This from a player who attempted only two shots two games ago at Missouri before scoring 13 points in 14 minutes in a loss at Texas A&M.
Kennedy chalked it up to the fact that Millinghaus is a freshman.
And he is. But that's why he needed to defer more to the experienced players on the team in a game that the Rebels could ill afford to lose. "You can't be oblivious to it if you have a television,'' Kennedy said of the bubble talk. "The reality is, the only thing we can control is the next one.''
Martin is correct in not putting too much on a road loss. But it's the cumulative effect. Ole Miss has lost four in a row on the road.
"We feel like we'll get it together,'' said Williams.
The Rebels have been hit by injuries quite a bit and that has derailed the team's flow. You can't hide from that fact.
Losing Aaron Jones to a torn ACL in the loss to Kentucky was a major hit because he was averaging 4.1 rebounds. Not having Demarco Cox, who played in seven games before being shelved with a foot injury, didn't help the frontcourt either.
The Rebels' résumé is light right now, with their best wins coming against Missouri at home and a sweep of surging Tennessee. They have no quality victories outside the SEC, losing to potential tournament teams Middle Tennessee and Indiana State. Neither one of those squads is a lock, however.
That's why losing to the last-place team in the SEC hurts, regardless of whether the game was on the road.
When the season gets into late February, appearance matters. Tennessee is playing like a tournament team and has won four straight. Alabama and Arkansas have at least picked up some significant wins of late. Missouri just beat Florida.
The selection committee doesn't look at SEC teams as a group. They are judged independently, and Ole Miss has to make a case on its own merit. "We feel it,'' said Williams of the pressure to make the NCAAs after an NIT appearance last season. "We can't lie about it. We think about it. We feel like we can still get in there, but we've got to knock the door down.''
Separating themselves would be the first step, even if it's just for perception purposes. To do that, the Rebels must sweep the home games against Auburn, Texas A&M and Alabama and take winnable games at Mississippi State and LSU. Yes, I said it, winning out would do something to differentiate themselves from the pack.
Kennedy was denied the chance to become the winningest coach at Ole Miss on Wednesday night. He is stuck at 144 for at least one more game. Yet the Rebels haven't been to the NCAA tournament during his previous six seasons, reaching the NIT in all but one of those, including two trips to the semifinals in New York.
That speaks volumes about the state of the Ole Miss program: You can become the program's winningest coach and never reach the NCAAs.
But Kennedy is no fool. He understands that he and the program are judged by NCAA appearances.
Henderson probably will be too. His early-season flourish that produced a 19.7 scoring average and plenty of attention for his on-court antics after big shots or wins (see: at Auburn) would be seen as a sideshow if the Rebels are once again in the NIT.
The onus is now on the Rebels to do what they do best: settle down on offense, share the ball and make better decisions down the stretch. Do all those things and the end game can still be reached.
"It's all jumbled [in the SEC],'' said Williams. "We have a great team. We have to show it. We've just got to win some games and separate ourselves.''