Thoughts from around college basketball
February, 25, 2013
02/25/13
4:06
PM ET
Selection Sunday is three weeks away. That is all.
Now it's time for Monday musings:
• Player of the year honors became a bit clearer in a number of conferences over the weekend:
[+] Enlarge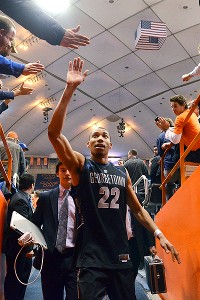 AP Photo/Kevin RivoliOtto Porter has put himself in the thick of player of the year race in the Big East.
Big East: Otto Porter Jr., Georgetown
Pac-12: Allen Crabbe, Cal
MWC: Kendall Williams, New Mexico
OK, so that's just three. In the ACC, the choices seemed to be Miami's Shane Larkin or Duke's Mason Plumlee or Seth Curry. In the Big 10, you could go with Indiana's Victor Oladipo or Cody Zeller or Michigan's Trey Burke. In the Big 12, Oklahoma State's Marcus Smart is an option if you can't decide between Kansas' Ben McLemore or Jeff Withey.
I'll pass on finalists in the SEC or A-10 at this juncture. Too close to call.
• The grind of the Big East is unforgiving. Syracuse lost to Georgetown at home Saturday, plays at Marquette Monday and then hosts surging Louisville this Saturday. There is a break with DePaul at home on March 6 before going to Georgetown to end the season. Win two or three of those games, and the Orange can put themselves in a position for an elite seed. But lose, and suddenly they take a hit. Still, I'm not sure anyone wants to draw a wounded Syracuse in the NCAAs, let alone the Big East tournament.
• Georgetown's Porter may have been a one-man show against the Orange Saturday, but he has hardly been carrying the Hoyas alone. Don't forget freshman D'Vauntes Smith-Rivera scored 33 points in 34 minutes in a 24-point win over DePaul last Wednesday.
• So much of the focus on Duke has been about Ryan Kelly's health, but freshman Rasheed Sulaimon has been on quite a tear. He scored 27 against Boston College Sunday. Prior to that, he had 17 at Virginia Tech, 16 in a loss at Maryland and 13 in a win over North Carolina, shooting a combined 26-for-49 and 8-of-17 on 3s.
• It's too bad that only Murray State or Belmont will make the NCAAs, assuming they play one another in the OVC tournament final. I'd like both of them to win a game in the right circumstances in the NCAAs.
• Miami's defense was porous against Wake Forest, and the offense lacked its previous flow. But why did Rion Brown take 10 shots again? He made one and missed all five 3s.
• If I had to pick two teams to latch onto from BracketBusters weekend that could make the Sweet 16, I'll go with Wichita State and Akron. The Shockers have found their groove after finally getting healthy and may just win the Missouri Valley outright. Akron has won 18 in a row, has an intimidating defender in Zeke Marshall and is getting zero publicity. That makes this team even more of a surprise come March.
• Good thing we have two more weeks to decide on the coach of the year in the Big East. It may be the toughest choice in years with Kevin Ollie (Connecticut), John Thompson III (Georgetown), Jay Wright (Villanova) and Buzz Williams (Marquette) all deserving.
• Cincinnati's offensive breakdown the last month has been painful to watch for Mick Cronin. This team hasn't stopped playing -- it just can't score.
• Memphis coach Josh Pastner said his team is playing beautiful basketball. It's hard to argue with the results. The Tigers have the most quiet win streak in the country -- they haven't lost since Dec. 15.
• The straight-up jumping ability of D.J. Stephens at Memphis is a sight to behold -- on television. I can't imagine what it would be like to be posterized.
• Mike Rosario finally accepted his role as a complementary scorer at Florida, and the Gators have a chance to win the national title because of it.
• The Pac-12's chances of getting six teams in the NCAA tournament took a major hit with Arizona State losing at home to Washington. The Sun Devils have work to do.
• Texas' Myck Kabongo scored 24 points, and Texas still lost 81-69 at home to Kansas State. So, I think it's safe to say that Kabongo wasn't the only reason for the Longhorns' demise this season.
[+] Enlarge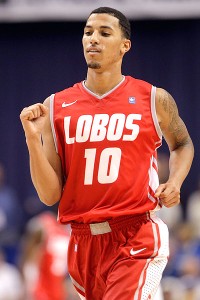 AP Photo/Michael ConroyNew Mexico's Kendall Williams has the talent to go off at any time.
• New Mexico's Kendall Williams had a memorable night with 46 points at Colorado State, but Alex Kirk has been just as important for the Lobos. He had 19 points and 10 rebounds in that game.
• Usually when a team has three scorers put up 20 or more points, it wins. Colorado State did that and lost to New Mexico. That's how impressive Williams was for UNM.
• Don't judge Gonzaga on its past. Look at the Zags now since that's all the selection committee will do. The Zags have earned a No. 1 seed to this point.
• Lost among so many other storylines is Kevin Parrom contributing in a major way for Arizona. In the fall of 2011, Parrom was shot and then dealt with the loss of his mother. And yet he has persevered to lead a potential Final Four team almost 18 months later. He had 19 points in the win against Washington State over the weekend.
• Two of the more important bounceback games were Oklahoma State winning at West Virginia after losing at home to Kansas in overtime, and VCU winning at Xavier after getting humbled at Saint Louis.
• The SEC has been rightfully hammered, but the Tennessee-Texas A&M four-overtime game was highly entertaining toward the end and showed how much resolve the Vols have at this point in the season.
• Free throw shooting will play a key role in the NCAAs, and if Russ Smith can finish like he did at the line over the weekend (10-for-10), then Louisville will be in good hands.
• Is this Roy Williams' best adjustment in the last 10 years? Going small and forcing 17 turnovers on NC State may have turned North Carolina's season around.
• When you watch Creighton, you see too many empty possessions.
• The lasting Missouri image from the game against Kentucky was seeing Phil Pressey imploring his teammates to rally late in the game. He was showing leadership in the huddle when Frank Haith and the staff had stepped away.
• I liked Julius Mays when he was at Wright State, and if Kentucky is going to do something in the SEC and possibly the NCAA tournament, then the most experienced player on the Wildcats will have a say. He scored 24 in the overtime win over Missouri.
• Don't sweat, Kentucky and North Carolina. I can't see either missing the NCAAs. Remember, you have to fill the field.