Analyzing the Saint Mary's sanctions
March, 2, 2013
03/02/13
1:31
AM ET
On Friday, Saint Mary's was hit with probation, a failure to monitor charge and an overall label that it acted in disregard for NCAA rules in terms of workouts and recruiting for international players.
But the penalties, when really examined, lack teeth, and the NCAA committee on infractions needs to think going forward about how the penalties are handed down.
[+] Enlarge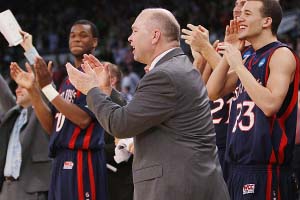 Elsa/Getty ImagesRandy Bennett has some work to do in order to repair Saint Mary's reputation after sanctions.
The unethical recruiting could have carried a show-cause penalty for head coach Randy Bennett since the report stated that he knew of the actions -- impermissible workouts, benefits and travel arrangements -- of a former assistant coach. That's why he received the charge of a failure to monitor and promote an atmosphere of compliance.
Here are some of the problems with the penalties handed down Friday by the committee on infractions after the Saint Mary's hearing on Dec. 14 in Indianapolis:
• Bennett was given a five-game penalty for the start of the 2013-14 season. This has the potential to sting the Gaels, especially if the Gaels draw BYU or Gonzaga early in the WCC.
Former UConn coach Jim Calhoun, former Tennessee coach Bruce Pearl, Central Florida's Donnie Jones, Baylor's Scott Drew and Marquette's Buzz Williams all had to miss conference games for violations either attached to them or an assistant coach in the past three years. Missing conference games hits the coach and program harder.
• Bennett cannot recruit off campus for the 2013-14 season. That could hurt, but Bennett has done international recruiting more than any other coach and doesn't necessarily have to go abroad to secure players now that he has a pipeline to Australia. The Australian Institute of Sport knows Bennett and his program and would have no issue sending players to Saint Mary's without seeing him in the summer.
• Reducing scholarships from 13 to 11 for 2014-15 and 2015-16. This one could carry harsh ramifications for the Gaels since a program like Saint Mary's does need to stockpile talent.
• No foreign tour until 2017-18. The COI said on a conference call Friday that this was done to hit one four-year class coming into Saint Mary's. Fair enough, but it won't dramatically hurt the program.
• No multiteam event until 2015-16. The COI said later on in the call that if there is an existing contract, then Saint Mary's can still play in the event, but will add a year to the penalty. Well, Saint Mary's is in the Diamond Head Classic in 2013 and intends to play. Saint Mary's has been conservative in scheduling, so this may not be as much of a hit since the Gaels tend to shy away from big-time games. Saint Mary's was in Anaheim last November.
• No skill instruction in the preseason for 2013-14 and 2014-15. This penalty is a result of the impermissible workouts. The COI said on the call that the players can still work out, but not with the coaches. This one doesn't make sense. If the coaches can't work out their own players in the summer (a new rule last year), preseason or spring, then it hurts only the players and their relationship with the coaches. The players are still going to work out, but someone else will take their spot, and that person could be related to an agent or put the Gaels back facing a similar issue again. The Gaels lose Matthew Dellavedova after the season, and the need to develop a new point guard is key.
In polling four other programs that know the Saint Mary's program well, the general consensus was the penalties weren't strong enough, and if any one of them could really hurt, the reduction in scholarships may be it. An official from one program said the ability for Saint Mary's to recover will depend on how it deals with funding to stay at a high level in the sport. But the perception of committing violations will be a stigma for Saint Mary's and Bennett.
He was a name for USC and has always been a hot commodity. Bennett has coached plenty of pro players and has made Saint Mary's a regional contender and a team in contention for an NCAA bid nearly every season. But this will sting and follow him going forward. He has had universal support at the school because men's basketball is the money sport and the one that has given the school a name. By sticking with him going forward, Bennett will have to repair his and the school's image by winning without any more drama.