Drew family gets some very good news
March, 13, 2013
03/13/13
7:41
PM ET
Homer Drew was resting his aching left knee Wednesday, fresh off arthroscopic surgery for a torn meniscus suffered while playing with his grandchildren.
He had a piece of the Valparaiso net with him at home, a symbol of the first Crusader NCAA berth since 2004 and a gesture by his son Bryce that meant even more than anyone could value.
Within the past week, the Drew family received the most wonderful news that they have longed for since their world was rocked in October 2011.
"Janet is cancer-free," said Drew in his comforting Midwestern tone. "We've got to get to the next six months to get to the year mark.''
Janet and Homer Drew received cancer diagnoses within a week of each other. Homer's was prostate cancer. Janet's bladder cancer was much more serious, which led to a number of complications and multiple surgeries. But she has rallied the past year. I spent days with the Drew family in late 2011 and shared their story with ESPN.com. I'm not sure I've been around a more positive family going through such an ordeal.
[+] Enlarge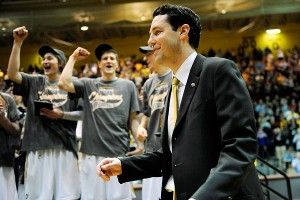 AP Photo/Joe RaymondValparaiso coach Bryce Drew celebrates with his team after winning the Horizon League title on Tuesday.
A year ago, the games meant something, too. But it was heartbreaking for the Drews to see Bryce Drew in his first head-coaching season lose a home game to Detroit and the chance to be in the NCAA tournament. The Drew family, though, made the trip with their eldest son, Scott, as Baylor reached the Elite Eight in Atlanta, marking the first trip Janet was able to make outside of the drive from Valparaiso, Ind., to the hospital in Chicago.
A year later, the Drews were able to witness Bryce follow in his father's footsteps and get the Crusaders back to the NCAA tournament, a site of Bryce's most historic shot when he beat Ole Miss at the buzzer.
Bryce could have left after last season. He interviewed with Mississippi State. Instead, he counseled with his parents and brother and realized he didn't want to chase a larger paycheck at the expense of closure with a group of six seniors who were recruited by his father.
When Ryan Broekhoff beat Green Bay on Saturday in the Horizon League semifinals with a buzzer-beating shot, Bryce did a reverse plank, leaning back with his arms stretched out and then rolling over. He said it was simply a "spontaneous reaction.'' And that's what he did Tuesday night when the Crusaders beat Wright State for the title. He called for his dad to cut a piece of the net. Homer said he did so reluctantly.
"It was their moment,'' said Homer. "But Bryce said I started with those seniors. That's Bryce for you. He's always thinking of his mom and dad.''
Homer said Broekhoff's shot was tougher than Bryce's in '98 because Broekhoff had to go to his right on an angle while a 6-foot-10 player was in his face, whereas Bryce had much more of a clear shot to the basket and took the jumper in stride.
Bryce's decision to stay at Valpo instead of pushing to get Mississippi State and possibly others after the former NBA and polished first-year coach won a conference regular-season title was right for him. He fit at Valpo. He might not stay long, but he knew what he needed to do. Had he bolted, he wouldn't have had the moment on Tuesday night, his parents wouldn't have had that chance to see him earn a bid on the court where his father coached and Bryce starred.
Tuesday night was a glorious one for the Drew family, completing a week of good news this family desperately needed.
Bryce won the regular season -- over Butler and Detroit -- despite having to drive up after practices to visit his mother in the hospital, deal with two parents going through cancer and still figure out how to coach a team in his first year.
His reaction to Broekhoff's shot was as much a relief after all of the pent-up angst he has been feeling for over a year.
There are so many good stories that come out of March. The job Jim Crews is doing at Saint Louis in the memory of the late Rick Majerus is at the top. But there are others -- like the Drew family getting to see Bryce coach Valpo in the NCAAs with cancer possibly behind them -- that cannot be understated.
Now Homer said his attention turns to the Big 12 quarterfinals, where he's hoping Baylor beats Oklahoma State and earns a bid for two brothers to be coaching in the NCAA tournament.
That might be asking for a lot. But Drew can't complain about those results after he has received so many better ones from doctors of late.