What's next for the 'old Big East'
March, 15, 2013
03/15/13
11:11
PM ET
NEW YORK -- The new Big East is set. The old Big East is looking for a new name.
And in the final Big East tournament together, there is plenty of congeniality.
This split has been unlike previous departures from the Big East to the ACC, the divorce of the 16-team WAC that caught half the membership off guard or even the abrupt disruptive moves by Missouri and Texas A&M to the SEC that ended rivalries with Kansas and Texas.
Here in New York, there has been no animosity directed from any of the departing members to the ACC (Syracuse and Pitt), the Catholic-based schools forming their own Big East (Georgetown, Villanova, Marquette, et al.) or those two schools left behind that have to stay for a lame-duck year in Louisville (ACC) and Rutgers (Big Ten).
[+] Enlarge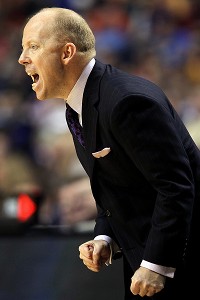 Jamie Squire/Getty ImagesMick Cronin's Cincinnati program will be vital to the new league.
Neither school is complaining nor has issues with putting off the inevitable departure.
The first order of business for the new league is to come up with a name.
Commissioner Mike Aresco said there are a number of options out there, and something having to do with "Metropolitan" is likely. So the America 12 experiment, whether that was done on purpose or not, worked. The focus group of the general public and Twitter essentially said no to the name.
"We've gotten a lot of feedback, and we have looked at what our identity is, and it is definitely that we are in major cities,'' said Aresco. "It's part of who we are, and every one of our schools is in or part of a major market.''
The one exception is East Carolina. Aresco said a final decision hasn't been made yet on having the Pirates come for all sports, but it is likely to occur for 2014 when New Orleans-based Tulane is a full member.
The other schools in the new league are Connecticut (Hartford-area), Cincinnati, South Florida (Tampa), Temple (Philadelphia), Memphis, Central Florida (Orlando), SMU (Dallas) and Houston.
Louisville and Rutgers will be in the league in 2013-14 and replaced by Tulane and likely ECU. Navy joins in just football in 2015. Aresco said the league will have to decide if it expands by one more school to get to 12. He said the league didn't want to discuss that during conference tournaments this week.
Aresco said he has no plans to move the current Big East offices from Providence. He also is hoping the current staff stays in place.
Reality is also settling in for Cincinnati and UConn. Neither has a new destination, so they have to stay put and make the most of it. Cincinnati athletic director Whit Babcock said Thursday that he has instructed all his coaches that they need to win the league, schedule well and ensure that in the next two-to-three years they are consistently at the top of the conference.
Stadium expansion has been a hot issue, as well as increasing scholarships in Olympic sports. What Cincinnati doesn't want to occur is in three-to-five years the program gets passed over by one of the hot programs in Florida, say Central Florida. What would happen if Florida State were ever to leave the ACC? Would UCF suddenly be more viable to replace in the state of Florida?
This a fluid situation, and that's why programs like Cincinnati and UConn cannot slip.
But Aresco makes a strong point about the "core four" as he states going forward. If UConn, Cincinnati, Memphis and Temple play up to their potential in basketball, then that gives the new league four historically strong programs that have been nationally recognized.
Aresco is obviously pushing the football side as well with open windows to show the Big East on ESPN next year, and programs that have the potential to do well in newcomers SMU, Houston, UCF and the always sleeping giant and talent-rich Memphis.
Babcock said none of the schools will get a lump check from the departing schools but rather over a seven-year period. There are so many nuances in the money being left behind, from exit fees for some and NCAA tournament units for others.
The television revenue dropped considerably per school, but Aresco said that was natural due to the fewer teams. He also said the number isn't done yet with marketing rights still to be discussed.
The new league will open up a tournament bid to cities like Hartford, Memphis, Cincinnati and anyone else who wants to put up an offer. He said it's still undecided if the men's and women's tournaments would be held at the same venue, but that's an option. The women's tournament was in Hartford while the men's has been in New York.
After settling on a name, the league can market itself, get a tournament site and start working as one -- for now.
"This is the best place for (UConn and Cincinnati),'' said Aresco. "Look at the Pac-12, the Big Ten, the SEC and the ACC and the footprints those have. We're not geographically different than anyone else.''