Top 10 NCAA tournament storylines
March, 18, 2013
03/18/13
3:12
AM ET
The NCAA tournament men's selection committee consistently says it doesn't try to create matchups and storylines.
Ha.
It may not try to do that, but once again it has put together plenty for us to digest. Here are my top 10 early storylines for the NCAA tournament:
[+] Enlarge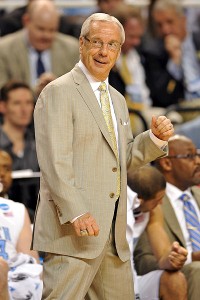 Lance King/Getty ImagesRoy Williams could be in line for another matchup with his former program.
1. Kansas vs. North Carolina? The most intriguing game may occur in the round of 32 if Kansas and North Carolina were to meet in a 1-8 matchup in Kansas City. North Carolina coach Roy Williams was a longtime coach of Kansas and famously wore a massive Jayhawks sticker when he watched KU beat Memphis in the 2008 national title game in San Antonio. Kansas would have to get by Western Kentucky in the second round, while the Tar Heels are hardly a lock to get past No. 9 Villanova. But if it were to occur, then the South would have the most talked-about coaching matchup in the early rounds since Bill Self replaced Williams, not to mention two of the most tradition-rich programs.
2. Butler meets Bucknell. The Butler-Bucknell 6-11 second-round game in the East Region in Lexington, Ky., pits two of the best programs outside of the "power-six" leagues that have had a history of upsets. In this matchup, both teams play extremely hard and each has a star player in Butler guard Rotnei Clarke and Bucknell forward Mike Muscala, although they won't match up against each other. The winner of that game would take on either Marquette or Davidson. All four of these teams are squads few opposing coaches would want to face early in the NCAA tournament.
3. The UNLV-Cal rematch. The committee doesn't try to schedule rematches from the regular season, but committee chair Mike Bobinski said on CBS Sunday that it was unavoidable with No. 5 UNLV and No. 12 Cal in San Jose in the East Region. UNLV beat Cal by one on Dec. 9. The two teams have changed dramatically since that game, with the Runnin' Rebels having Khem Birch in the lineup now (he wasn't eligible yet) and the Bears with an even better scoring wing in Allen Crabbe.
4. The Burke-Wolters showdown. Two of the best guards in the field will be on display in a 4-13 matchup between Michigan and South Dakota State in Auburn Hills., Mich., in the South Region. Michigan's Trey Burke may not guard South Dakota State's Nate Wolters, but both teams lean heavily on those two to score and make plays. Don't be surprised to see those two dominating the stat sheet in this game.
5. The First Four matchups. These will be intriguing to watch with guard-heavy Boise State-La Salle in a 13-seed matchup in Dayton out of the West and an 11-seed Middle Tennessee State-Saint Mary's in the Midwest. The latter two teams are the more controversial additions. What are the chances that any of the four can pull a VCU and go from the First Four to the Final Four? Will any of the four even advance to the second weekend? How these four perform will be dissected, especially by fans of Kentucky, Tennessee, Virginia and Maryland, who all were squeezed out due to these teams receiving bids.
6. A round of 32 wish. This could be a reach, but one of the best individual matchups that could happen in the round of 32 is Creighton's Doug McDermott and Duke's Ryan Kelly facing off in the Midwest Region. They are two of the top scorers in college basketball. McDermott scored 41 points against Wichita State to win the Missouri Valley Conference regular-season title and Kelly dropped 36 against Miami on March 2, his first game since Jan. 8 when he went out with a foot injury.
[+] Enlarge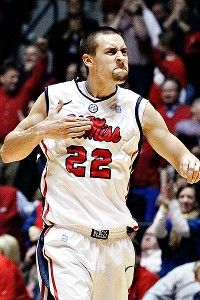 AP Photo/Rogelio V. SolisMarshall Henderson will be bringing his show to the West Region.
7. Henderson faces Wisconsin. Marshall Henderson was on display with all his warts and highlights Sunday in the SEC tournament title game win over Florida in Nashville, Tenn. Now the question for Ole Miss will be can Henderson find the room to get shots off against Wisconsin in one of the most interesting round of 64 matchups. This 5-12 tussle in Kansas City promises to be something to see.
8. Can Minnesota upset UCLA? The matchup between No. 6 UCLA and No. 11 Minnesota in Austin, Texas, in the South Region is one of the more difficult games to read. The Bruins had a shot to be an Elite Eight team prior to Jordan Adams breaking his foot. The Gophers have looked sensational at times in beating Indiana behind Trevor Mbakwe and the scoring prowess of Andre Hollins. Yet, the Gophers have been dreadful at times, too. The loser of this game will be criticized for underachieving, probably unfairly, but the winner will suddenly be praised.
9. Louisville's potential problem. The Colorado State-Missouri winner in an 8-9 game in Lexington in the Midwest Region will provide a possible pest for No. 1 Louisville in the third round. The Rams rebound exceptionally well. The Tigers have the speed and ability to break a press with Phil Pressey. Louisville should advance, but either one of these teams could pose problems for the Cards.
10. Beware of Belmont. The Arizona-Belmont 6-11 game in Salt Lake City in the West Region should be as up-tempo as any game in the field. The Wildcats and Bruins both love to run. Belmont was one of the teams that most coaches didn't want to see. Arizona's loss to UCLA probably put the Wildcats on this line and into a potentially troubling spot.