Next step in UCLA's coaching search
March, 25, 2013
03/25/13
12:31
AM ET
UCLA is looking for a coach who will excite the fan base, fill Pauley Pavilion and produce a Showtime-like scene in Westwood.
Oh, and retain players; enough so if there is a major injury like Jordan Adams' broken foot in the Pac-12 tournament semifinals that it doesn't expose a glaring depletion in the roster due to a series of transfers during the past three years.
That's essentially the job description UCLA athletic director Dan Guerrero unveiled during a Sunday night teleconference after he said he fired Ben Howland earlier in the day in his UCLA office.
[+] Enlarge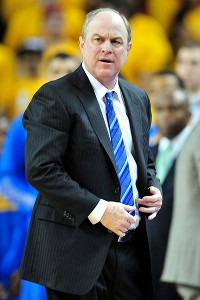 Gary A. Vasquez/USA TODAY SportsDespite a successful run at UCLA, Ben Howland will no longer coach the Bruins.
"We want to try and bring someone here who excites the fan base and can work with our student athletes and get them to compete at a high level,'' said Guerrero, who continued to sing the praises of UCLA's academic model, arena, recruiting base and the Pac-12. "We want to play a fun brand of basketball but a quality brand of basketball where we have the fundamentals and defend.''
Guerrero said he would cast a wide net, but multiple sources say he will lock in on Virginia Commonwealth's Shaka Smart. The question is, Would Smart be receptive to going West? Those close to Smart aren't so sure.
Smart stayed at VCU instead of going to Illinois, which is closer to his Wisconsin roots. He has strong ties to the Southeast, too, having worked at Florida. Smart has no ties to the Los Angeles area. Smart does bring his 'Havoc' defense -- known for its frenzied, turnover-producing pressure -- and the brand of basketball that would certainly get the fans amped. All you have to do is see the atmosphere in Richmond for a Rams' home game or even when VCU was in the tournament to gauge the palpable enthusiasm for Smart's style of play.
The problem is Smart might not want to deal with the bubble that has become the UCLA program. Trying to fend off the agent culture, the pro-like atmosphere and the overall pressure of being the UCLA coach isn't for everyone. Howland was there 10 years and had his problems with players at times, but he still won at the highest level, and it will be hard to match his strategic success.
Two of the more obvious choices -- Gonzaga's Mark Few and Butler's Brad Stevens -- likely wouldn't touch the job, according to those close to them. Few hasn't left Gonzaga for other high-profile jobs (he once was part of the Indiana search) because he loves his fit with the Zags. He's not an L.A. guy. Stevens isn't, either. And Stevens, as wonderful as his run has been, doesn't fit this latest description of a style to watch. Stevens also loves his Butler life and has shown zero signs of wanting to leave and go West.
If UCLA stays with a college coach -- and Guerrero said he is open to anything -- then this could mirror the Illinois job search from a year ago. The Illini found a gem in Ohio's John Groce, but he wasn't the first choice (Smart was). NC State's Mark Gottfried and Washington's Lorenzo Romar, two former UCLA assistants, would listen, according to sources. But it might be hard for UCLA to look at Romar, who currently runs a Pac-12 program that has hit a downward cycle recently, or go East to look at Gottfried, a former Jim Harrick assistant. That's why there are outliers who could be in the mix -- coincidentally for both the open USC and UCLA jobs -- in Memphis' Josh Pastner, Cincinnati's Mick Cronin and a new wild card in Wichita State's Gregg Marshall.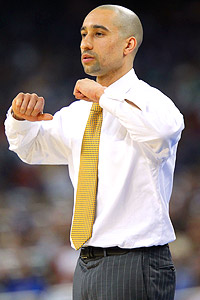 Andy Lyons/Getty ImagesVCU's Shaka Smart would be the dream hire for the UCLA Bruins.
Marshall makes more than $1 million annually at Wichita State but has energized the fan base and now has the Shockers in the Sweet 16. He's not a West Coast coach, either, but could suddenly be an intriguing name if the Bruins need to go further into the search. Guerrero wouldn't say if he is interested in a coach who is still in the tournament, but if so, then he would obviously wait until the coaches of any remaining teams are eliiminated.
What the next coach has to understand is that the culture around the program is hard to change. The plusses of having so many pros playing pickup is the access the current players get to high-level talent. The negative is that it would be hard to control the outside influences.
If the Bruins stay relatively intact, then the roster is more than ready to compete atop the league, with Adams being one of the best returning players in the country and teaming with Kyle Anderson -- who isn't ready for the NBA like classmate Shabazz Muhammad is -- to form at least a nucleus for a new coach (similar to the situation Groce walked into at Illinois with the return of Brandon Paul and D.J. Richardson).
UCLA is paying Howland a $3.5 million buyout ($2.3 million for the first year and $300,000 for each of the subsequent four years, but it is negotiable if Howland takes another job). Guerrero said the money will come from an $80 million budget the school has for the athletic department. So there is suddenly money to pay a head coach, which wasn't always the case at UCLA. However, travel accommodations would have to change to lure a reputable coach, as the team has taken to flying Southwest Airlines -- as opposed to a more comfortable, chartered ride -- on road trips. The new Pauley is a plus, but the pressure to produce not just Pac-12 champions but Final Fours is real.
Guerrero said he wouldn't speculate on what would have happened if Adams were healthy and the Bruins were playing next weekend. Guerrero may have officially made up his mind Sunday, but he knew it was over weeks ago, or else this day wouldn't have come so soon after the loss.
Smart is the slam-dunk hire, but he's hardly a lock to accept if an expected offer comes his way.
If he doesn't, then this job is likely wide open, and whomever gets the gig will have to think hard about the expectations, the pressure, the longevity and, ultimately, the lack of security being the UCLA head coach offers.