Marquette has Wainwright buzzing again
March, 28, 2013
03/28/13
1:26
AM ET
WASHINGTON D.C. -- Jerry Wainwright was done.
Done with coaching college basketball. Done with the garbage that comes when your team is losing, apathy settles in around the program and you become toxic to those around you.
His family had had enough of the stress.
"It wasn't fun anymore," Wainwright said. "The public was really hard on my family and to see what they go through. My son was on the staff. He lost his house. I didn't want to come back. I didn't want to coach basketball anymore. I wanted to help coaches coach. I didn't want to go to practice. I put my family through too much."
Wainwright is one of the most respected coaches I've come across in 20-plus years of covering college basketball. Few, if any, of his brethren say a negative word about him. He has the look of a pit boss, but has the warmth of a florist.
[+] Enlarge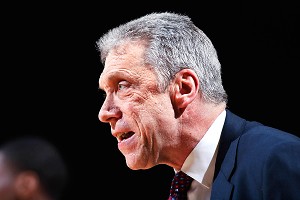 Joe Robbins/USA TODAY SportsJerry Wainwright couldn't get things turned around at DePaul, but has contributed to this year's success at Marquette, which is in its third straight Sweet 16.
He was dealt a bad hand in 2010 when he was fired three games into the Big East season at DePaul. He had just broken his leg in a freak in-game accident when he was hit on a play near the bench. When he went to get checked, he found out he had prostate cancer.
He spent the next six months dealing with the loss of his job, healing from a broken limb and cancer.
There was reason to be bitter and done with the sport.
But he decided to help out new coach Rodney Terry last season at Fresno State. Terry was in a rebuilding situation and the losing didn't make for a very fun time either.
And then Marquette coach Buzz Williams called. If you're around Buzz enough you'll see how much he seeks out sage advice. Walking in the Verizon Center on Wednesday, he was thrilled to see John Thompson Jr., the Hall of Famer and former Georgetown head coach. Williams suddenly lit up like a young fan and wanted a picture on his cell phone of the two of them.
Williams reached out to Wainwright to join the staff last season. Wainwright, who said he has had a long fondness for Williams and coached against him while in the Big East, accepted. Initially, though, it was to be more as an advisor. Wainwright's son and his family had moved to North Carolina to coach with his two granddaughters. His wife was in Cincinnati taking care of her mother.
So, Wainwright decided to accept Williams' offer. Soon after, there was a coaching change on the staff after Scott Monarch had to be dismissed due to an NCAA violation. Suddenly, Wainwright was elevated to a full-time assistant coaching position. He didn't want to recruit. He wanted to be back in the mix with the players, at practice, especially working with big men.
Now he was a winner again.
Wainwright had taken UNC Wilmington and Richmond to the NCAAs as a head coach. He didn't suddenly become a bad coach at DePaul. But moving up in the beastly Big East was almost impossible and getting fans to flock to the arena near O'Hare Airport a stretch.
But the Marquette gig has renewed his faith in the coaching business.
"The only reason I took this job was because of Buzz," Wainwright said. "I love Milwaukee. But he's a player-relationship guy in an era where that doesn't happen as much. His involvement with the kids is the way I remember it. I wanted to see that up close. He certainly has a different way of doing things."
Wainwright said the internal competition that is standard at Marquette goes from October to March. There is no let up. Accountability is the norm. Williams' demands are high. But there is significant return.
The Golden Eagles are in their third-straight Sweet 16. And Wainwright is experiencing winning again, something he wasn't sure he would see in his career.
Williams, who also employs former Air Force head coach Jeff Reynolds as his director of basketball operations, said he hopes he has been able to extend coaching lives and added that he's so thankful for what veteran coaches have done for him.
"Nobody knows that coach Thompson and I go way back, that I talk to Eddie Sutton every week, that I talk to George Raveling every day," Williams said. "All the old guys like Dave Odom, Eddie Fogler, they've been healthy for me in my path. I seek out the guys to hear their wisdom.
"Is it the right thing to do recruiting? At one point they look at it like their granddad, and then by January and February they're saying, 'What did he say?' I stop practice and say, 'What did you say?' I want to know. I'm writing it down. You can't quantify the wisdom."
Wainwright said he'll have to make a decision after the season. He's 66 and if Williams wants him back, then he'll have to decide if he's up for the challenge again.
The last time he was in a Sweet 16 he was an assistant at Wake Forest and Tim Duncan was playing for the Demon Deacons. He had runs at Richmond and Wilmington that were memorable, but never reached this point.
When the Golden Eagles had last-possession wins over Davidson and Butler last week in Lexington, Wainwright didn't jump up and down.
"I have no hop left," joked Wainwright. "But I also have the perspective of watching kids and I would like to think that I have brought an even-keel to the whole operation and some comic relief."
Wainwright stood in the Marquette locker room at the Verizon Center, feeling blessed with this second chance at relevance in March. He has had an impact on this team and on Williams. But all Wainwright wants is to be known as a contributor.
"Have you ever thought about what should be on your epitaph? On your tombstone?" Wainwright said rhetorically. "I just want mine to say, 'Here lies a great practice coach.'"