Jamie Dixon breaks down Final Four teams
March, 31, 2013
03/31/13
11:25
PM ET
Pitt coach Jamie Dixon knows this Final Four exceptionally well.
He played all four teams. He beat only one -- Syracuse in Pittsburgh -- and lost to all four.
Still, he had to scout, dissect and digest all that each team had to offer. Here are his quick thoughts on each one:
[+] Enlarge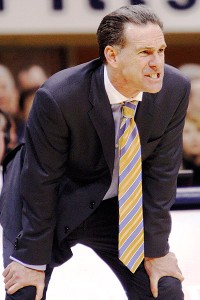 AP Photo/Keith SrakocicJamie Dixon knows what it's like to devise a game plan for each Final Four team.
Wichita State (73-55 loss in NCAA round of 64 on March 21)
Dixon: "Ron Baker (who was injured from Dec. 13 to March 8) really has changed their team. He gives them some shooting, spacing and gives them versatility. That's why they weren't as good in conference. They can play big, they can play small. They've got a lot of guards, a lot of good guards, who can guard and drive. They rebound well. Baker gives them more scoring. That's huge for them. They're very physical, strong and Carl Hall is a tough, physical kid.''
Syracuse (65-55 win at home on Feb. 2, 62-59 loss at the Big East tournament on March 14)
Dixon: "Michael Carter-Williams is really good. The guards get shots for each other, and they can score. It's hard to finish against their defense. It's hard to penetrate and offensively rebound. It's hard to finish with their length inside and out. [James] Southerland gives them more offense [he didn't play against Pitt while he was dealing with an eligibility issue]. In the Big East, they weren't a great shooting team. But he gives them another guy who can get going. Brandon Triche can do it and so can Williams and Southerland. When we played them the second time, we weren't sure who to put on Southerland or C.J. Fair. It's hard to match up against their three and four. They can both get shots up and score baskets no matter how well you defend them. I don't get why everyone is struggling against the zone. We face so much zone in our league. We're always practicing against it, and that's the main reason we do it. You have to practice against it. Teams don't do that. They don't.''
Louisville (64-61 loss at Louisville on Jan. 28)
Dixon: "The guards. They are so quick at both ends of the floor. You've got to get shots up. You can't turn it over. You can't give them transition. They're not a great rebounding team. You've got to hope they're not making shots. You have to take care of the ball. If there is a weakness, it's their offense. They're not a great half-court offensive team. Peyton Siva is very hard to guard, though. But it's their quickness, their length inside and the two guards -- Siva and Russ Smith -- that are very difficult. They disrupt you, and they're very deep.''
Michigan (67-62 loss at NIT Season Tip-Off in New York on Nov. 21)
Dixon: "I just remember how good [Trey] Burke was and the spacing and obviously how much [Mitch] McGary has changed. Jordan Morgan was a heckuva player -- this guy can score. Burke is the best point guard in the country. That's a good place to start with them. They don't run a lot, just ball screens and back-cuts. I would say this is a better rebounding team than [coach John Beilein] has had at Michigan. We outshot them, we beat them in every aspect, but they outrebounded us [31-21], and that never happened [against a Beilein team]. This team is stronger and a better rebounding team and a better defensive team, and that's what has made them good enough to get this far.''