Trust, or lack thereof, rules the day
April, 3, 2013
04/03/13
1:18
PM ET
Trust.
That word was lacking in some circles, while it emerged in others in a wild Tuesday in the sport.
Trust was gone from the Rutgers basketball program due to the manner in which Mike Rice conducted his practices, and in the way the Scarlet Knights faithful put their trust in the administrators making rational decisions -- before the school finally fired its embattled coach on Wednesday morning.
Trust was also gone within the Pac-12. A number of coaches polled within the league, who didn't want to be named, were questioning how could Ed Rush still remain as coordinator of officials after the integrity of his job was called into question by a story from CBSSports.com. Even if Rush were joking about paying off officials with cash and a trip to enforce the rules -- including coaching behavior -- the perception of doing such a thing tainted his reputation.
[+] Enlarge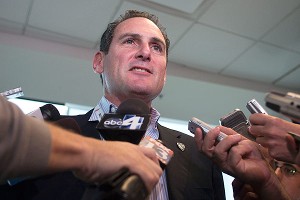 AP Photo/Jim UrquhartLarry Scott and his conference have been under fire this week.
At least one coach said he couldn't see how playing against Arizona would be judged fairly as long as Rush is the coordinator. The opposing coach would be wondering the whole time whether the Wildcats were getting special treatment now because of the perception that coach Sean Miller was singled out in the past.
Two athletic directors were also calling into question the integrity of the job by Rush based on what they had read.
A number of coaches said there's been a perception of bullying by Rush in the past. They had trusted him to take over a weakened officiating crew, thinking that they would be getting an improvement without disgrace.
They all had trusted Pac-12 commissioner Larry Scott to handle this in the right manner. Yet Scott was quick to defend Rush, on "SVP & Russillo" and elsewhere. Scott had trusted his sources who were in the room when the discussions allegedly took place.
But think about the lack of trust that also emerged elsewhere.
Pitt had put its trust in Trey Zeigler to come to the school after transferring from Central Michigan. Zeigler was granted a waiver to play immediately for the Panthers because his father, Ernie, had been fired. Then Zeigler decided he'd like to go elsewhere, so all that work Pitt had done on his behalf to get him eligible right away was no more. Zeigler announced that he was transferring on Tuesday.
The trust a school and coach put in an eligibility decision can be broken too. NC State spent countless hours defending the case of Rodney Purvis to get him eligible with the Wolfpack earlier this season. Purvis announced he was transferring as well.
The trust can go both ways and clearly there is usually a lack of trust when players transfer on both sides. But it's even more troubling when there is so much effort put into getting someone eligible, only to see the player and the school part less than a year after the exhaustive process.
No one can fault Jimmy Patsos for trusting his own instincts in leaving Patriot League-bound Loyola (Md.) for a more stable basketball job in Siena.
Alex Poythress joined Kyle Wiltjer and Willie Cauley-Stein in trusting that staying at Kentucky for next season instead of declaring for the NBA draft (or transferring) would be a beneficial decision for both sides.
In tournaments that don't get the same amount of coverage, East Carolina has shown trust in coach Jeff Lebo to get things slowly turned around, and lo and behold, ECU won its 23rd game with a CIT title victory at Weber State that ended on a buzzer-beating 3 by Akeem Richmond.
Iowa and Baylor could have easily bailed on somewhat disappointing seasons, but have trusted one another to get to the NIT final in New York, where the winner should have momentum heading into 2014.
The conference to be named and formerly known as the Big East is still trusting that adding schools will make it stronger and officially put Tulsa in its grasp for the fall of 2014.
But on Tuesday, the ultimate trust was likely from the New Mexico administration, which put its faith in Craig Neal, a career assistant who will now take over for friend Steve Alford, who bolted for UCLA.
Trust.
Whether it was present or not, it was certainly the buzz word on a wild day in college hoops.