Frank Haith should have name cleared
April, 4, 2013
04/04/13
6:50
PM ET
If the allegations in a letter sent by the University of Miami to drop the case against the school are true, the NCAA needs to officially exonerate former Hurricanes and current Missouri men's basketball coach Frank Haith so he can move forward from this mess.
ESPN obtained a copy of the document on Wednesday, and the manner in which NCAA enforcement allegedly lied and tried to turn one assistant against Haith to get him to say something incriminating was shocking.
Haith was not charged with unethical conduct in the notice of allegations released in February, but he was cited for lacking an atmosphere of compliance. He has been tainted by this investigation and a cloud hangs over him and his current job.
[+] Enlarge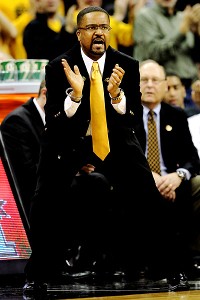 Jamie Squire/Getty ImagesIf the report is true, the NCAA needs to clear Frank Haith of any wrongdoing.
Item six in the lengthy report to the NCAA is headlined: "The Tactics Employed During the Questioning of Frank Haith and Jake Morton were Impermissible and Unethical.''
The report states that two investigators, including the fired Abby Grantstein, "exhibited the enforcement staff's fixation on obtaining evidence that substantiates the most scandalous allegations involving the most high-profile individuals at the expense of behaving in an ethical manner and in accord with the NCAA Bylaws in their questioning of former Miami Head Men's Basketball Coach Frank Haith and former Miami Assistant Men's Basketball Coach Jake Morton.''
The report continues to allege that the two investigators provided Haith and his former assistant Morton with "false information regarding what other interview subjects had reported in attempt to elicit confessions of NCAA violations.'' The report states that this investigative tactic is against "the NCAA's bedrock principles of honesty, integrity and cooperation.''
And apparently there's more.
Investigator Brynna Barnhart allegedly tried to trick Morton into turning on Haith by twisting his words against him in this piece of the report. The document said that Morton had denied that he told Haith he intended to use a June 10, 2010 check that Haith gave to him to repay Miami booster Nevin Shapiro for a personal loan.
Instead, the enforcement staff told Morton that Haith said he was giving Morton the money to pay Shapiro. Morton told the enforcement staff that he didn't think Haith had any knowledge of Morton's personal deal with Shapiro until Yahoo! reported the allegations in an August 2011 story. The report states that even though Morton had denied that Haith knew of the "transaction," Barnhart committed an unethical move by lying to Morton.
The report states that Barnhart said this to Morton in a Sept. 19, 2012 interview: "I'll be honest, [Haith] put a lot of the relationship between the men's basketball program and Nevin on you. And that, I'm just going to put it out there for you to respond, specifically that you were the first person to know Nevin, that you're the one … you were essentially the one that kind of brought Nevin into the program, that he didn't really know Nevin as well as you did. And so, I just wanted to give you an opportunity to respond to that."
The report continues: "Based upon an analysis of Haith's interviews, it is clear that this statement was false. In his September 5, 2012, interview, Haith made repeated statements that are the complete opposite of what Barnhart reported to Morton. Haith reported that Shapiro was introduced to the men's basketball program through the University's development office, not Morton. Haith also reported that he had no knowledge of how Morton's relationship with Shapiro developed and that he believed that he was the one who introduced Morton to Shapiro.
At no time during his interviews with the enforcement staff did Haith ever report that Morton was the "first person to know Nevin" or that Morton "brought Nevin into the program" as Barnhart relayed to Morton. Haith acknowledged that Morton had a relationship with Shapiro, but made no other assertions. Barnhart's false statements to Morton were clearly an attempt to make Morton believe that Haith had "thrown him under the bus" in order to trigger Morton to provide the enforcement staff with condemning information on Haith. This investigative tactic is clearly contrary to the NCAA's principles, procedures, and expectations, and is further evidence of the enforcement staff's bad faith and unethical behavior in the Investigation."
The unethical behavior of Granstein and Barnhart continued apparently, as detailed in this Sept. 5, 2012 interview. Here is another excerpt: "In Haith's September 5, 2012 interview, Grantstein -- who, as explained above, was fired from the enforcement staff for her attitude of attempting "to get" high profile figures in collegiate athletics -- misrepresented to Haith that Morton reported to the enforcement staff that he had delivered $10,000 in cash to Shapiro's mother's house on June 10, 2010.
In truth, Morton reported that he delivered $5,000 to Shapiro's mother's house to repay a previous loan he had received from Shapiro, not $10,000. Morton detailed the delivery of that $5,000 to Shapiro's mother's house in his interviews on October 13, 2011 and September 19, 2012.
"Grantstein also told Haith that Mario Sanchez, Shapiro's former bodyguard, reported that Morton delivered $10,000 to Shapiro's mother's house. To the University's knowledge, Sanchez was never interviewed. Grantstein's intent to mislead Haith is evident in the fact that after she provided false information to Haith regarding Morton, Haith specifically asked her if Morton had indeed reported that he delivered $10,000 to Shapiro's mother's house, and Grantstein responded affirmatively, thus stating false information on the record on two separate occasions."
The final conclusion on the Haith matter was this: "This willful deceit not only sheds light on the relevant enforcement staff's lack of investigative ethics in this case and demonstrates the very attitude for which Grantstein was ultimately terminated, but has also irreparably tainted the Investigation."
Haith's former school, Miami, is clearly supporting him by putting this in a letter to drop this case. Haith has had unequivocal support from Missouri and its athletic director Mike Alden. He's been beaten down many times over the past year and has used thousands of dollars of his own money in his defense.
He had a phenomenal regular season in Year 1, only to finish with a disappointing round-of-64 loss to Norfolk State. This past season, Missouri was tough at home but struggled on the road. The Tigers, a team mashed together with transfers and a few returnees, ultimately lost to Colorado State in the round of 64.
Haith deserves a chance to coach Missouri free from the distractions of this NCAA investigation. If all that is written in this report is true, the NCAA must clear Haith based on the unethical behavior used against him. If that occurs, he can finally coach with a clear head and can be judged going forward on his performance and his program's development in the SEC.