Michigan's Mitch McGary is a rising star
April, 8, 2013
04/08/13
9:13
AM ET
ATLANTA -- Musings on a national title Monday:
• Michigan's Mitch McGary is Kevin Love light. McGary is just scratching the surface of what he could become relatively quickly. I keep going back to a shootaround I witnessed at Minnesota when the coaching staff was working with McGary on his face-up shooting. You can tell how much work the staff and McGary have put in this season. McGary could easily be a top 10 pick. But if he stays, he would be a star next season.
[+] Enlarge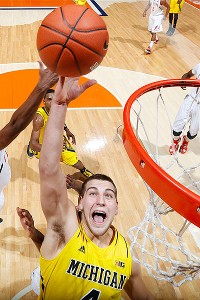 Joe Robbins/Getty ImagesMitch McGary is raising his game at just the right time for Michigan.
• One of Michigan's unheralded players has been Caris LeVert. He made two 3s against Syracuse. He's rangy, can board (eight) and played significant minutes (21) against the Orange.
• Can you imagine if everyone came back at Michigan? Of course, that's in a parallel universe. None of the nine players who played against the Orange on Saturday night were seniors. Of course, Trey Burke, Tim Hardaway Jr., McGary and Glenn Robinson III could all leave for the draft.
• Gorgui Dieng had one of his worst games of the season against Wichita State. And although he has improved dramatically as an offensive threat -- especially with his face-up game -- the key inside player for Louisville was Chane Behanan. Once Behanan was featured with post touches, the Cards started clicking. Behanan isn't a traditional post player, but he can post and score, sometimes a lost art.
• Montrezl Harrell originally signed at Virginia Tech. Then coach Seth Greenberg was fired and Harrell ultimately landed with Louisville. The Cardinals may not be playing for the title if it weren't for Harrell's productivity. Harrell made all four shots, all around the post, and grabbed eight boards in 11 minutes. He provides instant energy and clearly changes the game when he's playing.
• Russ Smith is high volume, but when he makes 3s, he can lift the Cards.
• Peyton Siva doesn't convert at a high level and struggles to score over people (1-of-9 Saturday) but his effort can never be doubted. He continues to prove he's a winner. He's also the best quote here. He adds depth to his answers.
• Luke Hancock may not have been an All-American recruit, but it's great to see how a player who was at George Mason could find a home at a place like Louisville. Hancock has been the Cardinals' most important player of late.
• Tim Henderson played just 10 minutes (hitting two 3s) in the semifinals, but he's hardly a scrub. He wouldn't be on the floor if he couldn't produce.
• Syracuse coach Jim Boeheim didn't have to say anything about retirement. I was never convinced that he would be done before the Orange left for the ACC. It makes sense for him to usher the Orange into a new league for at least one season if not two, instead of sending Mike Hopkins to the wolves.
• The Orange will enter the ACC as one of the league's most established programs, with a chance to compete immediately.
• C.J. Fair was a joy to watch in the Big East and NCAA tournaments. I love his game. The lefty has a soft touch that was hard to guard. He tended to get out of his comfort zone sometimes and look to shoot the 3. He could make it, but he was so much more effective along the baseline.
• Michael Carter-Williams had his worst game of the tournament on Saturday, but he was one of the best players in the tourney. Carter-Williams was an extremely difficult matchup for teams. You could also see in his many interviews that he was one of the most analytical players in the tournament. He may have played his last game for the Orange. And if that's the case, he made an impact on this team and program. The Orange don't get to Atlanta without him.
• It was good to see James Southerland have such a significant contribution on the Orange after what could have been a bitterly disappointing ending to his career if his academic situation had not been resolved. Like his senior classmate Brandon Triche, Southerland offered quality commentary on opponents. Both players represented well during the NCAAs.
• Wichita State proved that the mixed-bag approach to building can be sustainable. That's the new norm for many programs. The Shockers have and will continue to grab a combination of high school seniors, junior college players and four-year transfers.
• Cleanthony Early was a stud in the semifinals. His work on the boards and in key moments nearly put the Shockers into the title game.
• I had seen Wichita State before on the road in a tournament setting, and the Shockers' fans represent very well. This is an underrated fan base that is as passionate about its squad as any other.
• Malcolm Armstead had a horrible outing from the field on Saturday, making 1 of 10 shots, but he still had seven assists, two steals and only three turnovers. Oh, and he had one of the most startling press breaks that was hard to explain. How he got through without losing the ball one time was quite remarkable.
• Wichita State's Gregg Marshall also clearly did quite a coaching job. He had to deal with myriad injuries, notably to Carl Hall and Ron Baker and yet was in position to play for the national title. Marshall didn't get enough credit for what he did with this team -- before the Shockers went on their run.