Poll results: Earlier start, shorter shot clock
April, 22, 2013
04/22/13
10:38
PM ET
Two major changes for college basketball -- an earlier start to practice and a change in the shot clock -- could occur in time for the beginning of the 2013-14 season.
At a May 2 meeting, the NCAA Board of Directors will vote on moving up the start of practice by two to three weeks (would be Sept. 27 or Oct. 4 this season). And the following week in Indianapolis, the men's basketball rules committee will vote on moving the shot clock from 35 to 30 seconds.
After taking an informal poll of 37 Division I coaches Monday morning, the consensus among that community seems to be "yes" for both.
The votes, taken from both major and midlevel conferences, were 28-9 in favor of the shot-clock change and 27-10 in favor of moving up the start of practice, although the majority of coaches still said they wouldn't do a Midnight Madness event any earlier than the traditional mid-October date, when the teams are deemed ready for public consumption.
The proposed practice changes garnered a number of interesting comments on both sides of the debate.
A sampling from some of the dissenters:
"We practice in the summer and in September [in small groups], so we don't need to start that early." (Notre Dame's Mike Brey)
"I like the start of practice where it is." (Butler's Brad Stevens)
"I don't want to move the start of practice up. We are allowed to work out more than four players at a time after Sept. 15 as it stands now. Our sport is the only sport that covers two semesters, so it is long enough as it is. There is no need for additional practice time." (Mississippi State's Rick Ray)
"I don't understand moving practice. The season is long enough. The mid-October start date has always worked." (UCLA's Steve Alford)
[+] Enlarge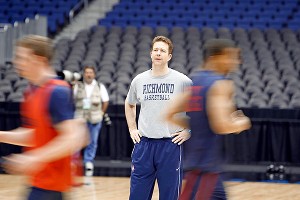 Bob Donnan/US PresswireA great majority of coaches surveyed by ESPN.com are in favor of an earlier start to practice.
But the majority favored moving up the start date:
"It would be very smart to allow us to begin practice earlier. We work with our players in the summer. Teams are getting younger and they will then be much more prepared for games in November and December." (Arizona's Sean Miller)
"I like the Oct. 4 date because it gives you more flexibility in preparing your team." (Ole Miss' Andy Kennedy)
"I love getting more time." (Indiana's Tom Crean)
"You can ease guys into practice more and give them more than one day off a week." (Oregon State's Craig Robinson)
"You will have 30 days between Oct. 4 and your first game, so they would be expanding the time to get your 30 workouts in so you can give guys more days off. You can spread it out a little bit better." (Wisconsin's Bo Ryan)
"I like the early start, but we just may have to be more creative at the start of the season to create more excitement." (LSU's Johnny Jones)
"We like the idea of having an earlier influence on them both academically and athletically." (Montana's Wayne Tinkle)
"I would like the earlier start date [even better] if they gave us say five more practices.'' (South Carolina's Frank Martin)
The 30-second shot clock decision is a bit more fluid. The rules committee still has to vote on it and these things usually go through a transition period or experimentation for a year. This is a rule-change season (happens every other year) so there will be some changes.
St. Peter's coach John Dunne, who serves as chair of the committee, said it's almost a guarantee there will be a replay change with the officials getting to go to the monitor for the final minute (he is proposing the last two minutes) of the half to look at any key issue like scoring, fouling and most importantly possession. There will also likely be an adjustment on the distance for the always-controversial block/charge call. But the most significant rule change would be the reduction of five seconds on the shot clock.
"I'm just one vote," Dunne said. "But I like the 35. The extra five seconds allows for different systems. You can have the Princeton system versus the Florida Gulf Coast one. Everything in the NBA is pick-and-roll and everything is moving in that direction, but will going down to 30 seconds lead to more bad shots? Could it lead to worse offense? The NBA has bail-out, shot-clock guys that college may not. I don't know if lowering the shot clock will increase scoring."
He's not alone.
"I am vehemently opposed to the shot clock going to 30 seconds or less. Parity is what makes college basketball great and it's what differentiates us among other sports. A shorter shot clock will hurt that." (Colorado's Tad Boyle)
"I don't buy the argument that shooting will go up or scores. Seems college kids struggle enough knowing how to get good shots in 35 seconds. The shorter clock helps better defensive teams, though. Have fun going against the Syracuse zone with five less seconds." (UCLA's Steve Alford)
But those in favor were more outspoken in responding to our informal survey, a key factor since Dunne said the NCAA will send out surveys and sometimes 50 percent or less will respond. In fact, many of those in favor of 30 don't think that's far enough.
"I'd like to see 28 seconds. I want to see more attempts at the basket. It may increase scoring." (Providence's Ed Cooley)
"I'd like to go to 24. I petitioned that in Conference USA. You can have more offense, more possessions." (Memphis' Josh Pastner)
"I'm in favor of a uniform shot clock at all levels, whether it's 30 seconds or 24." (VCU's Shaka Smart)
"I would support the 30-second shot clock. I think at first scoring may take a step back as teams will struggle. We're not the NBA. We have so much more freedom to defend in different ways." (Boston College's Steve Donahue)
"A half a minute is clean and simple time. It gives you a third of the time to get the ball past half court. It would speed things up a bit and would likely get approved." (Richmond's Chris Mooney)
"Yes, yes, yes." (San Diego State's Steve Fisher)
"I'm OK with 30 seconds. [But] when they say go to 30, they'll think 'Oh man, the points will go up.' People are much more sophisticated on defense, bodies stronger. There is a lot more than the shot clock on why scoring is down." (Wisconsin's Bo Ryan)
Participants in the survey: Mike Brey (Notre Dame), Sean Miller (Arizona), John Dunne (St. Peter's), Ed Cooley (Providence), Josh Pastner (Memphis), Johnny Jones (LSU), Frank Martin (South Carolina), Shaka Smart (VCU), Dave Rose (BYU), Buzz Williams (Marquette), Andy Kennedy (Ole Miss), Steve Fisher (San Diego State), Bryce Drew (Valparaiso), Greg Lansing (Indiana State), Leon Rice (Boise State), Mick Cronin (Cincinnati), Tom Crean (Indiana), Scott Drew (Baylor), Mark Fox (Georgia), Mark Gottfried (NC State), Craig Robinson (Oregon State), Tad Boyle (Colorado), Jamie Dixon (Pitt), Thad Matta (Ohio State), Steve Donahue (Boston College), Rick Ray (Mississippi State), Keith Dambrot (Akron), Dana Altman (Oregon), Chris Mooney (Richmond), Brad Stevens (Butler), Steve Alford (UCLA), Wayne Tinkle (Montana), Dave Rice (UNLV), Cuonzo Martin (Tennessee), Steve Prohm (Murray State), Bo Ryan (Wisconsin).
Editor's Note: To read Eamonn Brennan's take on both proposed changes, click here.