Catching up with … Duke's Rodney Hood
April, 30, 2013
04/30/13
4:40
PM ET
Despite losing its top three scorers, Duke looks like a top-10 team and a threat once again to make the Final Four in 2014.
All because of über-recruit Jabari Parker, right?
Not so fast.
Parker is worthy of the hype and will no doubt be a big part of the Blue Devils' success, but it's the less-talked-about addition of Rodney Hood that could make all the difference in Durham. A transfer from Mississippi State, Hood is one of only four Division I transfers in 33 years under Mike Krzyzewski (joining Roshown McLeod, Dahntay Jones and Seth Curry).
Two seasons ago in the SEC, he averaged 10.3 points, 4.8 rebounds and two assists a game as a freshman. Hood wasn't as nationally known because of the Bulldogs' struggles, but he is sure to be a household name in 2013-14 after sitting out the past year due to NCAA transfer rules.
As we continue our early look at the upcoming season, I caught up with Hood on the phone after he finished working out on Duke's campus.
Andy Katz: What did you improve on the most during your redshirt season?
Rodney Hood: I got a lot stronger and spent a lot of time in the weight room and got more comfortable handling the ball and playing on the blue team and second team and working on my ballhandling skills. I improved my all-around game.
AK: Who did you reach out to about how to handle redshirting?
[+] Enlarge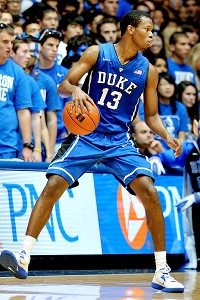 Lance King/Getty ImagesRodney Hood was able to take part in Duke's Midnight Madness last season, but he'll have to wait until this fall for real game action.
RH: I talked to Seth [Curry] and he told me to stay in the gym. He said he always tried to stay in the gym so it takes your mind off sitting out. I talked to my ex-teammate at Mississippi State, Arnett Moultrie [who had transferred from UTEP], and he said to stay focused on the goals you want to have.''
AK: How much do you think people forgot you're at Duke?
RH: A lot. I kind of like it that way. It's much better to come up on the scene. It's fine. A lot of people didn't see me. They don't know who I am.
AK: How would you compare Duke to Mississippi State?
RH: The atmosphere here at Duke, the coaching staff and everyone around here expects excellence. Everybody is trying to do big things in life and in academics. They're doing the right things off the court and being held accountable. It has helped me be a better person in this off year.
AK: How did this year off from games help in the transition to Duke academically?
RH: I thought I would start off struggling at Duke. But I'm taking things that I really enjoy. The classes are fun. They allow you to be a student. It's not just multiple- choice tests. There are papers, and you can say what you feel on different things. That fits me as a student. It definitely helped that I wasn't playing. I didn't travel with the team until late. I was here, and it helped me focus more on my studies. It was a great year for me to get acclimated to Duke.
AK: How much did you consider declaring for the draft this spring?
RH: There were a lot of people around me, not in my circle, but people talking that said I could have gone because it was a weak draft. I'm too invested in Duke basketball. I love it here. I've grown with the players and the coaches and coaching staff. This was a no-brainer to stay here. I wasn't even thinking it. I want to play at least one season here at Duke.
AK: Duke lost Ryan Kelly, Seth Curry and Mason Plumlee. Three big losses. How can you guys compete for a national title in 2014?
RH: The one thing I've seen since the season ended was the commitment from the team, particularly in the weight room. We haven't had too many basketball workouts. We're long, but we're not muscular guys. We're getting in the weight room and we're excited about the season. This will be a different team, a different dynamic. Other than Marshall [Plumlee], we don't have a true big man. But we've got a lot of versatility [with a deep backcourt of Hood, Quinn Cook, Andre Dawkins, Rasheed Sulaimon and Tyler Thornton]. The one thing everyone is excited about is the commitment to get better individually.
AK: What can people expect from you in 2013-14?
RH: I just plan on coming in and making some noise. I expect you'll see my best effort. I can't promise this or that. But I will help my team win and get us in the best position to win.
AK: What has it been like to be coached by Mike Krzyzewski?
RH: Right now it's totally different than when I first stepped on campus. Then, it was Coach K and he had just won the Olympics. He is the all-time winningest coach in college basketball. I was in awe. I wasn't intimidated, but I was in awe. Now I'm excited to learn from him. And I've learned so much. I've seen how passionate he is as a coach and how he prepares for games. It's something I've never seen before in a coach.