Coaches: So about that draft deadline …
May, 2, 2013
05/02/13
4:07
PM ET
If the Division I coaches actually want to change a rule for clarity's sake, they have a chance to get it done easily if they act soon and tell their athletic director or conference commissioner at upcoming league meetings.
Of 21 coaches polled from around the country Wednesday, every one of them wanted one date for the NBA early-entry draft deadline instead of the two that are currently in place. The consensus was to simply do away with the arbitrary one-week-after-the-Final Four date the NCAA has had on the books since 2009 (that meant April 16 this year).
"The [NCAA] date is irrelevant," Arizona coach Sean Miller said.
That date has no hold on players unless they actually send in their paperwork to the NBA. Simply stating that you will declare for the NBA draft, even publicly, doesn't hold any weight unless the official document is sent to the league office. If you're on the fence, you can simply not say anything at all and/or just not file your paperwork.
"The agents always tell the players that the [NBA date] is the only one that matters," Baylor coach Scott Drew said.
That NBA deadline is the final Sunday of April. This year, it was April 28.
"I've never been able to figure out why we have two dates," Ohio State coach Thad Matta said.
[+] Enlarge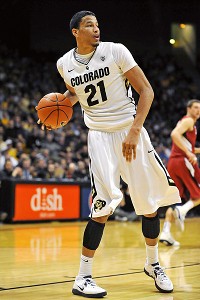 Ron Chenoy/USA TODAY SportsAs Andre Roberson and many others proved this year, the NCAA's super-early deadline for underclassmen holds little sway.
Here's why:
The early NCAA date was a rule pushed for by college coaches, specifically in the ACC.
"The rule was put in place and adopted because the coaches wanted it," NCAA spokeswoman Stacey Osburn said.
At the time, Paul Hewitt (now at George Mason) was the coach at Georgia Tech and his Yellow Jackets were losing players early to the draft at a high rate.
"The rule worked, but it wasn't perfect," Hewitt said. "One of the things that convinced us to vote for it was the deadline would be before the late-signing period began. It gave us a chance to add a player to the roster and in turn help the upperclassmen who are coming back and the coaches to have a stronger team and a better experience. That was the main reason a couple of coaches switched the vote, like myself. The rule did give some coaches clarity as to who was leaving and allow them to go and sign a player to add to the roster. The returning players and coaches deserved that opportunity."
In theory, that should have happened, but, in reality, it didn't in many cases. Kentucky coach John Calipari said a year ago that he had his players wait past the deadline to announce a decision to prove a point that the NBA deadline is the one that matters. And a number of players this year used just about every last day and hour until the NBA deadline to make their decision: Michigan State's Adreian Payne, Creighton's Doug McDermott, and Baylor's Isaiah Austin and Cory Jefferson decided to stay, and Colorado's Andre Roberson and Miami's Shane Larkin used the time to decide they would leave.
Colorado coach Tad Boyle and NC State coach Mark Gottfried said that they wouldn't mind an earlier NBA deadline in mid-April but that they definitely want just one, definitive date. San Diego State coach Steve Fisher said the date needs to be later so the players can get a good read on their situation and actually work out for teams the way they used to do when players had until June to withdraw.
Working out for teams before April 28 is impossible now unless the NBA would allow teams to conduct workouts before the list is released. NBA teams work out players in May and June, and playoff teams tend to wait later into the playoffs to deal with large-scale workouts. There was a time, up until only a few years ago, when underclassmen could actually go to the pre-draft combine and still return to school once they were advised they wouldn't go in the first round or high enough in the second.
Most coaches polled, though, said the one thing adopted in 2009 that probably can stay is the rule that if you officially declare for the draft, you cannot return to school. You're either in or you're out by the NBA deadline, regardless of whether you sign with an agent. This year, there were 77 players who declared for the draft -- 46 of them from American colleges. International players can withdraw 10 days before the draft (this year, that is June 17). An American player can take his name out, as well, but he can't return to college.
In addition to the coaches listed above, the other coaches who were contacted and responded to the poll -- all of whom in favor of one date and had a player make a draft decision this spring -- were: Jim Larranaga (Miami), Tom Crean (Indiana), Steve Alford (UCLA), Craig Neal (New Mexico), Phil Martelli (Saint Joseph's), Kevin Ollie (UConn), Travis Ford (Oklahoma State), Jamie Dixon (Pitt), Greg McDermott (Creighton), Cuonzo Martin (Tennessee), Dave Rice (UNLV), Frank Haith (Missouri), Mick Cronin (Cincinnati) and Mike Anderson (Arkansas).
"There is confusion for sure," Anderson said. "The 16th date is just a date right now. A kid can say 'Yes, I'm in' and still enter with the NBA deadline. We need something that works for both."
How can that be done? Simple, Osburn says. The same way it was switched in the first place.
"If a coach or anyone on campus thinks it should be changed -- or any issue -- then they can have discussion about it," she said. "The NABC [National Association of Basketball Coaches] can put forward a proposal. The [NCAA] group focusing on men's basketball issues has a meeting this month, too, and can propose to have it changed. Or it can go through the legislative process. There is also an overall review of the rulebook being done and it can be reviewed then, too. Or it can go through the normal committee governance process like it was the last time."