Beilein embraces his busy offseason
May, 3, 2013
05/03/13
1:15
PM ET
John Beilein has big plans for Saturday.
He's going to mow his lawn, listen to the Cardinals-Brewers game and play with his grandchildren.
Now that's a day off.
He hasn't had many of them -- zero, actually -- since Louisville beat Michigan on April 8 in the national title game in Atlanta.
The schedule has been a good kind of crazy and something Beilein has embraced with as much zeal as he did every practice day during Michigan's momentous, program-changing season.
[+] Enlarge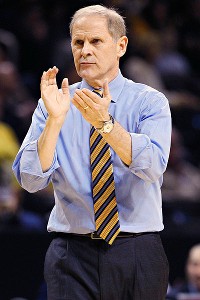 Brad Penner/USA TODAY SportsJohn Beilein's Michigan team will face several nonconference tests next season.
"I can't wait to mow that lawn,'' Beilein said Friday. "When you can cut your lawn, you know things are starting to wind down. It's all good. Every bit of it is good. I highly recommend we do this again next year.''
Beilein doesn't think he has slept in his own bed more than three consecutive nights since he left for Auburn Hills, Mich., and the first round of the NCAA tournament on March 20. Getting two in a row was pushing it, too.
"The suitcase has been sitting there in my room, and I just reload it,'' Beilein said. "Kathleen [his wife] understands it. The entire family has been with me for most of it. It's almost been a family reunion of sorts along the way. I've got eight brothers and sisters, and I think three or four of them made it to Atlanta.''
Take a look at Beilein and the rest of his coaching staff's schedule in the past four weeks.
April 8: Title game in Atlanta.
April 9: Return to Ann Arbor, welcome-back reception at Crisler Arena.
April 10: In the office.
April 11: Player meetings.
April 12-14: Beilein and Trey Burke in Los Angeles for the Wooden Award.
April 14: Burke and Beilein return for Burke's news conference to announce he's leaving for the NBA draft.
April 15: Burke and Beilein in Oklahoma City for Burke to receive the Oscar Robertson Award.
April 16: Team goes through individual workouts on campus.
April 17: Tim Hardaway Jr. news conference to announce he's leaving for the NBA.
April 18: Board of regents recognizes Michigan in Ann Arbor in the morning; Mitch McGary and Glen Robinson III hold news conference to announce they're staying.
April 19-21: Beilein returns to Los Angeles to recruit while staff is in Pittsburgh and New Jersey.
April 22: Return to make calls and recruiting.
April 23-25: Open gym recruiting allowed as staff heads to Chicago.
April 26-28: Beilein and staff recruit at events in Hampton, Va., Atlanta, Indianapolis and Akron.
April 29-May 1: In the office, meeting with players.
May 2: Head to Lansing to be recognized by the governor at the state house.
May 3: In the office.
May 4: Mow lawn.
Beilein said the staff was rushed into making sure the players' decisions about their futures were fully vetted. He said he said as soon as the Wolverines got back to Ann Arbor on April 9, they put together the paperwork to get to the NBA by noon the next day so the NBA advisory committee could return with advice for the Wolverines' underclassmen.
Beilein was on the road with Burke when the star guard said he was leaving for the NBA.
"And then I came back and Tim said he was ready,'' Beilein said. "All four of the major decisions were back-to-back. All of them made educated decisions, and they're doing it for the right reasons.''
Heading back on the road to recruit and evaluate, so soon after playing in the pressure-packed title game, was actually welcomed by Beilein.
"I really enjoy that part of it,'' Beilein said. "I've come to the realization that if you get good players and good teammates that have a great passion for the game, you can really achieve a lot more success than we've ever had.
"There wasn't one day I went out there that I said, 'Oh, I've got to recruit today.' I want to continue to build this program and look for the next Trey Burke and Tim Hardaway. It only made me want to recruit even more.''
Beilein said amid the hectic schedule he was able to get priceless time with Burke, Michigan State coach Tom Izzo and Robertson on the day of the award.
The Wolverines also had a few individual workout days remaining and immediately took advantage in the week after the title game.
"We wanted to look at everybody's game,'' Beilein said. "We worked on Mitch's inside and outside, Glen using more ball screens and getting everyone set up for summer workouts.''
Beilein is already looking at how he's going to replace Burke and Hardaway. Clearly there will be more offensive touches for McGary and a way to involve Robinson even more. The same is true of Nik Stauskas, getting him more shots as he continues to post videos of his prolific shooting of 3s in a short period.
Beilein said he stressed to Stauskas, Caris LeVert and Spike Albrecht, who made a national name for himself with 17 points in the first half against Louisville, the need to get into the weight room and bulk up their slender frames.
And he's adamant that newcomers Zak Irvin and Derrick Walton will have an impact next season. Walton could be the point guard of record by the start of the season. Mark Donnal is the third member of the recruiting class.
"One thing Tim and Trey could really do is if our offensive options weren't there they could get their own shot,'' said Beilein. "That's something Derrick Walton and Zak Irvin can do. Mark is a big man who can play the 4 or the 5 and really shoot. All three will have an opportunity to come in and play when they come in.''
Big men Jon Horford and Jordan Morgan also return, giving the Wolverines quality depth, even if they're missing the player of the year and his running mate.
The Wolverines aren't shying away from proving it early in the nonconference schedule, either.
Michigan, which will be picked again to finish in the top four in the Big Ten, will likely draw a high-profile ACC team in the ACC-Big Ten Challenge. The Wolverines will also play in the Puerto Rico Classic with fellow headline teams VCU, Georgetown, Kansas State and Florida State. (Long Beach State, Charlotte and Auburn are also in the field.)
Michigan is also playing Stanford at the Barclays Center in Brooklyn.. Beilein said he wants to play in New York City every year or every other year to satisfy the Michigan alumni in the area.
But the marquee game of the schedule will be when fellow top-10 team Arizona comes to Ann Arbor in a home-and-home series.
Beilein can't wait for those games, practices over the summer and into the fall and even recruiting, too. He's enjoying every second of it. Just don't bother him Saturday while he's finally getting a chance to cut his grass.