Coaches push for changes to transfer rule
May, 9, 2013
05/09/13
7:13
PM ET
On Thursday, TCU announced that
Trey Zeigler
will sit out next season after transferring from Pittsburgh.
Zeigler transferred from Central Michigan to Pitt a year ago after his father, Ernie, was fired as CMU head coach. He received a one-time exemption to play immediately due to the stress of his father losing his job.
But if the members of the National Association of Basketball Coaches board of directors get their way, all transfers will have to sit out a year, regardless of their issue. There was apparently only one dissenting vote when the group met last week to discuss the issue and suggest to the NCAA a change.
The "transfer free agency" that has overrun college basketball is a direct result of waivers and loopholes that were added to the books a few years ago with good intentions but have netted mixed results.
Of the two most controversial waivers, one allows players to play immediately if they have an ill relative within 100 miles of their home. The other -- the one being taken advantage of more and more this spring -- allows players to graduate early and seek a master's degree not offered at their present institution.
Arizona State just lost Evan Gordon, who will seek to transfer and play immediately. UNLV's Mike Moser did the same and chose Oregon over Washington and Gonzaga. DeAndre Kane (Marshall to Pitt) and many others have done so as well this offseason.
[+] Enlarge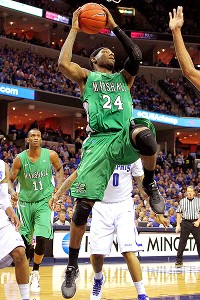 Spruce Derden/US PresswireDeAndre Kane, who averaged 15.1 PPG and 7.0 APG for Marshall last season, will be able to play at Pitt right away.
"The rule in most cases is not being used as intended and is clearly adding to the widespread free agency in college basketball," Arizona State coach Herb Sendek told ESPN.com.
Syracuse coach Jim Boeheim, an NABC board member, wasn't at the meeting last week in Indianapolis but weighed in on the subject when reached this week.
"We've just got into an area of unintended consequences," Boeheim said. "The rule was for if a kid really wanted a different academic program. Now it has gotten to be a strictly playing situation."
The waiver to allow a player to be closer to a relative has also been abused. The question is does the player want to be closer to his relative and actually help with transportation to treatments, be there to comfort, etc.? Or does he really just want to play in a new location or for a different coach?
"I've always felt that if you want to be with the person who is sick, it never made sense to me that you wouldn't just want to be with that person," Boeheim said. "Now people are telling the kids, 'Just transfer and you'll get eligible. … We'll figure something out and get you eligible to play.' I don't think that's a good thing."
Wisconsin coach Bo Ryan, who is on the board, made national news a year ago when he blocked a transfer by Jarrod Uthoff to rival Iowa (Ryan and UW eventually relented, allowing Uthoff to sit out the standard one year). On the postgraduate issue, Ryan makes his position quite clear.
"I positively believe a fifth-year guy should not be able to play right away," Ryan said. "All they're doing is looking at curriculum, finding a program that a school doesn't have. Are they really trying to get a master's degree? Or is it, 'Maybe my team isn't as good and we lost a lot and I want to be in the NCAA tournament next year and …' There's a market out there for this. You take guys through summer school and give them every academic advantage and then they graduate and then they can just go to another school."
Ryan went on to say that this abuse of the waiver "isn't what college athletics was meant to be. How about the guy leaving his teammates and the coaching staff that developed him?"
Marshall coach Tom Herrion agrees.
"The only way to minimize the transfer epidemic is to, no matter the circumstance, make them sit out the year," Herrion said. "There's been like 900 kids transfer in the past 12 months. It doesn't matter the level. Both sides have felt it or taken advantage of it, and schools like Michigan State, North Carolina have taken fifth-year guys. I had two when I got to Marshall. There is so much hypocrisy in our profession. Everyone, though, is playing by the rules of today."
Notre Dame coach Mike Brey, who is on the NABC board, said he is in favor of making everyone sit, adding that it could be good for the transfer athletically and academically if approached the right way.
"It helps you academically and maturity-wise," Brey said. "We discussed the transfer thing thoroughly at the meeting. The problem with making the fifth-year guys sit a year is then you have to explore the sixth-year eligibility for some of them."
In a recent interview with ESPN.com, Rodney Hood -- a Duke transfer from Mississippi State -- spoke of this very issue.
Brey said the whole free agency of pursuing transfers has gotten out of hand, though. He said one member of the board discussed a "home visit" he conducted in a campus dorm room.
"That's just not right," Brey said. "We've got to explore sitting out the year to deter the free agency."
Boeheim, who warned that coaches don't need to come off as "anti-player," acknowledged that it's a complex issue.
"We can't have no one sit out, because that would get into mass movement [of players leaving] and that wouldn't be good for anybody," he said. "It's a difficult situation. I think we've gotten into something where it's prolific now. They're just plain unhappy with playing time, and that's why they may want to be closer to home. Or they had a run-in with a coach or they're not playing. It's a problem.
"I don't know the solution. I always thought transfers should have to sit out a year. I do think we'll have to limit [playing immediately] a bit."