NC State rebuilding for the future
May, 10, 2013
05/10/13
5:13
PM ET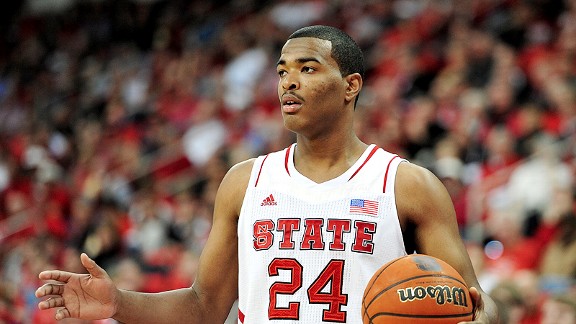 Grant Halverson/Getty ImagesT.J. Warren will be the only experienced returnee on NC State next season.
NC State was staring at a potential NIT bid in Mark Gottfried's first season with two games left in the 2011-12 regular season.
The Wolfpack won both to get to 9-7 in the ACC and then won the first two games in the conference tournament.
A tight loss to North Carolina in the ACC semifinals and upsets of San Diego State and Georgetown in the NCAA tournament propelled NC State into the Sweet 16, Gottfried to being a beloved Wolfpack coach and the team to hyped expectations entering last season.
The last was too much, too soon.
"People forget where we were [at .500], and then we wake up and we're ranked sixth in the country,'' said Gottfried, whose Wolfpack were picked to win the 2012-13 ACC title in the preseason. "I said, 'Timeout now.' We were missing key players from that season."
Gone were C.J. Williams, Alex Johnson and DeShawn Painter, three of the seven players who played regularly down the stretch.
The arrival of heralded Rodney Purvis was a dud, since Purvis struggled to get eligible. Lorenzo Brown battled injuries. Richard Howell was supposed to be a stud inside. C.J. Leslie, Scott Wood and newcomer T.J. Warren never got on the same hot stretch together.
The Wolfpack were never the story in the ACC. Miami was the team of record from the beginning of the conference season to the end, winning the regular-season and tournament titles.
Duke was always a story with Ryan Kelly's injury and triumphant return. North Carolina was left behind and surged back into NCAA bid contention and earned a spot in March Madness.
NC State sputtered at times, but it did rise up to knock off No. 1 Duke, beat archrival North Carolina and earn a second consecutive NCAA tournament bid before losing to Temple in an 8-9 matchup in the round of 64.
"We still won 24 games,'' Gottfried said. "You have to put it all in perspective. I wanted to do a lot more. I wanted to go farther, no question. But at the same time, when I took the job two years ago, if I had said [to the fans] you'll go to two straight NCAA tournaments, get to the Sweet 16, reach the ACC tournament semifinals in both years, and said who is taking that right now, raise your hands? There would have been a lot of hands up in the room.''
This NC State team wasn't ready for the expectations and the pressure put on it. Were the expectations too high? In hindsight, yes. This team lacked the experience, the drive and the overall depth in the post that Miami had last season. The Wolfpack weren't able to finish games like the Hurricanes, losing to Miami and Maryland on the final possession.
[+] Enlarge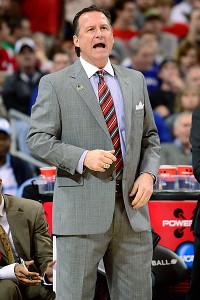 Scott Rovak/US PresswireMark Gottfried is excited about the foundation at NC State.
"We didn't finish well, and that's the one thing that's hard to get over,'' Gottfried said. "We have to learn from that. But we did a lot of great things by beating the No. 1 team in the country in Duke, beating Carolina and Wake Forest in the same season here since 1989. Miami at home and Virginia on the road [lost by three] were both winnable. We had an injury [to Brown]. We had a tip-in at Maryland at the buzzer.
"We weren't far away from 27 wins. Losing in the first round was disappointing. The problem was the expectations were too high.''
Now what? The Wolfpack are in a complete build mode in a season when the ACC will become the deepest conference in the country with the additions of Syracuse, Notre Dame and Pitt. A year from now, the ACC will get even stronger when it replaces Maryland with Louisville.
Oh, and Duke is projected to be a top-five team with North Carolina on its heels -- they'll be the top two teams in the league again. Newcomer Syracuse should be in step as well.
Leslie and Brown declared for the NBA draft. Purvis transferred to UConn. Howell and Wood were seniors. Guard Tyler Lewis returns, but the only returnee who played significant time is Warren.
"We'll have a completely new team on the floor,'' Gottfried said. "It's a restart, a regroup, reshuffle or reload -- whatever words you want to use. We're going to be tremendously inexperienced and young. It's a foundation, though, for years to come. It just so happens it comes in Year 3 for me. But we're laying a foundation to be back in a year or two to compete for a championship.''
That can happen only if the Wolfpack don't get discouraged and pounded down by the depth and strength of the 15-team league. The timing isn't ideal to be rebuilding.
"It makes us very vulnerable,'' Gottfried said. "We're in the infant stages of building a team. Our league has gotten stronger very quickly. The good news for us is that in a few years, we'll be very good. But we're going to be very vulnerable right now.''
The hope is that Warren will mesh with guards Anthony Barber and Desmond Lee and the three new bigs -- BeeJay Anya, Kyle Washington and Lennard Freeman -- will have an impact, as will returning big Jordan Vandenberg.
"It's a good nucleus,'' Gottfried said. "We're just young and inexperienced and not ready right now. It's a great group to build on, and I'm excited.''
The Wolfpack dialed back the schedule a tad. NC State will play at Cincinnati in a home-and-home series. Gottfried signed up Missouri for a home-and-home that starts in Raleigh, and he drew Northwestern in the ACC-Big Ten Challenge. He also added home games against Florida Gulf Coast and Detroit, two good names, but teams that lost key players, too. The ACC schedule isn't as daunting with the four home-and-home series coming against two teams -- Wake Forest and Miami -- that figure to be in the lower third of the league. Playing Carolina and Pitt twice will provide a major challenge, though.
Last season there were disappointed teams that had high hopes but failed to reach NCAA tournament expectations, like Georgetown, New Mexico, Gonzaga and Indiana.
But the early-season projections on all four of those teams were fair, and the teams didn't disappoint in the regular season at all. NC State was too hyped and, based on the preseason prediction, underachieved. Gottfried was adamant that the prognosis was too positive last fall. He had a good read on his team.
Now Gottfried has to deal with a low ceiling and a long climb ahead. If he can manage those projections better than expected, then he'll be praised even more than he was a year ago.