FSU waits for Andrew Wiggins' call
May, 13, 2013
05/13/13
7:54
PM ET
Leonard Hamilton will be at the ACC meetings in Amelia Island, Fla., on Tuesday.
But he'll take a call if his phone rings.
Florida State is waiting to hear from Canadian and Huntington Prep (W.Va.) forward Andrew Wiggins, the top high school player in the country. Wiggins said he'll announce his school of choice on Tuesday, one day before the month-long spring signing period ends.
He could always sign beyond the month-long period, but it wouldn't be binding. The Seminoles, along with Kansas, North Carolina and Kentucky, are awaiting to see what the star recruit will do and whether his decision will alter the thought process for next season.
[+] Enlarge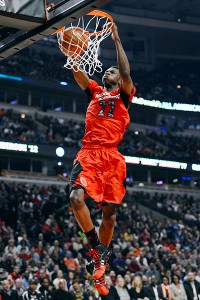 Mike DiNovo/USA TODAY SportsAndrew Wiggins has remained grounded off the court as the nation's top-ranked prospect.
Neither Hamilton nor any of the other coaches can talk about Wiggins until he signs a national letter of intent.
But Hamilton doesn't get too high or too low about recruiting. He has been involved at all levels of recruiting during the course of his long career as an assistant and head coach. "This is no different; it's always the same," Hamilton said about waiting for a recruit to make a decision. "We've had kids sign early. We've had kids sign late. You do what you can do and wait on the outcome. That's the way I am all the time. You do the very best job you can. The strategy isn't any different."
There's no need to make phone calls at this late stage. Wiggins will make up his mind and apparently decide on Tuesday. "Whenever a youngster is ready to make up his mind, you have to respect that," Hamilton said. "Every situation is different. Sometimes you make calls, sometimes you leave well enough alone. I've never been a high-pressure type of guy on anything. I've always tried to be respectful of the process and try to put myself in the young man's or family situation and try to treat the recruit the way I'd want to be treated in that situation."
Hamilton will certainly be excited if Wiggins chooses Florida State. The arrival of Wiggins will certainly put the Seminoles in the preseason Top 25 and in the heart of the ACC race with Duke, North Carolina and Syracuse in 2013-14.
The eternal optimist, Hamilton couldn't be more pumped about next season. Since his arrival at Florida State, I've never spoken to him when he didn't think his team would be a sleeper -- at the very least.
The Seminoles finished 9-9 in the ACC, 18-16 overall and lost to Louisiana Tech in the first round of the NIT last March. Florida State had seven newcomers and dealt with Ian Miller's injury, which nagged him throughout the season.
But the core of this team returns, minus Michael Snaer, the best bail-out shooter the Seminoles and the ACC have seen recently, and Terrance Shannon, who transferred to VCU.
"I'm extremely optimistic about the upcoming season," Hamilton said. "We've improved in all areas. We have Ian Miller back healthy. We have three 7-footers coming back. I like our incoming recruits [Jarquez Smith and Xavier Rathan-Mayes] a lot. Miller had a bone bruise last season and never practiced. He couldn't do walk through on game day. All he did was play in games. He toughed it out. We got to 9-9 with not much experience so I have to feel good about that."
Hamilton said he hopes the Seminoles won't need anyone to bail them out the way Snaer did the past two seasons. "We have great chemistry with this group, gym rats who are always around," Hamilton said. "I like the talent, and I think we're more versatile than what we've been in the past. We've got more off the bounce and have better overall shooters with nice size, length and athleticism."
Regardless of Wiggins' decision, Hamilton has a trip planned to Greece in August, which will be needed to get a jump on next season. Add Wiggins to the mix, and Hamilton has a huge advantage of 10 practices and games with a star player.
Florida State won the ACC tournament title the previous season for the first time in school history. Miami won the ACC regular-season and tournament title this past season. The Hurricanes will likely go through a rough transition period after losing some seniors. Florida State knew what that felt like this past season.
"In any league or college, high school or professional, it's hard to win a conference back-to-back," Hamilton said. "I think we have built our program to be very good and now we need to cross over to that elite level where you are competing for those championships each and every year. I thought we finished the season showing tremendous improvement. We regrouped, but we didn't drop out of sight.
"There were times when we had four or five freshmen on the court at the same time against veteran ACC teams," Hamilton said. "I thought we held our own even though we were inexperienced. I do feel we're more talented and versatile than we've been in the past and hopefully it reflects that in the way we play. I'm excited to go to Greece. It couldn't come at a better time for us. We could be one of those surprise teams, one of those two or three teams that comes out of nowhere. We're closer to being a complete team."
Yes, the Seminoles are very close, especially if they get Wiggins on Tuesday.