Hoops musings, Andrew Wiggins edition
May, 14, 2013
05/14/13
10:40
PM ET
A musings column looking at what Andrew Wiggins' decision to attend Kansas means for next season:
• Kansas will be predicted to win the Big 12 after Oklahoma State was the pre-preseason favorite once Marcus Smart decided to return to the Cowboys.
[+] Enlarge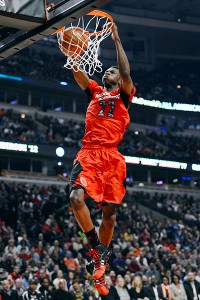 Mike DiNovo/USA TODAY SportsThe wait is over, as Andrew Wiggins will join the Kansas Jayhawks.
• Coaches in the Big 12 aren't thrilled to scout against Wiggins, but they understand how much better it is to have him in the league.
"He's the best high school player who has come around in a long time," Iowa State coach Fred Hoiberg said Tuesday. "He's freakishly athletic and has great size and great length. He's a special player and a special talent in our conference."
Baylor coach Scott Drew, whose Bears return Cory Jefferson and Isaiah Austin after both could have declared for the NBA draft, said "the addition of Wiggins and the players that have chosen to return to the Big 12 instead of leaving for the NBA, means the Big 12 fans will get a special year next season."
Said Oklahoma State coach Travis Ford in a text message: "Andrew Wiggins immediately makes any team and league better! Wiggins is an exciting player that all [Big] 12 fans will enjoy watching! Also, this definitely makes Kansas a top 5 team in the country! Loaded with enormous incoming talent and many talented returners!"
• Players want to go against the best. Coaches in the league won't have to worry about getting their players ready for big games in the Big 12. Of course, every team gets up for Kansas, since the Jayhawks are the marquee event/game every season in the conference. Still, having Wiggins in the league will resonate with every player.
"When you go against a guy compared to LeBron James, that's a once-in-a-lifetime experience for a lot of guys in our league," Hoiberg said. "The hype surrounding him is the main story. I'm sure everyone is taking note of that and the opportunity to play against him."
• Kansas and Duke will now provide a rare matchup at the Champions Classic in Chicago on Nov. 12 when the top two freshmen, Wiggins and Duke's Jabari Parker, go up against each other.
That event at the United Center will also be littered with other talent, from Duke's Rodney Hood to Kentucky's No. 1 recruiting class -- highlighted by Julius Randle and Andrew and Aaron Harrison -- to returning stars Keith Appling and Gary Harris of Michigan State.
• I love what Kansas coach Bill Self said in a news release: "This was a pleasant surprise because we never had an idea which way he was leading." There was hype but nothing over the top. Wiggins actually made the decision and didn't leak it out on any social media. No sources needed on this story for the schools, fans or media.
• Self has never hidden from hype and was clear in the release, saying Wiggins could be "not just a good player but have the chance to be a great one."
• The Kansas recruiting class isn't as deep or as touted as that of Kentucky, but it now has an anchor to go with Brannen Greene, Joel Embiid, Conner Frankamp, Frank Mason and Wayne Selden. All but Mason are ranked in the top 40. Embiid could be the difference-maker inside for the Jayhawks with the departure of Jeff Withey.
[+] Enlarge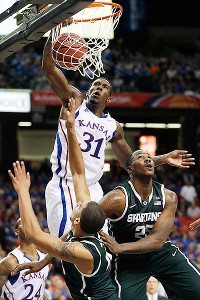 AP Photo/Dave MartinJamari Traylor will be a key part of the nucleus around Wiggins.
• Kansas lost Ben McLemore, Travis Releford, Kevin Young, Withey and Elijah Johnson. But the returning core veterans, guards Naadir Tharpe and Jamari Traylor and forward Perry Ellis, have a chance to be the locker room leaders needed to lead this crew.
• The Battle 4 Atlantis on Nov. 28-30 took a hit when Tennessee lost Trae Golden. Kansas was still the headline act in the event, but now it gives Wiggins even more of a platform as the star in the field (bracket to be determined with USC, UTEP, Villanova, Wake Forest, Xavier and Iowa joining the Jayhawks and Vols).
• Florida State would have been a top 15-20 team with Wiggins. The Seminoles will still be in the top half of the ACC but now will have to grind it a bit more. Leonard Hamilton was upbeat and optimistic about the upcoming season before Wiggins made his announcement; knowing him, he won't fade from that prediction.
• Kentucky would have had a potential playing-time issue had Wiggins chosen the Wildcats -- for others, not Wiggins. No other coach could handle that better than Kentucky's John Calipari, but he doesn't need to massage any more egos with this team. He'll have his hands full keeping so many talented players pleased.
• Kansas' schedule includes plenty of tests for Wiggins and crew. Going to Colorado (Dec. 7), a top-five Pac-12 team, is a return game. New Mexico, the favorite in the MWC, was originally going to be a game at Phog Allen but was moved to the Sprint Center in Kansas City on Dec. 14.
The SEC Challenge game given to Kansas was a home run for both Kansas and Florida. Kentucky-Baylor in Dallas will be loaded with NBA-level talent, but the KU-UF game in Gainesville on Dec. 10 will involve two teams picked to finish first or second in their respective conferences. Kansas is the brand of the Big 12 in hoops, and getting the Jayhawks to go on the road in the first year of this event was a major coup for the SEC and ESPN.
• OK, to this point, I haven't mentioned a big-time home game at Phog Allen. Duke, the games in Atlantis, Colorado, Florida and New Mexico are all out of Lawrence. That's almost unheard of for a team of Kansas' stature.
The Jayhawks do have home games against quality "lower-level" teams in Iona (Nov. 19), Towson (Nov. 22) and Toledo (Dec. 30) in addition to Louisiana Monroe (Nov. 8). Iona and Toledo were originally scheduled for 2012, but due to conflict and APR issues, respectively, they couldn't get on last season's schedule. But the coup came in landing the series with Georgetown (Dec. 21) and San Diego State (Jan. 5) for home games at Phog Allen.
• The Big 12 looked bleak a few weeks ago, but look what has happened since: Wiggins to Kansas; Smart back to Oklahoma State; Austin and Jefferson returning to Baylor. Kansas State lost Angel Rodriguez, clipping the Wildcats a bit. Iowa State will be fine, and Oklahoma is on an upward tick. There's no reason to rule out West Virginia with Bob Huggins hungrier than ever to get the Mountaineers back. The same is true for Trent Johnson at TCU. And Texas Tech hired a national championship coach in Tubby Smith.
Where does Texas fit into this? Good question. This is a critical season for the Longhorns to stay relevant in the upper half of the league.
• The Big 12 has had tremendous success with players competing for one season in the league. Look at this list:
Ben McLemore, Kansas (2012-13)
Royce White, Iowa State (2011-12)
Quincy Miller, Baylor (2011-12)
Tristan Thompson, Texas (2010-11)
Cory Joseph, Texas (2010-11)
Josh Selby, Kansas (2010-11)
Ekpe Udoh, Baylor (2009-10)
Michael Beasley, Kansas State (2007-08)
Kevin Durant, Texas (2006-07)
• Self fully expects Wiggins to be the top pick in 2014. The Big 12 has had at least one of the top six picks in the NBA draft in each of the past seven seasons. That will go up to nine in 2014 after McLemore goes in the top three this June and Wiggins likely No. 1 or No. 2 in 2014.
• We're all living in a Canadian basketball world now. Mercy. Seriously, the talent coming from our northern neighbors is historic for that country's basketball program.