Oladipo, Zeller can have a Wade effect
May, 23, 2013
05/23/13
9:22
AM ET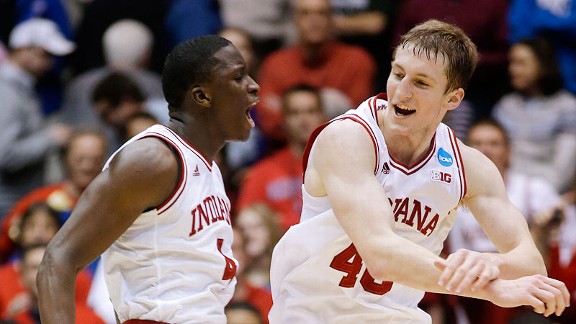 AP Photo/Al BehrmanVictor Oladipo and Cody Zeller can continue to make an impact at Indiana after turning pro.
Victor Oladipo graduated from Indiana in three years. Cody Zeller is 35 credits short.
They were two of the top players at the NBA pre-draft combine last week in Chicago. Oladipo probably isn't getting past Phoenix at No. 5 in the draft. Zeller won't go too far after that selection. They interviewed well with teams last week and were just as impressive with the media.
Indiana doesn't win the 2012-13 Big Ten regular-season title or get to the Sweet 16 without either one.
Now comes phase two in their contributions to Indiana basketball. Will Oladipo and Zeller have a similar impact on Tom Crean's program in the same manner Dwyane Wade did -- and still does -- after playing for him at Marquette?
Wade led the Golden Eagles to the 2003 Final Four -- the first for that program since 1977. He was the fifth pick in the '03 NBA draft and has won two championships with the Heat -- one with Shaq before LeBron and one with LeBron after Shaq.
No one should or does expect Oladipo and Zeller to duplicate any of that in the NBA. While neither was able to take Indiana to the Final Four, they helped return the Hoosiers to the national spotlight and consistent relevance.
Crean sees the parallels to what Wade did for Marquette and the opportunity Oladipo and Zeller have at Indiana.
"They have added to this great legacy at Indiana,'' Crean said. "They are a big part of our era."
[+] Enlarge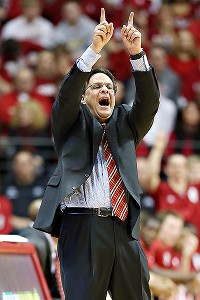 Andy Lyons/Getty ImagesFor IU to continue its rise, Tom Crean needs former players to preach the program.
Crean has had Wade around his Hoosiers. Oladipo and Zeller saw the impact. Former Indiana players who are in the NBA -- such as Eric Gordon and D.J. White -- have returned. But they didn't play for Crean and don't have the same connection Oladipo and Zeller will have with him and future Hoosiers.
"They're going to grow into those roles,'' Crean said. "Victor and Cody have already been a huge part of our recruiting. There is no question they are going to have a future impact on Indiana basketball.''
Crean said the two have "the right stuff'' and haven't deviated from who they are when they arrived -- Oladipo three years ago and Zeller two.
"They brought the program back, worked hard and had tremendous character,'' Crean said.
Crean said Jordan Hulls and Christian Watford, outgoing seniors, had a significant handprint on Indiana's revitalization as well. So did rising senior Will Sheehey. But those three don't have the opportunities ahead like Oladipo and Zeller. Oladipo, probably more so than Zeller, will have the platform with the potential to be a headline player in the league.
Crean said Wade wasn't about a financial commitment to Marquette but more so about his time. He referenced how he squeezed in a Marquette appearance during a tight window of commercial tapings for national ads to ensure he was on campus for an English teacher request.
"You have to really care about it or you're not going to do it," Crean said. "There is a lot of parallel with these guys. Dwyane did it and paid attention to the program. I saw it when I was at Michigan State and how Magic [Johnson] came back. He might have corporate speeches, but when he came back to Michigan State, it was a locker room speech. Dwyane is the same way. The former players at Indiana are a big part of it for us here. But now we're adding to it. For the future of our program, you'll see Cody Zeller, Victor Oladipo, Jordan Hulls and Christian Watford."
Indiana will get the PR pop on draft night when a pair of Hoosiers are taken in the lottery.
Crean will certainly use the buzz that night to create momentum. He isn't demanding a return from the players. He simply expects it will happen because of the nature of who Oladipo and Zeller are and have been while at Indiana.
They have been to him at IU what Wade meant to him at Marquette. If they can come a quarter close to that in the future, then Crean will get a payoff that will be immeasurable.