Anthony Evans earned his shot at FIU
May, 30, 2013
05/30/13
9:02
PM ET
Getting a head-coaching job is extremely difficult.
Moving upward in Division I from the MEAC and SWAC has been almost as hard as getting the first job.
Blame the ridiculous search firms that think they know the profession but don't. Point to athletic directors who are wowed by the brand name of an assistant.
But actually dig deeper and search for a head coach who has had to do a lot with a little and you'll see there are quality coaches in the Historically Black Colleges and Universities.
[+] Enlarge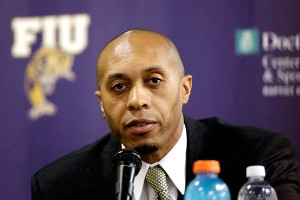 AP Photo/J Pat CarterAnthony Evans got a five-year deal at Florida International.
Florida International's new coach Anthony Evans had done wonders at Norfolk State. He won the league two years in a row, won the MEAC tournament title for the first time and had consecutive players of the year.
He also pulled off one of the biggest upsets in the NCAA tournament in 2012 when No. 15 seed Norfolk State beat No. 2 seed Missouri. Lehigh took out Duke in the same round, so Norfolk State didn't receive as much national recognition.
Evans tried to move on a year ago but finished behind Richard Pitino for the FIU job. He got a second chance when Pitino used his Sun Belt title game appearance to bounce to Minnesota.
Evans arrives as FIU is moving from the Sun Belt to Conference USA. This isn't the same C-USA as when Louisville and Cincinnati were atop the league or when Memphis started to dominate. Still, C-USA is a step up from the MEAC with a television deal that can make it more relevant.
"You always have a perception or a stigma in the MEAC," said Evans. "But we just kept putting the program forward to get to a consistent level and show we could compete with other schools.
"You would always hope that you could get great opportunities after a win like that," said Evans of Norfolk State's victory over Missouri. "There were a few. FIU was one, and I interviewed. It opened up again, I made some calls, and it worked out. I'm grateful to president Mark Rosenberg and athletic director Pete Garcia for giving me the opportunity."
And that's what it is -- a chance that a number of other schools don't always extend.
What gets lost by these coaching search firms and ADs is not looking at the overall picture of a coach coming out of the MEAC. Evans, like many of his colleagues, had to struggle to get games and played most of his nonconference contests on the road.
"Everyone plays your best game against you in your league," said Evans. "Every arena was packed to play us. There are a lot of good coaches in the MEAC and SWAC. We go against them every day in our league. We beat each other up, and yet look at the records when we get into conference. We have to play those guarantee games. That's why [schools] shy away because of our records. There are good coaches. There are a lot of good coaches who have to recruit in these leagues."
Evans, 43, got a five-year deal. Pitino left him with two players deciding to transfer and eight games to fill. There is work to be done at a school that struggles for attention in South Florida, let alone in the conference. Evans is the third coach in three years after Isiah Thomas was fired prior to Pitino. He's the first of the three without a national name.
"We're going to have to make changes," said Evans. "We've got to have consistency if we want a great foundation. They started that in the Sun Belt academically, and we have to continue that. We've got to upgrade now into Conference USA. We've got to get our program up if we want to contend and compete."
But he has a chance. And if he does, Evans can be a trailblazer of sorts for other coaches who may want to upgrade out of the MEAC and SWAC.