Eddie Jordan moving forward at Rutgers
June, 7, 2013
06/07/13
5:46
PM ET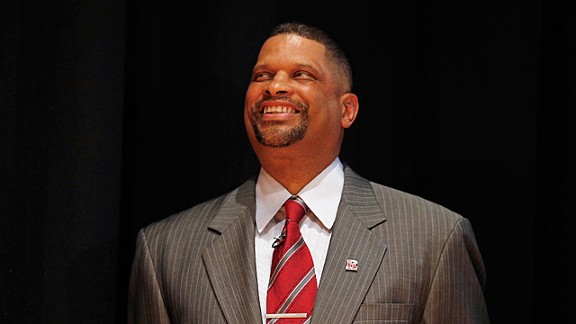 Rich Schultz/Getty ImagesAmid turmoil at Rutgers, Eddie Jordan has found an opportunity to be enthusiastic about.
Quietly, amid all of the noise about the controversial hiring of his new boss, athletic director Julie Hermann, men's basketball coach Eddie Jordan was focused on his own tasks.
Recruiting.
Individual workouts.
Fundraising.
Donor meetings.
Studying.
Yes, he is hard at work trying to finish his Rutgers degree, which had been the subject of confusion as to when and if he had earned it.
Jordan spent Thursday night studying, with the sound off on Game 1 of the NBA Finals. A few months ago, he was in the midst of prepping for NBA games against those same teams as an assistant coach with the Lakers. Now he's juggling his first head coaching job in Division I and being a student at the same time.
"I'm in school taking classes," said Jordan who played at Rutgers from 1973 to 1977. "It's fun and exciting. I'm doing my work, trying to squeeze it in and get done by December or by this time next year. Rutgers is my school, and I always wanted to finish. I showed that every summer while I was playing and came back and took a class. When I was volunteering coaching here, the registration got screwed up. I take the blame for that. I showed there was an intent on finishing, but once you get into coaching and you have a young family and you're in the NBA, it's hard. The NBA isn't a résumé league."
True. Nobody in the NBA was checking if Jordan actually had his degree, but coaching on a college campus pretty much makes one necessary. And to Jordan's credit, he acknowledged that he hadn't completed the process fully. He believed he had earned the degree with the necessary course hours in 1985, not realizing until afterward that he had not registered officially.
Now, even as the head coach, he is setting an example, finishing academically what he started 30-plus years ago.
Jordan was so busy this past week with hosting a recruit, workouts and academics that he didn't have much time to visit with Hermann while she was on campus. He attended the meeting with Big Ten commissioner Jim Delany and made it for the end of Hermann's talk with the coaching staff.
But he's fully engaged with the task at hand. He knows he's part of the reputation rehabbing process at the school as much as Hermann or anyone else. They are two of the highest-profile replacements in the scandal that cost former men's basketball coach Mike Rice and athletic director Tim Pernetti their jobs.
[+] Enlarge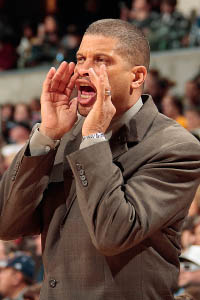 Ron Hoskins/NBAE/Getty ImagesJordan is busy selling New York and the Big Ten at Rutgers.
"Everyone is a bit beaten up by the stories, but underneath it all, we're getting kids excited about us and going into the Big Ten," Jordan said of the pending move in fall 2014. Rutgers will play one season in the new American Athletic Conference before joining the Big Ten. "There is no concern among the families and the kids about the AD situation. Kids are excited about the Big Ten and the new coaching staff. This is the first year. We are selling the Big Ten and New York. No other school can say that."
Jordan said he has had to fundraise as well, in the hope that the Rutgers Athletic Center will be renovated.
"There's no doubt it will," Jordan said of the Scarlet Knights' home court. "How much we can put into it and how much we can do is a matter of logistics and raising money. People are excited, though."
Players have transferred, including Jerome Seagears, Mike Poole, Eli Carter, Vincent Garrett and Derrick Randall. But a core has stayed, with Myles Mack, Wally Judge and Kadeem Jack as the expected anchors of Jordan's first team.
He said the players have adapted well to his NBA system. He is letting them play, and he said the response is that they are enjoying the freedom. Rutgers is still waiting for Junior Etou and Craig Brown to get on campus as they finish academically elsewhere. The Scarlet Knights also have a newcomer in JC transfer D'Von Campbell.
They don't have high expectations in the American. The learning curve in the Big Ten will be steep. And hiring an alum to coach hasn't always been the correct move. NC State had a hard time finding consistency under Sidney Lowe and ultimately had to part with its beloved former guard. Lowe, like Jordan, hadn't been a Division I head coach but had been a longtime NBA coach, mostly as an assistant. Their career paths are similar.
For Rutgers to achieve stability, Jordan needs to make sure he has a longer shelf life. And to do that, getting back in the classroom is as important as being on the court.
"We have a lot of work to do on different levels with parents, high school coaches, AAU coaches and a lot more dots to connect," Jordan said. "You have to bring out your skill and sell your school and academics and sell the league. We have to be creative and enthusiastic. We can do this. I'm a head coach again, and that means a lot. I have a lot of responsibility, and I'm really enjoying it."