Breaking down the U-19 Team USA tryouts
June, 13, 2013
06/13/13
4:59
PM ET
VCU's Shaka Smart has been deemed one of the shooting stars in the sport, a coach on the rise who could have his pick of jobs but has remained with the Rams.
But the growth for Smart isn't limited to the confines of Richmond or now the Atlantic 10.
Smart will rejoin Billy Donovan of Florida and new assistant Tony Bennett of Virginia (who replaces Gonzaga's Mark Few) on the U-19 Team USA coaching staff that will lead a squad at the FIBA World Championship in the Czech Republic later this month.
Tryouts for the 12-man roster begin Friday in Colorado Springs, Colo., and here is a list of the players competing for a spot.
"Being around great coaches makes you better,'' Smart said. "Billy last year, and this year Tony Bennett. It pushes you, being around people like that.''
What did Smart learn last year?
"Mark [Few] was nice enough to bring his playbook, and I literally stole several pages, literally took pages from the playbook and brought them back,'' Smart said.
He pointed out that one of the best plays the Rams used last season was taken from Gonzaga.
"It was a half-court set, it was a screen-to-screen play,'' Smart said. "The action was commonplace, but the way they got into it -- the spacing was unique. We put it in, and it was really unique.''
Who else did Smart take from?
[+] Enlarge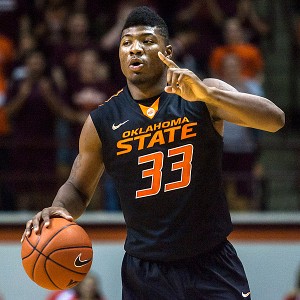 Peter Casey/USA TODAY SportsMarcus Smart's leadership and talent will again be a great asset to Team USA.
"When you go over there, last year it was Brazil and this year the Czech Republic, you do a lot of scouting as the assistant, and a lot of those countries run terrific stuff,'' he said. "I got a lot of good ideas. I was really impressed with Argentina, their whole team, their toughness, their togetherness and attention to detail.''
What was Smart's reaction to hearing that Oklahoma State's Marcus Smart would return from the gold-medal-winning U-18 team in Brazil to the U-19 team this summer?
"He was the reason, the No. 1 reason, we won last year,'' Shaka Smart said. "I was really, really excited to have him back. This tournament is the world, not just North and South America. This is Europe, Africa and Asia, and it's going to be harder. Marcus makes you feel like at least in his matchup, he can play against anybody and he won't take a back seat to anybody.''
What do the Americans need that they didn't have last year?
"We did not have a particularly good shooting team last year,'' Smart said. "That will be a point of emphasis this year during the trials. We've got to make sure we've got players on the team that can shoot the ball from the outside. A lot of those international teams can really shoot. You can't give up a lot of 3s and not make your share.''
The Americans also return Tennessee's Jarnell Stokes.
"Our strength last year was our girth advantage,'' Smart said. "We were able to just use our power. Jarnell Stokes was very effective. We had big guys like Julius Randle, who we won't have this year [going to summer school at Kentucky]. We want a couple of guys with strength to give us great length and size. We want a mix of everything, a blend of players who can play multiple positions.''
There are returning players like Smart, Stokes, Rasheed Sulaimon (Duke), Rodney Purvis (UConn), Shaq Goodwin (Memphis), Montrezl Harrell (Louisville) and James Robinson (Pitt), but will they all definitely be on the team when it leaves for Prague?
"Billy has made it clear,'' Smart said. "Everyone is trying out this year. We will pick the guys that comprise the best team.''