There will be no honeymoon for Alford
June, 18, 2013
06/18/13
7:32
PM ET
Steve Alford is back in Indiana this week for the first time since he took the UCLA job -- and the full-circle effect is in full swing for the native Hoosier.
After learning about the game in the same Martinsville gym where John Wooden once played, he dreamed of playing for Indiana and Bob Knight. Yet he never once thought he would be UCLA's head coach.
"It's a real surreal feeling," said Alford at a basketball camp in Franklin, Ind. "The Olympics is nothing I ever dreamed about. I dreamed about playing for Coach Knight and Indiana. The [1984] Olympics came out of nowhere and a blessing I will never forget. It is very similar.
"I never dreamed I would coach at UCLA. It was not one of those things in my coaching career I thought would happen. It's a tremendous blessing, and I'm going to make the most of it."
[+] Enlarge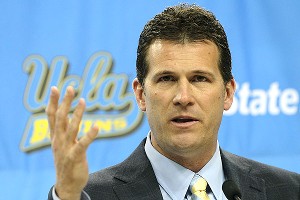 Victor Decolongon/Getty ImagesSteve Alford got off to a rocky start at his introductory presser, but he is hoping to turn the page.
But the time to romanticize about being the UCLA head coach is over.
Alford was blindsided at his opening UCLA news conference about how he handled the sexual assault case of a former player, Pierre Pierce, at Iowa. The Los Angeles Times did an exhaustive piece on the subject, prompting a May 18 statement from UCLA athletic director Dan Guerrero supporting Alford and essentially defending him.
Alford also dealt with the debate over his buyout. The agreement was finalized with Alford paying New Mexico $300,000, a reduction from the original $1 million demanded in the 10-year contract extension he agreed to (but didn't sign) just days before accepting the UCLA job.
The damage control from that rocky start is done, but the assignment doesn't get any easier. Now he has to manage a program where expectations have not dwindled.
In 2012-13, Ben Howland took the Bruins to the top of the Pac-12 regular-season standings, getting to the NCAA tournament despite an injury-riddled season.
Meanwhile, Alford led New Mexico to another Mountain West Conference title, but the team flamed out as a 3-seed in a stunning round-of-64 loss to Harvard. Alford has been to the Sweet 16 just once in his 18 seasons as a Division I head coach.
Can he take the Bruins there?
Alford certainly faces a tough task, having lost many of the team's best players from last season. Larry Drew II, UCLA's anchor at point guard, was a one-year player and is gone. Shabazz Muhammad posed a huge matchup problem for opponents, despite all his eligibility baggage, but he declared for the NBA draft.
Sophomore-to-be Jordan Adams, arguably the Bruins' best player last season, is still recovering from the broken right foot that sidelined him for the NCAA tournament.
"He's out of the cast and out of the boot either Tuesday or Wednesday," said Alford, who had to re-recruit Adams and persuade him to stick around Westwood. "We're just taking our time with him and making sure there are no issues moving forward."
The resulting void has created an opportunity for point guard Kyle Anderson, who joined Muhammad as a top-five recruit last season. However, with Drew around, there wasn't much of a chance for Anderson to play.
There is now.
"He's very versatile at 6-8 with a 7-foot wingspan [and] is really long and extremely talented," Alford said. "We can play him at multiple positions."
Alford's son Bryce, who was invited to the FIBA USA U-19 team tryouts last weekend, will be the other point guard. The younger Alford was a big-time scorer at La Cueva High in Albuquerque and received the necessary waiver to transfer immediately after his father moved from UNM to UCLA.
[+] Enlarge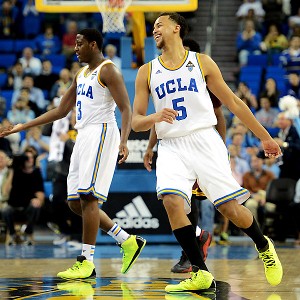 Jayne Kamin-Oncea/USA TODAY SportsKyle Anderson, right, and Jordan Adams will be huge factors in Steve Alford's debut season in Westwood.
"[Point guard] is a position [where] we'll be tested by youth," Alford said. "Kyle can play all over the floor, and we may have a four-guard lineup with him at the point and Bryce would be the other point guard."
Incoming ESPN 100 recruit Zach LaVine is also listed as a point guard, and while Alford thinks highly of his talent, the Washington native won't be put in a lot of pressure situations early.
Alford must work out the rest of his roster as well. The wings will be Adams and sophomore Norman Powell, a strong, athletic guard. First-year Noah Allen is a small forward, and Texas Tech transfer Wannah Bail, who is seeking a waiver to play immediately, is a power forward.
With the addition of Allen and (maybe) Bail to Tony Parker and the veteran leadership of the Wear twins, Travis and David, the UCLA frontcourt is relatively set. None of those big men are traditional low-block players who command attention, but they will need to demand the ball to create floor spacing. Of those four players, Parker is most likely to grow into that role and develop into a productive post.
"He's lost 18 pounds in the first two months we've been here," Alford said. "He looks much, much better."
Another concern for Alford is depth. If Bail is not cleared to play, the Bruins will have just nine eligible players on the roster. That deficit will make it tough to compete with Arizona, the clear favorite in the Pac-12. UCLA will be in a second tier with Oregon, while plenty of upstarts, such as Colorado, Arizona State, Stanford and Washington, could also challenge.
However, while obstacles are certainly mounting for Alford, important pieces are falling into place.
The whole Alford clan is moving to Southern California next week. A new strength and conditioning coach has been hired. A number of speaking engagements have been scheduled. Alford is also hoping to work in an alumni social on July 8-9 to bring outspoken, former UCLA players back into the fold.
This season's schedule is done too. Alford was responsible for getting two games: an opener and a marquee nonconference matchup. He nabbed Drexel to start the season and didn't hesitate to schedule Duke at Madison Square Garden in December. The Bruins will also play games against Missouri in Columbia, a series with Alabama at Pauley and a tournament in Las Vegas with Nevada and Northwestern. (Missouri is in the same event but won't play the Bruins.)
With that stress out of the way, Alford can now focus on recruiting.
"We've got to hit the ground running for the 2014 and '15 class," Alford said.
But the play on the court next season takes precedence -- make no mistake about it. Patience is not in the dictionary for UCLA fans, many of whom weren't exactly enamored with the hire -- or the PR hits that ensued. Alford knows that and has no choice but to challenge for titles in the conference right away, and ultimately nationally.
Just like every other UCLA coach since the mid-'70s, that's the legacy he has to uphold -- the one set forth by a fellow Indiana native whose fingerprints still cover this proud program.
Editor's Note: In our ongoing Path to the Draft series, UCLA came in at No. 7 on Tuesday. Click here to read the full piece.