Breaking down the Team USA roster
June, 20, 2013
06/20/13
4:20
PM ET
The FIBA U-19 World Championships may not resonate here at home, but the goal of winning gold has never been more explicit within USA basketball.
As the seriousness of the men's national team has taken on a new level in the last eight years, the junior national team has followed that example.
Coaches are returning. Players are, too. Suddenly, playing for Team USA has value -- as it should.
But this is not an all-star team. This is a team that will compete in Prague next week, crafted to fit Florida's Billy Donovan's coaching style. He wanted a team that could press, rebound, defend and generate turnovers. The havoc fits the way one of his assistants -- VCU's Shaka Smart -- loves to coach.
"I like this team a lot,'' Donovan said. "More than anything this group of kids understands the sacrifice and attitude and work ethic.''
Here is the final 12-man roster and Donovan's assessment of what they've done and can do for Team USA, which begins play in the Czech Republic on June 27. The gold-medal game is set for July 7.
Michael Frazier, 6-4, G, So., Florida
"He comes in as the best shooter. One of the things we struggled with was behind the line. He really provides shooting. In our scrimmage against Air Force he was 4 of 6. He can be a spot-up shooter against a zone and help us space the floor a bit.''
Aaron Gordon, 6-6, F, Fr., Arizona
"He's really, really athletic. He's got a great motor. He can play the 3, the 4. He's really, really good in the press. He's really, really active, and he's going to be a very good player with a great motor.''
[+] Enlarge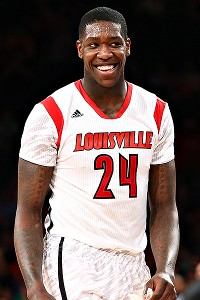 Debby Wong/USA TODAY SportsMontrezl Harrell will have an increased role at Louisville this season and his experience with Team USA should help.
Jerami Grant, 6-6, F, So., Syracuse
"He's been sick with strep throat. But he'll be healthy [for the tournament]. Like Gordon, he gives us another versatile frontcourt guy. Like Gordon, he can play a 3, 4 and 5 and his shooting has gotten better. He was on the team a year ago. He gives us great length and is versatile.''
Montrezl Harrell, 6-7, F, So., Louisville
"He's like Gordon and Grant in that he's really athletic. His skill level has gotten better [since last year]. He's really active. We can do a lot of things defensively with those three guys in Gordon, Harrell and Grant. We can press and switch and they can guard a lot of different positions, get out and run a little bit. We could play all three at the same time.''
Jahlil Okafor, 6-10, C, Whitney Young HS, Chicago
"He's really, really skilled in the low post. He's got a big body with a long wingspan. The way we're playing fast, running and pressing, he's the guy we can throw the ball inside and he'll make good things happen. He's a lot more mature than his age. He's going to play well with the pick-and-roll. He's a big, strong kid. We can go high-low with him and he can work his way to the basket. He's got a good skill level.''
Elfrid Payton, 6-3, G, Jr., Louisiana-Lafayette
"He came in as the surprise. He's really rangy and a very good defender. He can play multiple positions. He's really crafty with the ball and can get in the lane. The best thing he does is pass. He's a really good on-ball defender.''
Marcus Smart, 6-4, G, So., Oklahoma State
"He's been great leadership-wise. I think he's gotten better shooting the ball. His presence and competitiveness and strength and size will help us. So will his will. He came back to school and to us and that really helps our team. He has an incredible presence. I will play him at the point. But he'll also play the 2 and 3. We've got a lot of guys who can play different positions.''
Jarnell Stokes, 6-8, F, Jr., Tennessee
"He's really physical. He was with us last year and he can be a monster around the basket for us. Last year, we kept more guards. This year, more frontcourt guys.''
Rasheed Sulaimon, 6-3, G, So., Duke
"He's a good scorer. He was with us last year. He's shooting the ball with more consistency. He's more comfortable with the international line. We've got to get him to take over more of a leadership role. He was on the trip last year with Smart [when Donovan led them to the gold in Brazil for the U-18 title]. And he played a lot with Duke and that's important.''
Mike Tobey, 6-11, F, So., Virginia
"He's been really good. I think he'll really help us against the zone. After the first day or two, he adjusted and played really well.''
Nigel Williams-Goss, 6-3, G, Fr., Washington
"He's got a lot of the intangibles. He's a great leader and a really good motor. He's more advanced than his age. He's always played at a high level. He'll play the 2 for us.''
Justise Winslow, 6-6, F, St. John's HS, Houston
"He's a 6-6 guy that can play the 2, 3, 4 and really good in the press. The thing that's good for him is his overall skill, passing and unselfishness. He can guard several different positions. He's really athletic. He's a pass-first player that can slash to the basket.''