How to improve the NBA draft process
July, 1, 2013
07/01/13
1:17
PM ET
Underclassmen Phil Pressey, Vander Blue, C.J. Leslie, BJ Young, Marshawn Powell, C.J. Aiken and Adonis Thomas all weren't drafted.
If the rule still existed in the NCAA where they could return to college after going through the draft without being selected -- and not signing with an agent -- would they?
Best guess? No shot. Surprisingly, college coaches aren't clamoring to change the rule back. There is no movement to do so.
[+] Enlarge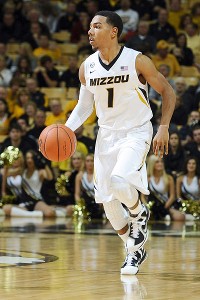 Dak Dillon/USA TODAY SportsPhil Pressey and other underclassmen on the draft fringe take a risk by declaring early.
"When they're gone, they're gone,'' NC State coach Mark Gottfried said.
Now Gottfried wouldn't mind a switch back, but he's also realistic. He said Leslie wouldn't have returned, and players have mentally divorced themselves once they decide to leave. They are told -- many times incorrectly -- that they will go in the first round, let alone a guarantee in the second. To reel them back into thinking about college basketball again would be pointless.
Pressey wouldn't have come back. He's playing for Boston this summer.
"Not sure if I would want it back because you are kind of in limbo,'' Missouri coach Frank Haith said about returning to a rule allowing players to return.
Memphis coach Josh Pastner said he told Adonis Thomas about his draft position. But as we have found out, players hear what they want to hear. Pastner said coaches can't wait until late June or early July to see if they have a scholarship open. Plans change. Recruiting takes precedence. Once the player is gone, it's hard to consider him returning.
Saint Joseph's coach Phil Martelli said Aiken's family sat in front of him and told him that he had a first-round guarantee. Clearly that wasn't the case. If this were true, then this kind of misinformation has been going on for decades and will continue to do so.
Players can also get guaranteed contracts as summer-league free-agents, so not being drafted isn't the end for the players, even if it makes for a humbling evening on draft night.
"I'm not in favor of changing the rule,'' said Martelli.
But Martelli wants to make other changes. He doesn't understand why the NBA and its players association won't go back to a scenario where players can declare out of high school, but if they go to college, they must wait two or three years (similar to the baseball scenario). Of course, this cannot change until it is collectively bargained.
Martelli echoed the sentiment of every coach I've spoken with on the subject of the NCAA's declaring date a week after the Final Four.
"The NCAA just picked a date, the ACC just picked a date,'' Martelli said. The ACC coaches were the ones who pushed for the legislation to change the early-entry deadline. The problem is the NBA didn't move its date, and that's the only one that matters when the early-entry deadline is due at the end of April.
The whole process needs an overhaul -- yet again.
Here is my suggestion:
[+] Enlarge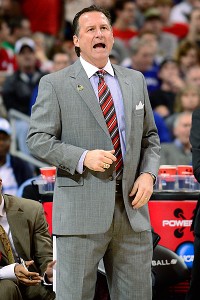 Scott Rovak/US PresswireMark Gottfried and other college coaches wouldn't be in favor of welcoming undrafted players back to school.
The problem from the past is the NCAA has essentially taken away the ability for players to work out for teams with the early-entry deadline. Team workouts don't occur until after the Chicago pre-draft camp in mid-May.
So why not have an underclassmen combine? The combine could be the weekend after the Final Four, or the week after, for all underclassmen who want to declare for the draft. Of course, players like Ben McLemore, Otto Porter, etc., -- the expected lottery picks -- don't have to attend. But for all the players who are projected from the late-first to second round to going undrafted, this would give them a realistic sense of where they stand.
General managers and player personnel directors could line up the perimeter of the court and then poll their counterparts and form a committee. The committee would then offer up a report at the end of the weekend with possible tiers of where the players could land.
If the player still chooses to ignore the information, then that is his choice. But this would actually give the player some real information, not manufactured by someone who has his own self interest.
The combine would be exempt from any NCAA rules, allowing the underclassmen to attend the weekend event. It would also be on Friday night, Saturday day/night and then, if needed, Sunday morning, so players wouldn't miss class.
The current setup gives players, like the ones mentioned above, false hope. They get invited to a slew of team workouts in late-May and through the month of June, only to be passed over on draft night. NBA teams are already spending thousands of dollars on each player, flying them around the country for a look that ends up being a waste of everyone's time.
The players would still be in school presumably during the underclassmen combine, so the influence of outside individuals would/should be limited.
Something has to change, or else there will continue to be players who are left humbled and embarrassed on draft night.