Brad Stevens has traits to succeed in NBA
July, 8, 2013
07/08/13
5:44
PM ET
Danny Ainge mentioned poise and intelligence in describing Brad Stevens at the Boston Celtics' news conference on Friday. He continued to go back to his new coach's demeanor under pressure.
The qualities Stevens possesses will serve him well in the NBA.
[+] Enlarge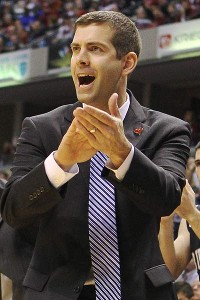 Brian Spurlock/USA TODAY SportsNew Celtics coach Brad Stevens said he'll make mistakes. But he'll be quick to learn from them.
On the laundry list of potential college coaches going to the NBA, Stevens was probably not at the top for those who speculate on those types of moves. But he was for Ainge.
The assumption was that Michigan State's Tom Izzo, who flirted with Cleveland and Detroit, Kansas' Bill Self or maybe Louisville's Rick Pitino or Kentucky's John Calipari again, would be interested in pursuing an NBA gig before Stevens. Of course Florida's Billy Donovan had an NBA job -- Orlando -- and then gave it back within a few days to return to the Gators.
Those coaches are all now the faces of their respective programs and, to some extent, their universities. There is no need for them to leave.
Stevens didn't have to go, either. But his job has changed. By joining the Big East, Butler is now in the most competitive conference it has been in during its history. The expectations to win at a high level have never been stronger. Yet, through it all, Stevens remained the same.
He never feared the change. He embraced it. He also continued to do things with honor and always respected the process. Ainge pulled off the stealth move by hiring Stevens without anyone outside of a tight circle knowing. Stevens was never one to discuss interest in any place but Butler. Having his wife, Tracy, as his agent/attorney limited any leaks. Ainge and his ownership group were the only sources of information on this one, and they weren't talking.
Ainge said Friday that had this gotten out, there was a chance the move might not have occurred. Butler would have had an opportunity to woo Stevens back. His players may have had time to work on him. The alumni could have attempted to pressure him. That may have been the case with the administration, as well. None of that occurred. There were phone calls that happened over the week between Ainge and Stevens and one in-person meeting last Wednesday, the day the deal was agreed on and signed.
I've always believed Donovan would have been the Orlando Magic head coach had he not gone back to do his news conference in Gainesville, Fla., after the one he had in Orlando. Heading back to Florida to say goodbye and to be with his family allowed the emotional pull to strengthen. The Magic had no shot to keep him when he was back in the comfort of Gainesville.
Boston didn't allow Stevens to have that time to think. And he was smart to take the offer. Stevens wasn't going to take a bad NBA job or join an NBA franchise that doesn't have a rich history. He was only going to leave Butler for an elite job -- either in college or in the NBA. If the Sacramento Kings offered him a three-year deal for more money, I doubt he would have left.
Even a six-year deal, with guarantees from the Kings or a similar franchise, might have been off limits. The Celtics made sense on so many levels, mostly because of the brand name and the security.
The Celtics' ownership and Ainge are as invested in Stevens' success as he is in taking the leap of faith.
Ainge mentioned that to deal with All-Star point guard Rajon Rondo you need to listen to him. Stevens was always a great listener at Butler. He never appeared to be dictating everything. That's not his style, and it won't work in the NBA.
Stevens kept saying he's a process guy. Well, his players should react to that well, since he wants them involved in the process of building up the franchise again.
Stevens wants to have a collegial atmosphere with the Celtics. Having his family around quite a lot, his two young children running around at times, will help in fostering that feeling with the team.
Former Sacramento and Golden State coach Eric Musselman, now an associate head coach at Arizona State, said there are a number of differences Stevens will have to face as an NBA coach.
The game preps are done in a smaller window and will come fast. The terminology is different. The personnel, the sets, the 24-second shot clock, the late-game situations, the length of the game (48 minutes versus 40 minutes), the media responsibilities, the skill level, the travel, the professionalism, the outside interests for the players and their families, the practices, the free-agency/draft decisions and trades are all unique to the NBA, said Musselman.
Stevens admits to his learning curve. He said he'll make mistakes. But he'll be quick to learn from them. He has an unbelievable patience that matches his passion.
Stevens' humility makes him more attractive to the NBA. He blends and offers measured comments. That should work well in this new era of the league when the tendency will lean toward a Stevens-type coach. Of course, his success will determine if he has any coattails from college to the NBA.
The time was right for Stevens. He'll likely seize the opportunity as well as, if not better than, any who has tried before him.