Ole Miss star needs to face his problems
July, 11, 2013
07/11/13
4:08
PM ET
Ole Miss' staff knew that Marshall Henderson needed help.
He needed someone outside the department and university to talk with him, so the Rebels sought out Chris Herren, the former NBA and Fresno State guard who famously battled drug and alcohol addiction while playing.
[+] Enlarge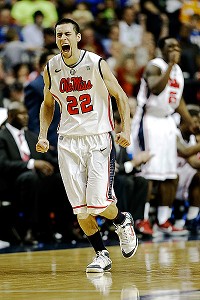 AP Photo/John BazemoreMarshall Henderson led Ole Miss to the NCAAs this past season, but he's been engulfed in controversy both on and off the court.
Herren -- who has written about his struggles in "Basketball Junkie: a Memoir" and was the subject of a 30-for-30 documentary called "Unguarded" -- has become one of the most coveted motivational speakers for college and professional teams this past year.
According to multiple sources, an Ole Miss assistant coach called Herren about six weeks ago and gave him Henderson's phone number. Herren called Henderson, left a message and expected a return call. But Henderson never called back.
Due to privacy issues, neither Herren nor Ole Miss representatives can discuss their reasons for trying to connect Henderson. But ESPN and multiple media reports confirmed Wednesday that the rising senior guard and the SEC's leading scorer from last season was suspended indefinitely for failing multiple drug tests.
This isn't the first time Henderson has dealt with controversy. The NCAA reprimanded the 6-foot-2 guard in June for making an "inappropriate gesture" once the Rebels lost to La Salle in the third round of the NCAA tournament. He was also arrested in 2009 and 2011 and served time in jail after the second arrest due to a violation of probation. And USA Today reported that last season, prior to joining Ole Miss, Henderson had tested positive for cocaine and marijuana. Before Ole Miss, he spent time at multiple schools.
This past season, Henderson led the Rebels to an NCAA tournament upset over Wisconsin, which followed a shocking SEC tournament title victory over Florida. Ole Miss hadn't made the NCAA tournament since 2002, and it rewarded coach Andy Kennedy with a new four-year contract extension for that postseason run.
Herren couldn't discuss Henderson's case when reached by phone late Wednesday night. But he did say "I'd be more than happy to take a phone call any hour of the day. I'm around 24/7 for that.''
Herren also tried to reach Henderson through Twitter this morning:
Enough on the Marshall Henderson suspension ..The kid is obviously battling a beast ...PRAY FOR HIM !!

— CHRIS HERREN (@c_herren) July 11, 2013
There is anonymity involved in a recovery from addiction. But Herren said a player who is battling an addiction "needs to step away for some time.''
College athletes tend to minimize the effects of marijuana use. Herren said marijuana has become this generation's alcohol. Herren can work with Henderson on preventing drug use and from throwing away his dream of playing in the NBA or professionally overseas.
Herren works with players in group sessions and one-on-one private sessions. He is scheduled to go to Ole Miss sometime in the fall to talk to the Rebels.
Herren was well aware of the comparisons people were making between Henderson and himself.
He was Marshall Henderson. He had been there and done that. He tried to beat the system. But he was beating himself the entire time. Those latter two sentences are his words, and he has used them over and over again.
Herren got help from outside sources for his drug addiction, which included visiting a rehab facility in Utah during his Fresno State career. The problem was too much for Fresno State to handle.
Ole Miss may be doing its best to help Henderson. And it should. The Rebels shouldn't completely dismiss him as an individual with a drug problem without offering assistance. There should be suspensions for games/practices, and there should be athletic department and academic punishments.
He may never play college basketball again. And the NBA may not have been enamored by his skill set since he was a streaky shooter. His character issues and failed drug tests, let alone his propensity to challenge opponents and fans, are a major red flag for the NBA. He might be able to get a gig overseas.
But if Henderson is completely tossed aside without any kind of help, it could be an abusive situation again.
"I believe, in my heart, it's much better to have an outside source, not connected to the school, to help someone,'' Herren said.
Henderson will need to own up to his mistakes and addiction and realize what he must do to straighten out his life before he throws it all away.
Herren made a terrific point in saying the professional career is simply a head start. Most players are done by the age of 30 or by their mid-30s, and then they have two-thirds of their lives left to live.
"There are a lot of Chris Herrens who never made it,'' Herren said. "I'm blessed with a second chance in life.''
Many athletes don't get second chances. Henderson can still overcome his latest setback. A source with direct knowledge of the situation said Henderson can come back if he meets certain conditions. The door is not closed. Based on the latest drug-test suspension, he would likely be suspended for the beginning of the season if he met those conditions.
Henderson has another chance. But first he needs to acknowledge a problem. And then he can work his way back.
Herren is waiting for him. He just needs to pick up his phone and call.