Louisville is capable of defending title
July, 24, 2013
07/24/13
10:30
AM ET
WASHINGTON -- Louisville's Kevin Ware walked through the White House on Tuesday without a hitch, a limp or any discernible hiccup to his step.
He is on the mend from a compound fracture in his leg, and the prospects of him being back on the court are high. But the underlying concern for Ware will be how he handles the mental aspect of playing basketball again -- actually being in a competitive environment -- and being so much in the spotlight.
"He hasn't watched the tape, and I don't want him to,'' said Louisville's Chane Behanan. "He doesn't want to. If he saw it, he'd be nervous even playing. Without him seeing it, I think he'll be fine.''
This theme of the mental aspect for Ware is real among the staff and his teammates. How he handles the simple things of being on the court again and initially being the story are all real issues, maybe as much as his physical recovery.
Louisville chose to shut him down from public comment Tuesday at the White House on the team's visit. He was not available to the national, D.C. or Kentucky-based media. He had spoken quite a bit about his freakish accident, the compound fracture that millions saw on CBS against Duke in the teams' Elite Eight game and inside Lucas Oil Stadium in Indianapolis.
[+] Enlarge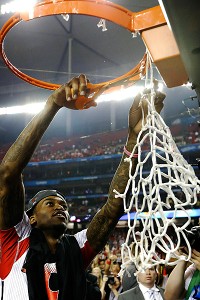 AP Photo/Charlie NeibergallKevin Ware couldn't play in the title game, but he still got to cut down a net.
A few weeks after Ware's injury, the country saw the horror of leg injuries and loss of limbs during the Boston Marathon bombing. Ware's injury was serious, and had it not been for the on-court care by Louisville's team of trainers and doctors, and the immediate medical care in the building and in Indianapolis, the injury could have been even more serious. Surgery went well. He is healing. He will play again. So, perspective is needed here for Ware, but in our world, that's hard to have when so much attention will be on him early in the season, sucking all the oxygen out of what Louisville will be doing. Maybe that's one reason the Cardinals are dialing back the attention on him.
Ware was invited to the White House Correspondents' Dinner. He had gone through the media circuit. President Barack Obama made a point of mentioning Ware during his comments to Louisville and the assembled guests in the East Room.
"And then, of course, there's Kevin Ware,'' Obama said. "I told him to say hi to his mom, because moms don't like seeing their kids get hurt. And obviously all of us remember the terrible injury that Kevin suffered. But what we also remember is the love that all of his teammates showed for him, the way that he was on crutches a day later. A week after that, he was up there cutting the nets in Atlanta. Today, he's standing here with his teammates, working out, hoping to be ready for fall practice."
Like it or not, the attention nationally on Louisville took a different turn after Ware's injury. It was too dramatic not to shift the focus to the Cardinals in the sport and across mainstream news platforms. "Once Kevin got injured, people were paying attention to our team,'' Behanan said.
Ware was a key rotation player in the Sweet 16 win over Oregon, scoring 11 points in 25 minutes and being the lanky defender needed for the Cardinals. He lasted only five minutes of playing time against Duke.
"It's unbelievable, he's such a tough kid and he doesn't care as much about himself as he does everybody else,'' said Louisville athletic director Tom Jurich. "He works tirelessly. His goal is to play this year and whether or not he does, he's done all things he needs to do. If anybody is going to make it happen, he can.''
Peyton Siva, who finished his career with the title victory over Michigan, said, "For us to see him walking around and shooting the ball and getting up and down is really great. It's definitely a great story for other people to see how determined he is to get back onto the court. He's ready. He can't wait to get back on the court and play with the guys.''
Louisville coach Rick Pitino has been cautious to not shine too much attention on Ware. "It's an injury that takes a long time to heal, but he will heal, and so we're very optimistic after speaking with his doctors,'' Pitino said.
But to make this Louisville team all about Ware would be a mistake. There is so much more to this team now, as there was during the NCAA tournament.
Luke Hancock: He was the MVP of the Final Four coming off the bench, dealt with his father being gravely ill due to cancer during that time and then the grief of him passing away on June 25. Hancock still honored his commitment to try out for the World University Games and then made the team that finished a disappointing ninth in Kazan, Russia, earlier this month. Hancock averaged 10.8 points, three rebounds and made 16 3s for the Americans.
[+] Enlarge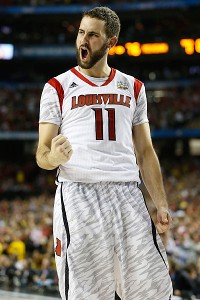 Mark Cornelison/Lexington Herald-Leader/MCT via Getty ImagesLuke Hancock was big in the Cards' title run and will be looked to as a leader next season.
"My dad being able to share that national championship with me is pretty special,'' said Luke of his late father, Bill. "It was a wild summer. There were ups and downs. I talked with my dad about not going [to USA basketball], but he looked at me and made me promise to him that I was going to go. The first several days after I found out, that was really tough. I wasn't going to back out on my promise. That's exactly what he wanted me to do.''
Montrezl Harrell: Harrell was an energy rebounder for the Cardinals during the postseason. He has a chance to ultimately be the best pro prospect on the 2013-14 roster. He was third on the team in scoring (10.6) and averaged 3.7 rebounds with 10 blocks and eight steals on the gold-medal winning FIBA U-19 team that won in Prague earlier this month.
"The last six months for me have been fun and a great experience,'' Harrell said. "I had a great experience with this team, winning the national championship and winning the gold. It's a great feeling.''
The guards: One-time walk-on Tim Henderson got a shout out from the president and Pitino during the ceremony. He said those two 3s he made against Wichita State in the semifinal "changed his life,'' due to the national recognition he received. "A lot of guys get a dream to get this opportunity and it has been a blessing and an unbelievable feeling," he said.
The top returning player is Russ Smith, who is in Europe competing with a foreign touring team loaded with college players. Smith has professed that the Cardinals can win the title again. They can with him leading this squad. Contributing wing Wayne Blackshear is back, and the infusion of JC transfer point guard Chris Jones has the team anticipating another title run.
"I got the chance to watch him in practice the other day, and he was amazing," Siva said. "He'll open eyes. He can play. He can shoot the ball. He will be really good this year."
The starters of Smith and Jones, the spot play of Henderson, the potential return of Ware, the face-up shooting of Hancock, the contribution of Blackshear, the inside play of Behanan and Harrell make up a team that can win the title again. The one thing missing is the intimidating back-line defense of Gorgui Dieng, leaving that onus on Harrell and Behanan. How much the newcomers -- guards Anton Gill, Terry Rozier and big man Akoy Agau -- contribute is still to be determined.
Louisville will be the team to beat in the American Athletic Conference. The Cardinals should be considered as a preseason No. 1.
"It takes a little bit of luck and a lot of hard work and a great family type of chemistry,'' Pitino said. "We've got those things now. More than anything else we have to replace Gorgui Dieng. Peyton Siva had an unbelievable attitude but we've got some great guards coming in. We're very deep in the backcourt. We've got to replace Gorgui in the 5 spot. I'm not as confident as Russ Smith who told one of the New York tabloids that even though he was going to Spain and he would miss seeing the president that he would see him next year. We're not that confident as a coaching staff.''