Heslip's shooting key to Baylor's success
August, 5, 2013
08/05/13
5:26
PM ET
Brady Heslip's importance rose quickly as the spot shooter on a deep Baylor team that reached the Elite Eight two years ago. And if Baylor is going to get back to the NCAA tournament after a year in the NIT, one of the reasons will likely be that Heslip has snapped out of his shooting slump.
The Bears had length and size inside but used the 3-point shooting of Heslip to catch teams off guard. His nine 3s in an NCAA tournament third-round win over Colorado were the difference in advancing the Bears.
But the numbers were down last season for him and Baylor. Sure, he started and finished the season strong with eight 3-pointers each in games against St. John's in November and against Long Beach State in the NIT in March. But inconsistency in between led to fewer 3s made (83 compared to 100 the season before), a lower 3-point percentage (.386 compared to .455) and fewer points per game (8.6 compared to 10.2).
[+] Enlarge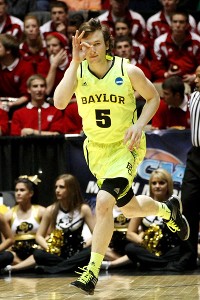 Christian Petersen/Getty ImagesBrady Heslip's 3-point percentage fell to .386 in his junior campaign.
Heslip said the departure of Quincy Acy off the Elite Eight team changed the dynamic of last season's team. He didn't get as many shots off last season, nor was he featured as much. He said the leadership wasn't there as much as the season before.
"I wasn't as consistent," Heslip said by phone from Toronto, where he was one of 17 players trying to make the Canadian national team cut prior to the FIBA World Cup qualifying tournament in Venezuela. "I didn't have the green light like the year before. It was tough."
That will likely change for two reasons: Heslip's summer performance and the makeup of Baylor.
As soon as his erratic season was over, Heslip immediately discarded the memory. He led the Canadian team in scoring (15 points per game) and made 25 3s (44.6 percent) at the World University Games and scored 20 points in a victory over the Americans en route to a fourth-place finish in the tournament in Kazan, Russia.
This was a Canadian team that had college standouts Dwight Powell of Stanford and Kevin Pangos of Gonzaga, among others, but it was Heslip who led the team coached by his uncle Jay Triano.
"It has been an amazing summer," Heslip said. "I have had an amazing opportunity to play in the World University Games, playing for my uncle Jay. I feel a lot better. There's nothing better than playing for Canada."
As for Baylor, Pierre Jackson, who needed the ball quite a bit, is gone as lead guard. The likely point guard this season is newcomer Kenny Chery, and if there is another newcomer who could challenge Heslip for time on the wing it's Ishmail Wainright.
Heslip said having Chery on one side, with the assumption of Wainright on the other -- a great passing big man, Heslip said -- and the return of Cory Jefferson and Isaiah Austin inside gives the Bears a chance to finish in the top three in the Big 12 with Kansas and Oklahoma State.
"I'll be able to play with the ball more [this season], coming off more ball screens and be more involved," Heslip said. "I feel like my job now is to be a leader. I'm growing as a player with this Canadian team and looking forward to leading these guys [at Baylor] and leaving my mark, have a winning season and making a run in the NCAA tournament."
Heslip has to contend with Andy Rautins, Cory Joseph, Kris Joseph and Myck Kabongo along the perimeter in his quest to make the Canadian team. If he does, the tournament will stretch into September. But the Bears will certainly benefit from his experience.
"He's had a great summer," Baylor coach Scott Drew said. "Hopefully it will carry over to a great season. He's playing with a lot of confidence and playing more off the bounce, which he's capable of."
His development as a college player and now a national one has been steady. He's ready to blossom into a potential all-league guard in the Big 12 and find his niche on a rising team in FIBA basketball.
"The experience of playing against the pros at the highest level, having the freedom to play with the ball and do more things that I can show offensively has helped," Heslip said. "I'm more than a catch-and-shoot player. I've been working on my defense, my quickness and toughness by playing against guys at the highest level. I have had to bring it every night."
And that will benefit Baylor more than any summer workouts in Waco could have.