La Salle aims to maintain momentum
August, 6, 2013
08/06/13
10:50
AM ET
La Salle coach John Giannini has certainly reaped the benefits of a magical March run.
He threw out the first pitch at a Phillies game. He picked up transfers from out of the region, not the norm for a school considered more or less regional for much of its history.
And most importantly, he picked up a contract extension after the team's Sweet 16 appearance. The loyalty both sides have shown to each other since Dr. John arrived in 2004 -- despite only reaching the postseason the past two seasons -- is admirable.
Still, Giannini is well aware that for the Explorers to be nationally relevant again they cannot shrink from A-10 title contention and have to be a consistent visitor to the NCAA tournament. Last season's tourney berth was the school's first since 1992 and the trip to the regional semifinals was its best run since 1955.
[+] Enlarge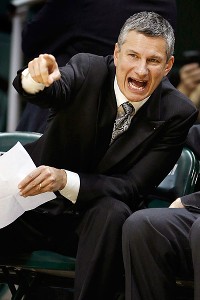 Robert Mayer/USA TODAY SportsAfter winning three NCAA tourney games in 2013, John Giannini received a contract extension from a patient La Salle administration.
"First we had to win consistently in the A-10,'' Giannini said. "We did. Then making the NIT was the next step, then making the NCAA tournament. I like our team. We're talented. We're experienced. We're bigger. We're confident. But we're also realistic.''
The Explorers finished 24-10 last season (11-5 in the A-10), but the margin between a great season and another merely decent one was razor thin.
"We won Villanova on a last possession, beat Butler on a last possession, beat Northeastern on a last possession, won at St. Bonaventure on a last possession, beat Kansas State and Ole Miss on last possessions [in the NCAAs],'' Giannini said. "Whether we're going to win games at the buzzer and be as consistent, I can't say right now. But we'll play good basketball.''
The Explorers lost their best player in Ramon Galloway. He wasn't just the team's leading scorer, but also "the heart and soul of our team," Giannini said. "His energy and enthusiasm will be very difficult to replace.''
Galloway is the only significant player gone, though. Tyreek Duren (14.2 PPG) will have the ball in his hands more and Giannini said opposing teams won't be thrilled by that prospect. Tyrone Garland also will get more minutes, which may mean more points than the 13 he averaged last season.
Giannini said the addition of Delaware transfer Khalid Lewis helps offset some of the loss of Galloway. Lewis was the starting point guard for the Blue Hens two years ago. The rebounding will need to come from the guards and of course, returnee Jerrell Wright, who grabbed 6.7 a game last season.
Adding Georgia Southern transfer Cleon Roberts (a Miami native) and Auburn transfer Jordan Price (from Georgia) gives Giannini a feeling that the Explorers are expanding their reach.
"I think the kids watched us play and I think our style of play and the success we had helped their decision to come to La Salle,'' Giannini said. "Most of our transfers have been local kids. Now we're getting kids out of the area.''
That may be the case, but the team's Sweet 16 run didn't translate into any high-profile, home-and-home nonconference games this season. Hardly anyone from a power conference wanted to play La Salle, which should not come as a shock.
"We needed more RPI games,'' Giannini said. "So we added some low- to mid-major games that will help. We called just about everybody in the top 50 to 60.''
The Explorers play Manhattan, Siena, Quinnipiac, Hartford, Wagner, Stony Brook (at Madison Square Garden), Big 5 rivals Temple, Penn and Villanova, a rebuilding Miami and struggling Penn State. They will participate in the Paradise Jam in the Virgin Islands, but the field isn't terribly strong this season. La Salle will open with Morgan State and face either Providence or Vanderbilt in the second round. Maryland likely would await in the title game.
In terms of beefing up the RPI, the A-10 didn't exactly help the Explorers with the conference schedule. La Salle plays George Washington, St. Bonaventure, Saint Joseph's and Duquesne as the home-and-home games, but potential A-10 title contenders VCU, Saint Louis and UMass (road) only once. The lack of overall power-rating games on this schedule will put even more emphasis on those three games against the fellow conference contenders.
But what's really important is the Explorers making March matter for a second straight season. Make some noise in people's brackets again, and perhaps the name La Salle will resonate well beyond Philadelphia -- and for many years to come.