ASU's goal is clear: NCAA tournament
August, 7, 2013
08/07/13
11:31
AM ET
No team heading off on a foreign trip needs it more to be a springboard than Arizona State.
The Sun Devils travel to China on Thursday, and if this trip works well for them, they may just be a Pac-12 top-four team this season -- bound for the NCAA tournament for the first time since 2009.
Jahii Carson is banking on it.
He came back for a third year of college (his second playing after being academically ineligible as a freshman) to lead ASU into the NCAAs. The pieces are in place for just that, especially after the Sun Devils picked up an immediately eligible transfer in Penn State's Jermaine Marshall (15.3 PPG last season).
Carson is done with school after this season, barring some sort of setback. This is it. He has talked to James Harden, the most famous Sun Devil to play under Herb Sendek since he arrived in 2006. Harden led ASU to its only tourney appearance under Sendek, and Carson is desperate for trip No. 2.
"If I don't make it to the NCAA tournament," Carson said, "it would be a killer."
[+] Enlarge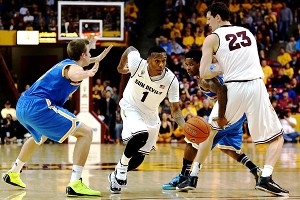 Mark J. Rebilas/USA TODAY SportsAs one of the top point guards in America, Jahii Carson hopes to add NCAA tournament to his list of accomplishments.
Last season, he led the Sun Devils with 18.5 points and 5.1 assists a game, and ASU had its moments, finishing 9-9 in the league and 22-13 overall after losing to Baylor in the NIT second round.
Carson could have bolted to the NBA draft. No one would have faulted him. But he didn't. He stayed true to his decision to finish what he started, to get to the NCAAs and be ready to play in the NBA, not just be drafted. He went to the LeBron James Skills Academy this summer, played at the adidas Nations tournament and was a fixture in the gym in Tempe.
So why did he stay?
"Two things: He's smart, and he's confident," Sendek said. "Most guys are in a hurry to get there. He didn't buy into that. He wants to polish certain parts of his game. He was much more comfortable taking a long-term view. Unless he was a clear-cut lottery pick, it made more sense to come back."
Carson credits the addition of former NBA coach Eric Musselman to the staff as a sage adviser in the process. He also said none of the coaches have ever held him back.
Carson said he's done going to parties at what is generally considered quite the party school. He said the time has come to focus on basketball. And it is no secret he's likely done with college after this season.
"Depending on how the season goes, Coach Sendek said this should be the last year and Coach Musselman too," Carson said. "There's no reason to keep me longer if we reach our goals."
Carson said adding Marshall gives the Sun Devils something they didn't have last season. His maturity, scoring ability and experience will immediately benefit ASU. And the continued improvement of Jordan Bachynski inside should help offset the production loss of 6-foot-6 swingman Carrick Felix.
Sendek and Musselman have tweaked the way they'll play this season. They practiced in the spring with a 24-second shot clock to get even more possessions and to use Carson's quick-strike ability.
"We're not trying to overcomplicate this," Sendek said. "We're trying to push the ball in transition, but obviously against the better teams we won't be able to score as much in transition. But we want our guys to have that mindset. Everybody has to buy into it. The big guys are mobile and can run. We don't have someone who will slow us down."
Sendek mentioned Bachynski and Eric Jacobsen as big men who can run. He said he's looking forward to seeing how Jacobsen and Calaen Robinson do on the trip to China.
"They don't have a lot of game experience," Sendek said. "It's to their advantage to get them as much playing time as we can."
Sendek said he'll need to find a backup point guard to Carson on this trip. He doesn't have one going into the season. Clearly, Carson will eat up minutes, but someone else has to be prepared.
Not having Felix means the Sun Devils lost a leader in the locker room, so Carson will have to do even more in that regard. He can. He says he will.
Sendek said there are unanswered questions about this crew, but there is one thing no one questions: This team needs to make the NCAA tournament.
"We've had some good seasons, but we haven't gotten into the tournament as much as we'd like," said Sendek, who is entering his eighth season at ASU. "We've been on the precipice as much as anybody. The league is going to be extremely good and arguably as good as since I've been here. It's very balanced and competitive. We can compete for this. I like this team. It's as good as we've had here."