Smith must stay on court once he makes it
August, 8, 2013
08/08/13
7:19
PM ET
Joshua Smith's ability to get on the court in his new role at Georgetown and be productive, to play a full season without any issues, is not simply about his weight.
This is about his commitment to working, finding cardiovascular endurance and believing in himself enough to crave the sustained energy that will help him be a contributing member of Georgetown's basketball team and, most importantly, staying healthy in the years ahead.
Smith said he weighed 350 pounds when he arrived at Georgetown last winter after transferring from UCLA. He's around 310 now and, at 6-foot-10, would like to play at 290. These are numbers he has set for himself -- with no one's instruction. There is no correct weight compared to height in sports. Some can move quickly at a certain weight, some cannot.
"I've taken the approach that let's not talk about numbers," Georgetown coach John Thompson III said. "I've told him, 'Let's get to a point where you can stay on the court for two minutes, then stretch it to five and then five to nine and then nine to 15.' Some people can play at 200, some at 250, some above 3 and some can't play above 150. He's got to get to a point where he can stay on the court for an extended period of time."
If that happens, Thompson has high hopes for the highly touted center out of Kent, Wash.
[+] Enlarge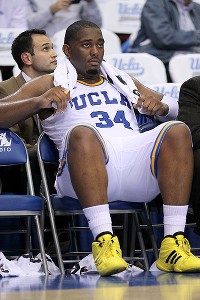 Stephen Dunn/Getty ImagesJoshua Smith says he weighed 350 pounds when he transferred to Georgetown from UCLA.
"A committed Josh Smith, I'm not sure there is a better big man in the country," Thompson said. "He has the instincts and the physical tools to be better than any big man I've had."
Considering the big men who have come through McDonough Gym under JT3 -- NBA centers Roy Hibbert and Greg Monroe -- that's quite a statement.
"It's been the commitment," Thompson said. "I didn't realize how good a passer he is. He's got to put himself in position to where he can stay on the court. We're trying to get him to the point where he understands it's on him. He has to understand that he has to be as committed as everyone around him. He has to be more committed. He is getting there. But he's got a ways to go to get there."
Smith knows. He is not blaming anyone but himself, not former UCLA coach Ben Howland, not his teammates at UCLA, no one.
"I didn't put the work in," Smith said. "That was really it. People told me as a freshman. I didn't put the work in. I thought I could turn it on and off."
The big center is attempting to shed any negative image of him from his time at UCLA,
"I had a bad rap at UCLA because I didn't eat breakfast, I didn't eat lunch. I would wait until after practice and workouts and then think I had to eat X amount of calories," Smith said. "I was so hungry then. I thought it was the right way and it wasn't. I've worked with a dietitian here since I got here in January. I'm dealing with portions, eating vegetables and fruit and drinking Powerade Zero with less calories. I wouldn't eat all day and then try to eat 3000 calories at night. Now I'm eating them with small meals throughout the day.
Smith averaged 10.4 points and 5.1 rebounds his first two seasons for the Bruins. He lasted six games as a junior. In his final game for the Bruins -- a loss against Cal Poly on Nov. 25, 2012 -- he played only nine minutes while racking up four fouls before the 10-minute mark of the second half.
"My freshman year at UCLA was OK, and then it was a disappointment sophomore year in my eyes," Smith said. "It was hard to leave my teammates. This was where my mom's side of the family was from. I liked it there. I didn't want to quit on my teammates and go somewhere else. But I thought I might have a better chance of playing. It was nothing against Coach Howland. It was nothing against UCLA. I'm so thankful to everyone there."
Smith has taken advantage of the Georgetown big men alumni since he arrived, leaning on every one who has come through, especially Hibbert. The two situations are very different. Hibbert arrived awkward in his own body, unable to use his size and strength to his advantage. Smith said he was stunned to learn from the Georgetown strength and conditioning staff that Hibbert struggled to do a pull-up or a push-up when he arrived.
But Hibbert worked. And he worked. And he worked. And he became not only one of the most improved players in college basketball during his four-year career but arguably one of the most developed big men -- from where he started as a high school senior -- in the NBA in the last 10-20 years. He is now an intimidating force for a contending team in Indiana. That would not even have been a thought if you saw him in high school.
"One thing I learned from Roy is that I've got to put the work in," Smith said. "I've got to be in the gym as much as possible and use the coaches as resources and do everything I can to be successful so I can be in his shoes one day. He keeps telling me my body is my strength. He said use your body, that's your weapon."
The Hoyas lost Greg Whittington to an ACL injury and don't anticipate his return. Otto Porter, a quality rebounding small forward, is gone to the NBA. Nate Lubick and Mikael Hopkins can board, and they will. Incoming freshman Reggie Cameron can as well. But the onus will be on Smith when he's eligible. Smith is trying to change that date. He said he has applied for a waiver to play immediately and skip the second semester portion of his year in residence. Thompson confirmed the waiver has been sent into the NCAA.
"My argument is that I only played in six games so why should I lose a whole year?" Smith said. "We've done everything we can now. We're waiting for the NCAA."
If Smith doesn't get the waiver, he'll be eligible in mid-December. Whenever he's eligible, he'll have a real shot to be a force in the new Big East -- if he can last for significant minutes on the court. He said he's working on his pick-and-roll defense, something he said was a problem for him at UCLA. He said he has to adjust defensively much quicker and trying to catch Markel Starks coming off the pick isn't easy. He knows he has to be on the same page with all four defenders to ensure they work in concert. And offensively, with the Princeton basics within the Hoyas' offense, where a big man has to be a passer and shooter, he thinks he can thrive."
There are a lot of ifs. There are a slew of questions that only Smith can answer. This is on him. This is his time to decide if he wants to be a player, not just at Georgetown, but in the NBA.
It may not work out. He may not be able to get there. But he said he's truly committed to trying and working as hard as he can to ensure he is a success. The commitment on the court, with his weight and his endurance, isn't just a basketball problem, but rather a life choice. And the choice is all his.