Iowa not shying away from expectations
August, 9, 2013
08/09/13
9:47
AM ET
Iowa has no more excuses. This is the season.
The expectation is to contend for a top spot in the Big Ten and, at the very least, make the NCAA tournament for the first time since 2006.
A trip next week to England and France should be the start of something big for the Hawkeyes, the beginning of a program-changing season for fourth-year coach Fran McCaffery.
"There's no question about it," McCaffery said. "A lot of people expect it of us. A lot of people will pick us to be ranked in the top 25 in the preseason. That means you're an NCAA tournament team. The challenge is, are you a top-25 team? Are you an NCAA team?
"We can talk about a lot of things, but we have to take care of them. We have to be healthy, be consistent, be a better road team, a better 3-point shooting team. All of these things that we say are going to happen, we have to make them happen."
McCaffery hasn't shied away from what must be done. A year ago, in a similar conversation, McCaffery discussed how the Hawkeyes were close in 2012 but didn't defend well enough to get into the NCAAs. Iowa reached the NIT second round. The Hawkeyes won eight Big Ten games, 18 overall.
[+] Enlarge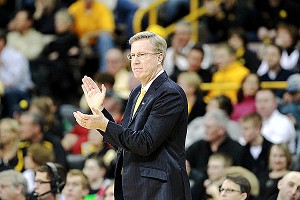 Reese Strickland/USA TODAY SportsIowa coach Fran McCaffery knows his team won't be short on talent this season.
Last season, the numbers showed two more NIT wins to the title game (before losing to Baylor), one more Big Ten win and seven overall.
There were plenty of late-possession losses, notably on the road at Purdue, Minnesota, Wisconsin and Nebraska. Iowa won only three road games -- at Penn State and Northwestern and then in the NIT quarterfinal at Virginia.
"We were way better, but we missed some opportunities to close games," McCaffery said. "We have to establish that we can make 3s, be more consistent offensively, get more individuals to score the ball on offense."
This isn't a team full of stars, but a crew that can produce at every position.
The roster is loaded with experience in Melsahn Basabe, Mike Gesell, Roy Devyn Marble, Zach McCabe, Aaron White, Josh Oglesby, Anthony Clemmons, Gabriel Olaseni and Adam Woodbury -- all significant contributors. Add Wisconsin transfer Jarrod Uthoff and freshman Peter Jok and the Hawkeyes can go 11 deep.
"We're a deeper team, a more experienced team, one that has now proven it can defend but now has to be more consistent making shots," McCaffery said. "I think we will."
Last season, Iowa's schedule was front-loaded in the Big Ten, playing Indiana, at Michigan and Michigan State in the first three games. The Hawkeyes lost them all, and the hole was too deep to crawl out from in the end. They also didn't get a chance to play Michigan or Ohio State at home in the unbalanced schedule.
This winter, the Hawkeyes play Ohio State, Michigan State, Michigan, Illinois, Minnesota, Northwestern and Wisconsin twice. The one-play road games are at Indiana and Penn State with the two at home against Purdue and Nebraska.
There are no excuses with this schedule. The opportunities are aplenty. Taking on Xavier in the Battle 4 Atlantis and then likely Tennessee and then perhaps Kansas in the title game offer power-rating points in the Bahamas. Hosting Notre Dame in the ACC/Big Ten Challenge and going to rival Iowa State will be two more RPI boosters.
"We were probably one more road win from getting in last year," McCaffery said. "We had four times where guys hit shots in the last 15 seconds. We have to make sure that doesn't happen."
It starts with this trip to Europe.
Gesell won't play due to a broken finger. That means everyone else has to play meaningful minutes. Olaseni is from London, so this trip is in part for him. But with a whopping six games on the schedule, it's clear McCaffery is intent on more than just sightseeing. He needs to incorporate Jok and Uthoff, and the trip will provide some answers on whether the team can really go 11 deep.
"I want to see Olaseni be more aggressive offensively. I want to see Woodbury be more aggressive offensively. I want to see Marble and White do what they're supposed to do and upgrade their game a bit," McCaffery said. "Uthoff, McCabe and Basabe should be scorers. We need those guys. Our strength lies in that very few teams will have as many good players. Some may have stars we don't have, but we have a lot of players capable of double figures."
Woodbury and Olaseni need to benefit as centers on the trip while Uthoff logging minutes after sitting out for a year is imperative, according to McCaffery.
The talk is done. The quest to complete the four-year plan of making the NCAAs and being nationally, not just regionally, relevant is now at hand. Iowa has won just one NCAA tournament game since reaching the 1999 Sweet 16.
The trip is the first step of what should be many if Iowa is truly going to be a March player once again.