Anticipation at Harvard at an all-time high
August, 21, 2013
08/21/13
1:16
PM ET
Harvard University has fielded a men's basketball team for the past 113 years.
Never in all that time has there been preseason buzz quite like the anticipation surrounding this season's Crimson team. Never anything close.
Not when Jeremy Lin was in Cambridge. Not in any season since.
And certainly not in any season prior.
Harvard is a legitimate preseason top-25 team. This once-dormant program has shared or won the Ivy League title the past three seasons, been to the NCAA tournament in consecutive seasons and is coming off a win in the NCAAs over 3-seed New Mexico, the school's first victory in the Big Dance.
[+] Enlarge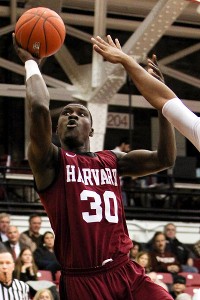 Debby Wong/US PresswireKyle Casey led Harvard in scoring in 2011-12 and now returns, along with Brandyn Curry, after withdrawing from school for a year.
Oh, and they essentially have the whole team back -- plus 2012 starters Kyle Casey and Brandyn Curry, who withdrew from school for a year, after being implicated along with a slew of other students in an academic scandal.
Harvard coach Tommy Amaker said Casey and Curry are back on campus, and have been cleared through the re-admittance process. There is no jealousy with their former teammates who did something they did not the previous season. There is apparently no fear of fighting for playing time.
"These guys were instrumental in recruiting Siyani Chambers and Wesley Saunders,'' Amaker said. "They all have a great relationship. Everyone is asking me who is going to play and I say, 'Why can't they play together?' I think we'll end up doing that. They all care about winning. That's how they are wired.''
Saunders averaged 16.5 PPG last season, while Chambers added 12.9. Two seasons ago, Casey led the Crimson at 11.4 points a game while Curry was the lead guard at 4.9 assists a game.
The Crimson don't get the national pub they deserve, but they certainly have earned respect within the sport the past few years. This offseason, the re-arrival of Curry and Casey hasn't been a major storyline nationally, but it should be. They did what they were told. They sat out a season. They worked. They waited. And they earned their way back.
"We talk about moments that can make for a great opportunity,'' Amaker said. "Oprah Winfrey spoke about moments and setbacks and failure at our commencement. These are Harvard kids. But it's still going to happen to them. It did. This was their moment. Embrace it. This is their time. We have a chance to be one of those stories this year.''
A series of firsts under Amaker have been checked off the past three seasons. A preseason top 25 ranking would be yet another. Reaching the Sweet 16 in March would certainly be a capper.
"We know that these things don't happen very often to programs or teams at our level,'' Amaker said. "For us to have the season we have had the past two years is amazing. We're proud of it. We embrace it. But we're hungrier to have it be even more meaningful. Our goal is to be a contender and to maintain our identity.''
The Crimson don't have summer school. So the players had internships, traveled and mostly played back in their hometowns. They went on trips together and they stayed in touch with each other. Now they're heading back to potentially have one of those memorable, special seasons that can last a lifetime.
The schedule is decent but could have been stronger. The Crimson are in a watered-down Great Alaska Shootout and should be the favorite to win in Anchorage. Road games at UConn and Colorado (on the way to Anchorage) will be benchmark games and should provide evidence of whether they're worthy of a national ranking. A home game against Boston College could be another indicator that the Crimson are the team of record in the state.
Amaker has played at the highest level at Duke, coached at a comparable spot in Michigan and also was at Seton Hall in the Big East. But the Harvard job has given him the most satisfaction of his career and now he's facing what he deemed "for sure" his most anticipated season.
"The whole journey has been meaningful,'' Amaker said. "The impact we've made on the Harvard community has been great. We have helped with the spirit at Harvard. We have added to it. We have connected people. I've heard this from so many people from all walks of life. And that is very meaningful to me.''