UNM's Neal survives hellish health scare
August, 23, 2013
08/23/13
5:05
PM ET
ALBUQUERQUE, N.M. -- Janet Neal's instincts from her nursing school classes, nearly two decades earlier, made her look closely at her son's discharge papers and medication after a simple diagnosis of gastroenteritis by a Sydney hospital doctor.
She knew something didn't seem right. The blood count results were not at a normal level, and her son Cullen's face told her things weren't well. The look was one only a mother or father knows. Cullen was scared. He was in pain. He didn't want to leave the hospital. He was convinced this was serious, much more so than any physician was noticing.
"I told [my mother] that I wasn't OK," Cullen said. "I couldn't get up."
So Janet grabbed the nearest nurse, a man standing nearby. She demanded someone take a closer look at the results. An ER doctor came to their aid and administered what should have probably been done a lot sooner -- an ultrasound.
No one wasted any time once the picture popped up on the screen. Cullen Neal's appendix had ruptured. An infection was spreading throughout his abdomen. His spleen and liver were being compromised.
"That's when they rushed," said Janet of the staff at the Royal Prince Alfred Hospital.
[+] Enlarge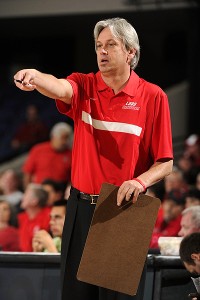 Matt A. Brown/Icon SMICraig Neal's first trip as head coach of New Mexico proved eventful in the worst of ways.
A few blocks away, first-year New Mexico coach Craig Neal, already distracted and distraught over his son's condition, was conducting practice for the Lobos' first game of their Australian tour.
"I was in the middle of practice and got word and then left as soon as I found out," Craig said. "There is a 10 percent mortality rate once it bursts. They told us it was the worst rupture of an appendix they had ever seen at this hospital."
Earlier in the evening of Aug. 5, in the final four hours of a 14-hour flight from Los Angeles to Sydney, Cullen Neal had been incredibly uncomfortable. He was sitting with his parents and brother Dalton. He didn't eat. He didn't drink. He didn't go to the bathroom.
He hadn't been 100 percent in the previous week while practicing with the team or with his high school all-star team, but he didn't say anything. This feeling on the flight was different, though. It was intense. When he got off the plane, Craig said he jokingly told Cullen to carry the luggage with the rest of the newcomers. He had no idea of the severity of the situation. There was idle time in the hotel lobby, and when the team got to its rooms, Cullen lay down and then couldn't get out of bed. He told his roommate, Australian native Hugh Greenwood, that he was in trouble.
"I literally couldn't move," Cullen said. "I nearly started screaming in pain."
His parents were called, and they jumped into a cab.
"Luckily we guessed the right hospital," Craig said. "We told the taxi cab driver to take us to the biggest one."
While the Neals weren't pleased with the initial treatment, they would end up being thankful they had landed at the Royal Prince Alfred, where Cullen would stay for 11 days. The surgery, the follow-up treatment, the consultations, the help with insurance, the phone calls, the warmth and the comfort are being remembered with fondness less than a week after they returned to the United States.
As soon as the rupture was evident, there was no decision on the surgery. It had to be done.
"I wasn't scared at that moment," Cullen said. "I was mad. I was mad because I wanted to play."
This was supposed to be the trip of a lifetime for the Neal family. It was, but for all the wrong reasons. Cullen Neal was an accomplished scorer at Eldorado High School in Albuquerque, and the plan was -- and still may be -- for Cullen to start next to Kendall Williams and Greenwood for the reigning Mountain West champs and prohibitive favorites this season.
But in those moments, as he was quickly being dressed for surgery, all of that seemed so distant and suddenly no longer possible.
Cullen didn't leave the hospital until the 24 hours prior to flying back to Albuquerque. Janet didn't much either. Craig had to be with the team in Sydney and Melbourne, so trainer Nate Burney was with them as much as possible.
The surgery was supposed to be brief, but the infection had spread so much that doctors needed to wash out his spleen, liver and intestines.
"It was that dicey," Craig said.
"Scary" is how Janet described it.
The post-op recovery was worse. For seven days, Cullen was attached to a sack, draining out the infected fluid.
Doctors told the Neals that the rupture either happened on the plane or shortly thereafter.
"I'm almost glad I didn't know when, especially if it were on the plane," Janet said. "I was worried enough."
Cullen wasn't in the clear even seven days out of surgery. His stomach was swollen. There was concern more surgery was needed due to a possible bowel obstruction.
"We sat there for two days, worried about another surgery," Janet said.
But it subsided in time to avoid a second procedure. Still, there was the issue of a return flight home.
Janet was with Cullen as Craig was coaching the team. She knew he felt helpless. She had no phone until they purchased a local number so she could call to get updates on the team and update family in the States.
Craig finished up the tour to Melbourne and the Gold Coast and got back to Sydney. Once Cullen was given the OK to travel, he had to be put on blood thinners for the trip home. That added another layer of anxiety. The flights were booked too, meaning the Neals had to be even more uncomfortable in coach. Fortunately, there was an open seat next to Cullen, allowing him much-needed space.
[+] Enlarge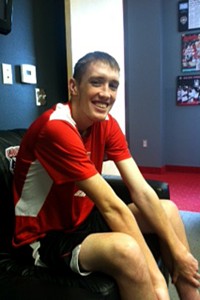 Courtesy of Andy KatzCullen, seen here earlier this week in his father's office, is eager to recover and pitch in as a freshman.
But he was weak. He didn't eat for two weeks. He had lost 20 pounds, down to a shrinking 160 on his 6-foot-4 frame.
"I think I only had one bag of fluid," Cullen said.
Craig Neal said UNM athletic director Paul Krebs helped him through the anxious moments while the team traveled. He said he's indebted to Burney as well.
"I knew how badly Cullen wanted to play," Craig said. "Our team went to see him, and they could see how sick he was. It was weird to then coach games. Before the games and as soon as the games were over, all I was thinking about was Cullen."
Cullen has been back in New Mexico for a week. He's gained five pounds but said he still has very little energy. He's staying at home so Janet can manage his diet. School started Monday, but Cullen will wait another week or so to start his freshman year until he has the stamina to stay in class. His plan is to move into the dorms next week, but that has Janet even more anxious. She worries about him eating right and getting his strength. The Neals met with a local surgeon who was pleased with the Australian doctors. A nutritionist has been planning his recovery too.
As Janet and Cullen sat in Craig's office Thursday, they were relieved that the worst was over. Patience has replaced fear.
"He's got to play," Craig said. "We need him in our backcourt. He's the guy we were counting on to provide a lot of minutes. As a dad, I think about redshirting him. But as a coach, I want him to play."
So, too, does Cullen. He said within six weeks he should be cleared to play. He can start some light conditioning once he has his weight and strength. But no contact for quite a while. There are internal stitches that need to heal.
"I'm pretty fatigued," Cullen said. "I don't have much energy. But it's coming back."
And so is he, as he prepares to play for his doting father, to play in front of his devoted mother, to play for his hometown team and to play a few months after the worst week and trip of his life -- one that could have had tragic consequences had it not been for his mother's perseverance and his own tenacity.