Reggie Theus returns to the college ranks
August, 26, 2013
08/26/13
4:57
PM ET
Editor's Note: All week ESPN.com is taking a look at new faces in new places. As part of our coverage, Andy Katz will be diving into the mid-major ranks to profile a different first-year coach each day.
Finally, Reggie Theus can talk about a team again -- a team of his own.
Theus' views on two Hall of Fame inductees have been coveted by the video arm producing a package in advance of next week's induction ceremony in Springfield, Mass.
He played for Jerry Tarkanian at UNLV in the 1970s. He coached under Rick Pitino at Louisville in the mid-2000s, including a trip to the 2005 Final Four.
Theus' career spanned quite a bit in between, from an NBA career that produced more than 19,000 points and 6,000 assists from 1978-91 to an acting career that placed him squarely in Hollywood.
In 2005, he finally got his head-coaching break post-Pitino, landing at New Mexico State when the WAC was still a player, and he led the Aggies to the NCAA tournament in 2007. He took over a team that was 6-24 and led them to a 41-23 record in two seasons before taking the head-coaching position for the Sacramento Kings.
But the upward trajectory took a turn when the Kings fired him in 2009, less than two months into his second season.
He struggled to get back as a head coach. The NBA didn't offer such an opportunity, although he was an assistant with the Minnesota Timberwolves from 2009-11. Colleges interviewed him (DePaul, USC, his alma mater UNLV), but no one bought.
"For whatever reason, those schools went in a different direction,'' said Theus, who was a finalist for the Runnin' Rebels' job that went to another former Tark player, Dave Rice. "It fuels my fire."
[+] Enlarge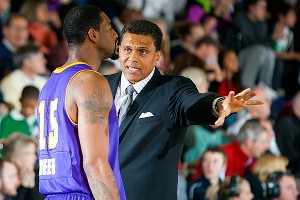 Rich Obrey/NBAE/Getty ImagesAfter coaching a season in the D-League, Reggie Theus remains in the SoCal area but is now back in the college ranks.
He went to the D-League last season as head coach of the Los Angeles D-Fenders, but he was still itching to head up a college program again.
The options seemed slim until Cal State Northridge opened. Theus credits president Dianne Harrison and athletic director Brandon Martin for sharing a similar vision.
When Theus was hired in April, Martin said, "We are excited to have him as the leader of our flagship program. His pedigree as an NBA player and coach, as well his ability to elevate a college program, made him stand out from a competitive pool of candidates. This is a game-changing hire for the CSUN basketball program. It speaks to our commitment to advancing our program to a national stage."
Theus found out how difficult it is to get another head-coaching job in Division I, even after departing on your own terms for the NBA. He discovered rather unexpectedly that even with contacts in the business, landing a head gig is never a given.
Now he's got one essentially at home, and it is easily his toughest challenge yet.
New Mexico State has had a strong, rich history in basketball, and the Las Cruces/southern New Mexico community embraces the Aggies.
Northridge is just another Cal State school in the system, hardly standing out from the rest. The Matadors were a thoroughly mediocre 14-17 last season, 5-13 in conference play. And in terms of the NCAA tournament, the Big West is not exactly a multiple-bid league.
But Theus can give Cal State Northridge relevance as few before him have. The onus will be on him to deliver players and wins, with the pressure coming only from within -- himself. No one thinks the Matadors will suddenly become some Western power. This is about making CSUN matter in March, enough to be a contender in the Big West tournament with a chance to earn a bid.
"My whole life I've been about grinding it out,'' Theus said. "It's what I've always done. I've coached at every level. I wanted back into college. Obviously, I could have gone to a higher level [as an assistant], but I wanted the opportunity to turn a program around again. I wouldn't have taken the job if Mr. Martin and Harrison hadn't sold me on the program and their vision. I wouldn't go to a school if I didn't think I could do the things I wanted unless I had the backing.''
Theus isn't fooling anyone about what needs to be done. He has to recruit at the highest level possible, make the Matadors entertaining to draw fans to their glorified high school arena (the 1,600-seat Matadome Matador Gym) in a crowded SoCal sports landscape.
"It's more about talent now, not just the school anymore,'' Theus said. "I can bring in as good a talent at Northridge as any school in the general area. I'm about developing kids and winning and giving them an opportunity to achieve some of the things I've achieved in my life. I'm happy and I'm at home with a great challenge.''
Speaking of home, Reggie Theus Jr. will not be joining his father in Northridge, instead honoring a commitment he made to South Carolina long before his dad got the Matadors job. Gamecocks coach Frank Martin was one of the first high-major coaches to see promise in Theus and offered him a scholarship.
"My son committed to Frank Martin before I got the job,'' Theus said. "I believe in honoring the commitment. Frank believed in him. He saw him play and said he had a great upside and he had the opportunity to play in the SEC. I just could not feel comfortable doing anything but what was right for him. Frank took an interest in him and saw things in him. Frank is the kind of coach that whatever he has in him, he can get out of him. I want him to be pushing him as hard as he can be pushed.''
Theus didn't hesitate, though, to go after transfers from "power five" conferences who were looking West to drop down a level. He landed three transfers in addition to a stud freshman. Seton Hall transfer Kevin Johnson (a 6-9 big man) and St. John's forward Amir Garrett (also a minor league baseball player) are on campus and seeking waivers, while Nevada transfer Devonte Elliott (a 6-10 power forward) will sit out this season and play in a year. The addition of freshman shooting guard Aaron Parks gives the Matadors an upgrade in talent, as well.
Theus believes Harrison wants to emphasize athletics. The previous administration invested heavily in the performing arts, with the $125 million Valley Performing Arts Center called a landmark building on the Northridge campus when it was built in 2011. Will the new regime go after an all-purpose arena?
Theus sure hopes so, but who knows. Campus infrastructure is out of his hands anyway. He can only seek talent on the court and ensure there are no issues off it for a roster that needs to represent the school well.
After assessing the roster, Theus thought the team was small, lacked girth and was too young. So he pursued height, strength and experience through transfers. That mix of bounce-back players and a few high schoolers is likely the path he must choose. How this team defends and shoots the ball are basic necessities. How much they make everyone notice Northridge in a conference that doesn't have a defined leader is paramount to any success.
Long Beach State is attempting to separate itself now that Pacific is gone. Santa Barbara, Irvine, Fullerton and Hawaii each would like to think it's a team of record in the league, too. The Big West had San Diego State and Boise State for a few months before both settled back in the Mountain West. Now any Big West team likely has a legitimate chance to take a turn at the top.
"The Big West is wide-open,'' Theus said. "There's no reason we can't make noise right away.''
If the Matadors get the waivers for Johnson and Garrett, they may shake up the league in Theus' first season. If the pair can't play this season, the upgrade in talent will be significant next year. Regardless, Theus says he will see this through. No one would blame him if he got Northridge to the NCAA tournament at some point and then sought a higher level.
But to do that, he had to get another Division I head-coaching job first. He did.
Now the pursuit begins.