Can Giacoletti make Drake a contender?
August, 27, 2013
08/27/13
9:21
PM ET
Editor's Note: All week ESPN.com is taking a look at new faces in new places. As part of our coverage, Andy Katz will be diving into the mid-major ranks to profile a first-year coach each day.
Wichita State is coming off a Final Four appearance and Creighton is gone.
If there ever was a time for Missouri Valley teams to step up to a challenge, it is now.
The door is open for some program -- even Drake, led by new coach Ray Giacoletti -- to fill the void left by the Bluejays and to challenge the existing power in Wichita State.
No one can duplicate Creighton in the Valley, not even the Shockers. Creighton had the ability to be the team of record in its state. The only competition was Nebraska, and the Cornhuskers were largely irrelevant when the Jays had their moments of triumph. Creighton dominates the coverage during hoops season, not to mention rank in the top 10 in the nation annually in attendance.
Wichita State is big in its town, though it will never topple Kansas in the state in terms of popularity and coverage. But the Shockers can be the dominant program for years to come as long as Gregg Marshall stays put as coach. He can build a Valley dynasty.
The chore for every other MVC team is to find a spot and challenge on a regular basis. Northern Iowa has a shot with the consistency of Ben Jacobson as coach. Illinois State is banking on Dan Muller to be the architect of a takedown. New member Loyola, the program replacing Creighton, has a chance.
[+] Enlarge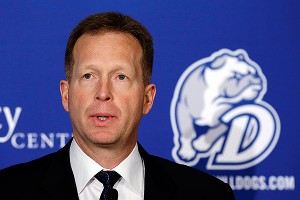 AP Photo/Charlie NeibergallRay Giacoletti is a head coach again -- this time at struggling Drake.
And don't forget about Drake. Giacoletti has the background to lift a struggling program starved for success.
He put Eastern Washington in the NCAA tournament for the first time. He guided Utah and No. 1 draft pick and player of the year Andrew Bogut into the Sweet 16. For six years, he was the top assistant to Mark Few at Gonzaga.
He is from Peoria, Ill., and coached as an assistant at Illinois State in the early 1990s. He's a Midwestern guy and knows the area. And he is determined to make Drake a destination program, considering Des Moines is the largest city in Iowa and thirsting for a winner to call its own instead of relying on the three other Division I schools in the state.
Giacoletti is convinced there is a commitment to build and to win with a new practice facility.
"Basketball is being seen as important,'' Giacoletti said. "We've raised the budget into the upper-third in the league. They've seen what branding a program at Gonzaga and Butler can do for an institution. I don't think a whole lot of people know about Drake.''
It's true. Since the early 1970s, Drake hasn't exactly made much of a mark in the college basketball world, outside a 28-win season in 2008 that garnered a 5-seed but ended with a first-round upset.
That season catapulted Keno Davis to the Providence job, where he later was fired and now coaches at Central Michigan. Davis was at Drake as head coach for one season, replacing his father Dr. Tom Davis. Mark Phelps, who replaced Keno Davis, got to the CIT twice but finished .500 just once in the Valley in five seasons and is now out.
Enter Giacoletti, who is hoping to mold Drake into another athletic-academic program that can be known for hoops in March. In this era of football ruling the college sports world, programs like Drake need an identity with its basketball team.
So far, so good. Drake has recruited well for 2014, working Iowa and Wisconsin. Giacoletti has a Midwest staff with Jeff Rutter, Bill Walker and Todd Townsend, all with area connections.
"You can already see the excitement in the commitments,'' Giacoletti said. "We are looking for that different kid in the Midwest, the academic kid. We want to do it like Davidson has done it. It can be done. What they did in 2008 is a great example.''
Giacoletti could have stayed at Gonzaga. He was comfortable. He's close friends with Few and the rest of the staff. He had no reason to leave. But he wasn't professionally satisfied after the way in which he was pushed out at Utah. He was gone after just three years, when a debut Sweet 16 appearance was followed by back-to-back losing seasons.
"The thing that changed was that I wanted to find a situation like Gonzaga out there,'' Giacoletti said. "I wanted to deal with the academic- and character-type of people. I had quite a few opportunities over the last six years, but I wanted to wait find the right one at this stage in my life. I feel as committed as they do to the values of this institution like at Gonzaga.''
[+] Enlarge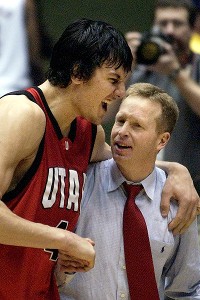 AP Photo/Charles Rex ArbogastGiacoletti led Utah to the NCAA Sweet 16 in 2005, but was just 25-39 the next two seasons.
Giacoletti isn't bitter toward Utah. He doesn't want revenge.
"More than anything, I want to prove to myself again,'' Giacoletti said. "I've been a successful head coach. I wouldn't trade what we did at Utah for the world. I got a chance to coach the best player in college basketball that year and win 29 games and go to the Sweet 16. The last year there was a teaching moment for me. For whatever reason it was a tough year. Life isn't always fair, but we had a lot of success. So now it's how you handle the tough times to determine what kind of person you are.
"The six years at Gonzaga gave me a different perception of what's really important again and reassured me on how to do things the correct way and what college athletics is about. I'm more suited for this situation than other institutions. I'm more suited for an academic-character type of kid and institution.''
Drake won't become a power in a year. It may never be. But Giacoletti's goal is to ensure the Bulldogs are in the Valley discussion. This season will be for learning, not quick fixes. Adding Jacob Jensen to the roster for this season was a bonus. The 6-11, 240-pound Denmark native gives the Bulldogs much-needed size and strength.
Drake finished 15-17 last season, 7-11 in the MVC. Expectations are even lower this season. The plan is in place to take this deliberately and not cut corners. Giacoletti wants Drake to be set up for the long haul. For now, his team is just another Valley team fighting to reach Wichita State's level.
How soon it finds its footing and makes a play at the Shockers is to be determined. But the new coach in Des Moines is singing an optimistic tune.
"I'm more excited now than five months ago," Giacoletti said. "We've got a plan in place. We're implementing it. We've got great momentum. Things are happening that I didn't think would.''