No regret for Graves at South Alabama
August, 29, 2013
08/29/13
10:49
AM ET
Editor's Note: All week ESPN.com is taking a look at new faces in new places. As part of our coverage, Andy Katz will be diving into the mid-major ranks to profile a first-year coach each day.
Matthew Graves had no idea Brad Stevens would leave for the NBA or anywhere else.
There was no deal for Graves to succeed Stevens. This was not like Gonzaga, where top assistants had been tabbed in their contracts to succeed Mark Few, only to leave once it was apparent Few wasn't going anywhere.
Graves had nothing in writing. Butler athletic director Barry Collier doesn't operate in that manner.
"There was never a guarantee,'' Graves said. "That wasn't in [Collier's] nature. He doesn't show his cards very often. You go in and do the best you can and work hard, and through your hard work you're rewarded appropriately.''
[+] Enlarge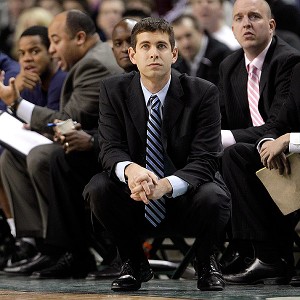 AP Photo/Amy SancettaLike most people, Matthew Graves (right) was caught off guard when Brad Stevens took the Boston Celtics job in July.
Besides, Stevens wasn't going anywhere, right?
"I always certainly thought he owed it to his family to explore his options," Graves said, "but to be honest I never dreamed he would be going anywhere anytime soon."
So Graves tried to forge his own identity. He was a finalist at Boston University in 2011, losing out to Joe Jones. He was a finalist at Morehead State in 2012, losing out to Sean Woods.
Graves, a former standout player at Butler, had never lived outside of Indiana. But he was willing to take a chance and not wait for Butler's head-coaching position, which might not open for years.
"I knew I was in a great spot as associate head coach at Butler," Graves said. "Why would I take a bad job and leave that? But I did want to see what it would be like to move a seat over and run your own program. And this is a wonderful opportunity.''
The chance he got this spring was at South Alabama. The Jaguars finished 14-6 in the Sun Belt last season (17-13 overall) and received a bid to the CollegeInsider.com Postseason Tournament. There is plenty of room for growth this season and beyond, especially with Western Kentucky leaving for Conference USA in 2014.
"Even though it's not a traditional powerhouse in basketball, I really believe it has a lot of untapped potential,'' Graves said. "The vision here is similar to Butler and the way they work and go about their business. I've been really impressed with the athletic administration's forward thinking. We've got a practice facility. We have a 10,000-seat arena with chair backs. We've got a nice weight room, a brand-new locker room, a player lounge. There are a lot of exciting things happening here.''
That said, he played and coached at Butler, so when Stevens shocked the basketball world and got the Celtics job in early July, Graves' name was naturally brought up in the replacement conversation.
Collier called him on July 4. Graves, after all, had been instrumental in building the Bulldogs' run with Stevens, coaching with him in consecutive national title games in 2010 and 2011.
But Graves couldn't do it. He didn't flinch, declining to even go through any kind of formal interview process.
"I had been trying to get a head-coaching job the last couple of years and South Alabama was willing to give me my first opportunity,'' Graves said. "I had been down here for four months. I couldn't turn my back on them. I didn't feel it was the right thing to do. I appreciate [the opportunity] and was thankful and really excited.''
Why? Well, for starters, Graves is convinced the Jaguars will be in the NCAA tournament in Year 1.
"We can be,'' Graves said. "We've got the best player in the league in Augustine Rubit. He's a sleeping giant, a phenomenal basketball player.''
Rubit averaged 19.4 points and 10.5 rebounds last season for Ronnie Arrow and interim coach Jeff Price, who replaced Arrow last December.
"Most people will see and truly appreciate how good a basketball player he is,'' said Graves of the 6-7 senior forward. "We'll allow him more freedom at the offensive end of the floor. We'll showcase his face-up game more. He's an outstanding talent. He could play for anybody in the country.''
Rubit will team up with wing Mychal Ammons, who Graves said will be a double-figure scorer again, and guard Antoine Allen.
"We're returning almost 40 points a game with those guys,'' Graves said. "We're putting our system in place, and if we cut down on turnovers we'll be a lot more successful this year.''
Graves said the "Butler Way'' can be transported out of Hinkle. He said putting team and character above self are easily movable traits.
"There's no reason why you can't take it other places,'' he said.
Graves brought in another Butler alumnus, Darnell Archie, so the Bulldogs' influence is strong.
South Alabama is hardly a lock to win the Sun Belt. Georgia State, Western Kentucky, Louisiana Lafayette and Arkansas State are all viable contenders for the league title.
But the plan is to mix in high school recruits and transfers to establish a winner long term.
Graves is just 38 years old, and with his wife and two elementary-school daughters, he is ready to forge his own path deep in the South.
Would he have gotten the Butler job (which eventually went to Brandon Miller) if he had remained on staff? Would he have gotten it if he had gone through with the interview process? Who knows. Graves and Miller have talked about the Bulldogs, but not much else. They have their own programs to run now.
And Graves, for one, is anxious to bring national exposure to South Alabama and the Sun Belt, much like Butler and the Horizon experienced while he was there.
"It is, in some respects, a lot like the Horizon League,'' Graves said. "We're in an undervalued league with a lot of talent that not a lot of people know about.''
Now it's his chance to make everyone notice by creating a Butler-like culture and winning attitude in Mobile.