Cougar family thrilled for Guy Lewis
September, 5, 2013
09/05/13
5:41
PM ET
Jimmy Duffer is one of the people you probably never knew was a part of the famed Phi Slama Jama.
Duffer and Ralph Adams were student managers. And yet they felt treated as equals by coach Guy V. Lewis -- on par with superstars Hakeem Olajuwon and Clyde Drexler.
"I don't know if words can do justice from someone as simple as me,'' said Duffer, now 51, and in his 11th year as head boys basketball coach at Milby High School in Houston. "I owe a lot to this man.''
This man, Guy V. Lewis, will be inducted into the Basketball Hall of Fame Sunday in Springfield, Mass., at age 91. He will be overshadowed by coaches Rick Pitino and Jerry Tarkanian in one sense because he has been out of the game longer.
[+] Enlarge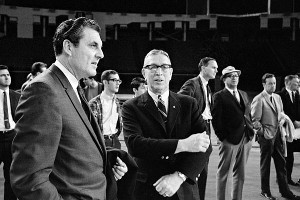 AP Photo/Ed KolenovskyGuy Lewis, seen here with John Wooden before 1968's "Game of the Century," was one of college basketball's true trailblazers.
But Lewis' five Final Four appearances, his coaching of the famed Cougars in that epic 1983 title game loss to NC State, and his ability to bring in immense talent like the aforementioned Olajuwon and Drexler and iconic names like Elvin Hayes, Don Chaney and Otis Birdsong put Lewis on a historic level. He will forever be remembered for coaching Hayes and the Cougars in what was termed the "Game of the Century,'' as Houston upset UCLA at the Astrodome in front of 50,000-plus and a national TV audience in 1968.
Yet throughout his career, Lewis had a tremendous effect on those who few knew -- people like Duffer.
"My parents didn't go to college, they were just hardworking people,'' Duffer said. "I wouldn't have gone to college. I couldn't afford to go. But this gentleman gave me a chance to be a small part of the team.
"I washed clothes, gave people shoes, I straightened chairs. My role on the team was a small one. But here's a guy, he paid for my school by giving me a scholarship and then gave me an extra year to finish. Ralph Adams had the same deal. That's how well he treated us. He made us feel special. I wouldn't be in this profession if it weren't for Guy Lewis.''
When Duffer and Adams were entering school, managers were allowed to be on scholarship, and Duffer said Lewis didn't hesitate to make it right for them. Lewis had known and recruited a few players at Milby, where Duffer was attending. So he offered a chance to Duffer, who was there to witness one of the most glorious runs in college basketball history from 1981-85 as the Cougars played in three straight Final Fours, losing in the title games to NC State and Georgetown in the last two.
"At that time, the majority of the people on the team were Houston products,'' Duffer said. "Everyone knew everybody. Houston was a small school in the Southwest Conference. We were different. We felt different. We all had a chip on our shoulder and didn't feel the conference treated us the same way. If we ever needed anything, we went to Coach Lewis.''
Lewis coached the Cougars from 1956 to 1986. That's it. His only stop. And Houston has never been the same since he left -- having gone to the tourney only four times since then, with zero wins.
"When he had his stroke [in 2002], we were all there in the hospital,'' Duffer said. "That's how it was. He's a part of all of our families. He felt like he was our granddad.''
Duffer said Lewis' small-town upbringing in Arp, Texas, may have had something to do with his ability to blend with anyone in a number of different situations. He certainly had a diverse team and pulled in players from all over the region, regardless of ethnicity or color of skin. Dave Rose, the current head coach of BYU, speaks so glowingly of Lewis and what playing for him has meant. Rose was a guard on the Phi Slama Jama team, hardly the high flyer but treated equally by his coach.
"Coach Lewis made a commitment to everyone he signed that if you played basketball at the University of Houston, he was going to pay for your education [with a scholarship], even if you went 15 years before you came back,'' Duffer said. "He was loyal to them and they were loyal to him. We were all Cougar family.''
[+] Enlarge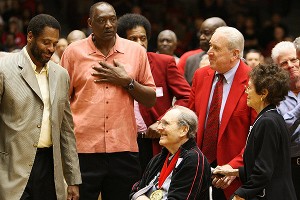 Bob Levey/Getty ImagesDon Chaney and Elvin Hayes helped Lewis put Houston basketball on the map in the 1960s.
Duffer said managers in the 1960s, who were there for the Elvin Hayes era, relayed to him that they were given the same privileges as the players then as they were during his era in the '80s.
Duffer said the '83 loss haunted Lewis for a long time. He said he wouldn't say how much, but it did. And for so many years, there was a growing concern among the Cougar family that Lewis' induction, if it came at all, would come too late.
"We all worried it would come after he passed away,'' Duffer said. "It was so important to all of us that he see this. He was such a pioneer in the game. He was in Houston, Texas, in the 1960s and going into small-town Louisiana and recruiting Elvin Hayes and Don Chaney and bringing them to Houston, which was still the Deep South. That was unheard of, and he did it.
"He wasn't someone who just rolled the balls out and didn't coach. He coached his ass off and everybody knew it.''
There was a strong push to get Lewis in over the years, and Duffer credits Olajuwon, Drexler, Birdsong and CBS broadcaster Jim Nantz, a UH graduate. Duffer said health problems will prevent him from being in attendance this weekend, but Adams, his fellow manager, and a number of other "Cougar family" members will be there Sunday.
"I wouldn't be in this profession I'm in without Guy Lewis,'' Duffer said. "I feel like my career has meaning now. I've been on cloud nine since it was announced. My players have no idea who Guy V. Lewis is, but they know he was Coach Duffer's coach. It means the world to me. I'm glad he's alive to see it.''
Editor's Note: For more reflections on Guy Lewis' career, read our full coverage in the Nation blog.