Danny Berger back on the court for USU
September, 13, 2013
09/13/13
1:04
PM ET
Nine days after collapsing during a workout, Wichita State's D.J. Bowles had surgery to install an internal defibrillator Thursday at the Mayo Clinic in Minnesota.
WSU coach Gregg Marshall told USA Today that the incoming freshman experienced a "cardiac arrest event" 30 minutes into the workout and "scared the heck out of all of us."
They know the feeling in Logan, Utah.
On Dec. 4, 2012, in preparation for a rivalry game against BYU, Utah State forward Danny Berger found himself moments from death. He went into full cardiac arrest. The heroism of Utah State trainer Mike Williams revived him with the aid of an automated external defibrillator.
[+] Enlarge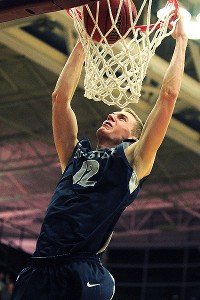 Tommy LaPorte/Icon SMIAfter a near-death experience last year, Danny Berger is ready to start a new season with Utah State.
Less than a year later, Berger is back on the court. He has an implanted defibrillator, put in while he was at the Intermountain Medical Center in Murray, Utah, within a week of collapsing. Berger is cleared to play for the Aggies without any restrictions. He is the product of modern medicine and cheating death, and he is embracing the second chance.
"Basketball is an enormous part of my life," Berger said. "I'm sure it is to a lot of people too. I want to be that guy that is an example to a lot of people. I want to give them hope."
Berger, a 6-foot-6 wing, is expected to be a full contributor for the Aggies in their first season in the Mountain West. He is in competition for a starting position.
Utah State coach Stew Morrill witnessed Berger's collapse during practice. So too did his teammates. Same goes for Bowles' teammates at WSU. And like Williams at Utah State, Wichita State trainer Todd Fagan is being hailed as a hero for his "quick and professional response," according to a statement from Shockers' athletic director Eric Sexton.
The perspective gained over the past year isn't lost on Morrill. The Aggies, a perennial power in the WAC, had a rare down season a year ago. Berger had transferred from a community college and was expected to contribute. Injuries took out Sean Harris, Preston Medlin and Kyisean Reed along with Berger. That's four scorers gone from an Aggies team that still mustered 21 wins and 11 in the WAC.
"I gathered the team together in summer workouts and told them that they've got to take care of themselves because last year killed me," Morrill said. "Danny then spoke up and said, 'Me too.' It was a great line. He has a great sense of humor. But seriously, he is an unbelievable kid."
Berger took his new life and wanted to do something more. He found out the AED used by Utah State was put in by a fund from Hoops for Heart Health, created by former Providence and current Oklahoma City Thunder wing Ryan Gomes.
Earlier this summer, Berger went to Connecticut to meet with Gomes and play in the foundation's golf tournament.
"He donated the AED that saved my life," Berger said. "I wanted to understand the education of these and how to get more of them out there. A lot of them need to be updated and need maintenance. We need to get people to understand how to use them too."
Gomes said his foundation initially put them in recreational centers, but eventually some universities came on board.
Twelve schools got AEDs -- and Utah State was one of them.
"To know Danny was saved by one of them means a lot," Gomes said, "but the credit goes to staff and trainer [Williams] to know what to do."
[+] Enlarge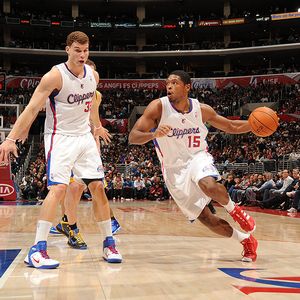 Noah Graham/NBAE via Getty ImagesRyan Gomes' foundation Hoops for Heart Health emphasizes the need for AEDs.
Gomes, who said the death of Stanley Myers in his home state of Connecticut got him interested in this project, spoke with Berger via Skype last winter when Gomes was playing in Germany.
"These aren't just for the well-trained athletes on campus but for everyone," Gomes said of the AEDs, which cost about $1,500 per unit. "You can see how when it saves one person's life, it changes the approach to them all over campus."
Berger said he and his father raised money to get one donated in his hometown of Medford, Ore.
"So when I hear about this happening to other people, I want to get the word out even more," Berger said.
"Danny has had a great summer," Morrill said. "He has worked hard in the weight room to get muscle definition. He nearly lost his life. He didn't think he'd play basketball again. He'll be a junior for us since he got his redshirt year back. He's ready to go."
Morrill said he will use Berger at both forward positions. He's more of a stretch 4 than a power player. Spencer Butterfield plays a big guard/wing for the Aggies, who will likely be somewhere in the middle of the pack in the MWC this season, behind favorites New Mexico and Boise State.
"When I met with Danny this summer, he said he'd be fine coming off the bench," Morrill said. "I said, 'Don't give that up already.' We've had lots of conversations, and nobody feels like he would be playing with restrictions. He wouldn't be out here if he had any. Knowing that he has that chest monitor in there is a big relief to me. I'm sure for him as well. I'm sure everything crosses his mind out there. The mental thing will be what he has to deal with the most.
"But it's business as usual here for us. Our trainer [Williams] is always right there. He saved Danny's life. But he gives us all confidence that he's there. If I felt there were any restrictions on him, then it would be tough, but there aren't."
Berger was cleared in the spring once he was healed from the surgery. He has been lifting weights, playing in open gym and gaining his strength.
"I'd like to think I've gotten stronger," Berger said. "I've started conditioning, and I'm running my guts out. I hope I'm even better than I was before."
He said there were periods of apprehension on the court at first, but they are gone. He said he needs to work on his shooting and ensure he's taking care of the ball to keep his assist-to-turnover ratio down. Rebounding, especially with his slight build if he plays the 4, will be critical too.
Wichita State isn't discussing Bowles' prognosis. The word from the Shockers is coaches, players and staff are still shaken up over what they witnessed.
Once they're ready, Berger can answer questions and show them recovery can safely occur.
Berger made it to the other side and not only lived to talk about it but is back playing the same game on the exact court on which he collapsed.
He can't wait for the season opener against USC on Nov. 8 in Logan.
"I've probably daydreamed about that moment at least once a day," Berger said. "It makes me think about how much I'm thankful to God for what he's done for me and the miracles he has performed in the past year. It could have gone the other way. I may not have been playing basketball right now, but I am. It's such a blessing and a special feeling to get out there and start playing again."