Cancer won't keep BYU's Dave Rose down
September, 25, 2013
09/25/13
7:46
PM ET
The scans have been occurring twice a year for four years now.
And in each of the past eight scans, as Dave and Cheryl Rose waited for the doctor to return with the news, there was that moment, those agonizing minutes that left them wondering the worst.
They always knew there was the possibility the cancer would come back in some form. Dave escaped one of the least desirable diagnoses -- a pancreatic tumor. Instead, he "only" lost his spleen, a piece of his liver and part of his pancreas.
When you're facing what could be a life-threatening situation -- he writhed in pain and spit up blood on a flight to Las Vegas in June 2009 -- the news of cancer reappearing is hard to digest. But it is doable.
Rose had already been at his lowest physically. He had no reason to believe there was anything wrong, since the BYU coach was trailblazing as usual this summer in recruiting. But cancer can strike without warning.
[+] Enlarge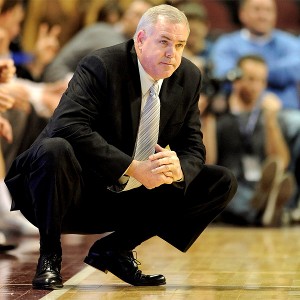 Ethan Miller/Getty ImagesDave Rose won't let cancer keep him off the BYU sideline.
"For 4½ years, you're hoping it wouldn't come back,'' Rose said. "Now they tell you it is. So you change gears. This is how we'll manage it. Eight scans clean and it wasn't an issue. But after each one, we had the conversation of what if the scan showed something. And then you hear it. It slaps you in the face. But then you realize, 'OK, this is what I've got, let's go.' We're looking at the positive things. It could be a lot worse.''
Rose said the first tumor was the size of an orange. The cancerous spots that were removed earlier this month, after the late August scan, "were half the size of a peanut.''
His doctors are aggressive. They won't wait for Rose to tell them when it's a good time to check. He has his regular visits set, with the next one in January. The recovery from this latest surgery won't be as long. No organs were removed. The incision was bigger, but the internal disruption was minimal compared to the previous procedure.
"I'm making sure I'm taking as much time as possible before the grind,'' Rose said.
Under a NCAA new rule, schools can start practicing 42 days before the time of their first game, meaning some programs can open Friday. The Cougars open their game schedule like much of the sport on Nov. 8, hosting Weber State. But the staff decided before Rose's surgery to start practicing Oct. 7 because of campus scheduling conflicts the following week. The surgery made holding off a better choice, too.
Rose has spent a few minutes a day in the office the past week. He was able to host recruits for the Utah-BYU football game last weekend. His strength and stamina are improving daily.
The appointments for the next scans are set for January and June. If there is an interruption in the season, to remove spots again, then so be it.
"This is my life now,'' Rose said. "There are a lot less invasive ways to remove the spots. Hopefully they don't have to do it but if they do, they could do same-day surgery. You could be out in the afternoon.''
His attitude has been tremendous. Cheryl has been a rock. His children have been strong, too. The BYU community's support has never wavered.
Oh, and the Cougars continue to win.
Since Rose's 2009 diagnosis, the Cougars have made the NCAA tournament three times and the NIT once. They have four NCAA wins and three in last year's NIT.
The Cougars are expected once again to be a potential thorn in the side of West Coast Conference leaders Gonzaga and Saint Mary's. It's a young and inexperienced frontcourt with a veteran backcourt.
"I like our chances,'' Rose said. "We've got a tough schedule, games I didn't want to turn down.''
BYU signed up for a loaded slate, including a date with Stanford on Nov. 11 as part of the Tipoff Marathon on ESPN2. They also play at the CBE in Kansas City with Texas and possibly Wichita State. Other games include Iowa State, rival Utah State in Salt Lake City, and on the road against Utah, Oregon and UMass
Freshmen Eric Mika and Luke Worthington will be expected to contribute immediately with returnee Nate Austin. Rose said Mika is one of the top recruits he has ever signed. If they can produce with Tyler Haws and Matt Carlino in the backcourt, the Cougars have a chance to be back in the NCAA tournament.
This team, like the four previous ones, continues to drive Rose to stay healthy, to get back as soon as can. Cancer isn't going to take away his career. For now, it is a stumbling block he can still hurdle.
The clean scans never meant he was always going to be cancer-free. He knew the possibilities, the odds of a return.
"Any time you mention cancer or a re-occurrence, then everyone's mind runs wild,'' Rose said. "The bottom line is for an abnormal situation, this is normal. This is the way it is designed to play out. The odds were this would happen. We're always hoping to beat the odds.''
But don't think for a second he is down or discouraged. He gets scared. Everyone does. But the care in Salt Lake City has been embraced. His optimism always high. His fight always on.
"The prognosis for me is so upbeat,'' Rose said. "I'm so positive. The tumor I have can be managed. That's not the case with all cancerous tumors. I've got one we can manage. Now we move on. I'm excited about this team. I'm going to be here for it. I can't wait.''