U.S. U-19 team captures first gold since 1991
July, 13, 2009
07/13/09
9:05
AM ET
Jamie Dixon, Matt Painter and Chris Lowery wore their gold medals around their necks Saturday night in Auckland, New Zealand.
They had them on as they made their way to the airport for the return trip back to the United States on Sunday.
Dixon, Painter and Lowery missed nothing while the majority of their head coaching and assistant coaching colleagues back home were shadowing high school players in such locales as Cleveland, Philadelphia, Cincinnati and any place where an NCAA-sanctioned evaluation event occurred.
They were accomplishing much more.
[+] Enlarge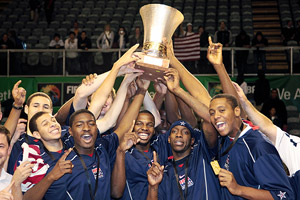 Brendon O'Hagan/AFP/Getty ImagesThe United States team won a gold medal at the FIBA under-19 world basketball championships for the first time since 1991.
"We would have just been sitting on a bleacher somewhere watching ball," Lowery said by phone from Auckland on Sunday afternoon. "As the tournament went on, our guys saw how important this was, and that made them want to win it more."
Winning the FIBA under-19 world championship -- a first for the Americans since 1991 -- isn't equal to Olympic gold. Nothing compares to the Olympics at the international level. But in a global landscape in which the game is no longer owned by the United States, winning this title is even more impressive. And the U.S. team did so with a collection of players who weren't household names, playing for three coaches who consistently win by taking players not overly recognizable at matriculation but who are commonly known by the time they finish their eligibility.
Pitt's Dixon, who replaced Davidson's Bob McKillop to make his coaching debut for USA Basketball, confirmed that 22 players from around the country had declined invitations to play in New Zealand. That number included Connecticut's Kemba Walker, who was the MVP of the McKillop-led American team that won the silver medal at the qualifying event last summer in Argentina. In fact, not a single player from last summer's qualifying team in Argentina was in New Zealand this summer. Walker declined to play for the team again this year to attend summer school.
Wake Forest's Al-Farouq Aminu, a projected lottery pick in 2010, was invited but declined to play for personal reasons.
The Americans beat Greece, 88-80, in the final. Croatia, led by tournament MVP Mario Delas, had been preparing for this event for two years. Most countries outside of the U.S. build toward this event in their junior national program and bill it as the premier event to win.
"This was unbelievable," Lowery said. "People have no idea how big a deal this was."
"There were lottery picks out there on a number of teams," Dixon said by phone from Auckland. "I think when our players saw the contingent of fans from Croatia they got an understanding of what this meant. This was a major, major event. This was a great experience."
Lowery said the team got a sense that they had the opportunity to finish better than projected during the combined trials in Colorado Springs, Colo., last month with the U.S. World University Games team. That team, which took bronze in Serbia Saturday, had projected NBA players on the roster like Mississippi State's Jarvis Varnado, Iowa State's Craig Brackins and Clemson's Trevor Booker. The expectations changed for this collection of rising players when they beat the WUG squad in a scrimmage at the U.S. Olympic training center.
The Americans won all nine games in New Zealand. They outscored their opponents by an average of 22.2 points, holding teams to 66 points a game, 38.2 percent on shooting overall, 30.7 percent on 3-pointers. They also outrebounded their opponents by eight a game.
If this sounds familiar then it should. This is exactly how Dixon's, Painter's and Lowery's teams win at Pitt, Purdue and Southern Illinois, respectively.
"They've had two years together and we had one month," Painter said by phone about the difference in preparation. "They all accepted their roles."
So who were they?
Kansas' Tyshawn Taylor led the team in scoring with 10.8 points a game. Kansas is expected to be led by guard Sherron Collins and Cole Aldrich next season and there's no reason to believe the top-ranked Jayhawks won't be dominated by those two players. But don't you think Taylor's confidence has risen after scoring 18 points in the gold-medal win?
New Georgia coach Mark Fox has an anchor in Howard Thompkins, who was second on the team with 10.6 points and five rebounds a game.
The consensus among the three coaches was that Butler will be extremely difficult to beat next season. That became apparent with the play of Gordon Hayward (10 ppg, 41.4 percent on 3s) and Shelvin Mack (5.9 ppg, 9 of 10 at the free-throw line), who remained consistent throughout the tournament.
Even though Duke transfer Seth Curry won't play in competitive games for a full year, the Liberty transfer now knows he can play with elite talent after his performance in New Zealand. Curry was a consistent player, making 19 3s in the nine games and averaging nine points a game. UTEP coach Tony Barbee was raving about Arnett Moultrie while watching him during the trials. Moultrie may have been last on the team with 4.4 ppg but he hauled in a team-high nine boards in the gold-medal win over Greece after grabbing 11 in a quarterfinal win over Canada. The Miners fully expect Moultrie to be one of the top players in Conference USA, especially if he's playing next to Derrick Caracter come January.
Northwestern, which fell a few games short of earning its first-ever NCAA tournament bid, has a gem in John Shurna. He only shot 6-of-18 from 3-point territory but all three coaches had high praise for his reliable effort.
Ole Miss coach Andy Kennedy has a budding star in SEC Freshman of the Year Terrico White. His numbers were erratic (27.6 percent on 3s, four assists and 11 turnovers) but he did make 44.3 percent of his shots and was one of the more athletic players on the squad -- which came in handy during the tournament.
Washington State's Klay Thompson came into the tournament as one of the top players in the Pac-10 and didn't disappoint by shooting 51.6 percent on 3s, 47.2 percent overall and averaging 7.8 points a game. Teammate DeAngelo Casto tore the meniscus in his knee on the trip and played in only four of nine games but still managed to average 6.3 points before he was shut down for the final five games.
Kentucky's Darius Miller hasn't gotten much pub this spring with all the attention on the Wildcats' incoming class of John Wall, DeMarcus Cousins, Daniel Orton, Darnell Dodson and Eric Bledsoe, as well as Patrick Patterson's decision to return to the team. Miller gained invaluable game experience with this squad, playing 14.4 minutes a game and scoring 5 ppg. He also turned in a team-high 12 blocks and tied Taylor for a team-high 14 steals.
But no one may have gained more out of this trip than Pitt's Ashton Gibbs. He has to replace Levance Fields at the point for Dixon. In nine games, he had 20 assists and just six turnovers to go along with seven steals.
"It's a credit to Jamie that there was no ego with this team," said Lowery, who along with Painter (whom Lowery was an assistant under at SIU) handled the substitutions. "He kept telling them how good we could be."
Dixon said he stressed to the players how the Americans hadn't won this event since 1991. The pride in the achievement of claiming gold didn't take long for them to appreciate.
The U.S. team wasn't the favorite in New Zealand. At the World University Games in Serbia, it was a different story. That's an event that requires all participants to be students in some form. Many elite European players become professionals as teenagers and wouldn't qualify. That's why the American model favors U.S. teams in that event and why the Americans have dominated it with 13 gold medals and a 131-8 record.
But winning the U-19 tournament was never considered a given. Painter, Lowery and Dixon didn't hesitate when they said winning gold was one of the highlights of their careers, so far. It should be.
"This is a major commitment," Dixon said of the monthlong training, practice and game schedule from Colorado Springs to Auckland. "Every player got better over the course of this month. Everyone contributed. The [selection] committee did a great job of putting this team together."
What did Painter, Lowery and Dixon miss being away from the recruiting trail? Nothing, especially when you consider that some high school sophomores or juniors never would have noticed if they weren't sitting in a bleacher wearing their school logo splashed across their chest.
Sure, all three are heading to recruit upon returning stateside Monday. But none would have traded the experience. They won gold when they weren't expected to.
That will last a lifetime.