Georgia Tech now faces tough ACC road
January, 6, 2010
01/06/10
3:55
PM ET
Georgia Tech hasn't won at Georgia since a few weeks after a Georgian (Jimmy Carter) was elected U.S. President in 1976. So Tuesday's road loss to the Bulldogs shouldn't necessarily be a major cause for alarm.
But there are certainly problematic signs. According to coach Paul Hewitt, the Yellow Jackets' offensive rhythm is out of sorts. The perimeter shooting is still a mystery at times (34 percent from 3 on the season) and the Yellow Jackets are leaning heavily on freshmen in Derrick Favors, Mfon Udofia, Brian Oliver -- and Hewitt said he'll use Glen Rice Jr., more in Saturday's home game against No. 5 Duke.
But the one thing the Yellow Jackets have that others in the ACC don't is a schedule that will almost force them to be an NCAA tournament team assuming there is no collapse.
This is not a team that is going to win just two ACC games like a year ago. It is too talented and the Yellow Jackets have already proven, even in a small way, that they are capable of much loftier goals with a victory over Siena, a 26-point win against a then-depleted USC, a road win at Charlotte and close losses to Dayton and Florida State in overtime (prior to Tuesday's loss at Georgia).
I know that's not enough to warrant an NCAA tournament bid now. Not even close. But the bids aren't being handed out in early January. The Yellow Jackets are the only team in the ACC this season that plays Duke and North Carolina twice. Georgia Tech also plays Florida State, Clemson and Wake Forest twice. Georgia Tech easily has the toughest schedule of any ACC team, so it's hard to see how the Yellow Jackets won't have one of the best power-ratings in the league.
Now, of course, that's assuming the talent comes to playl and they hold their own against this slate, beginning with a win over the Blue Devils this weekend.
[+] Enlarge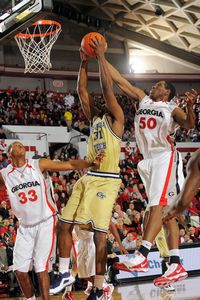 Dale Zanine/US PresswireGani Lawal scored 21 points, but it wasn't enough to snap Tech's long losing streak in Athens.
"[Junior forward] Gani Lawal pointed out to me after the Florida State game that North Carolina lost their first two league games last year -- one at home and one on the road -- and we know how that ended up," Hewitt said during the ESPNU College Basketball podcast that will be on ESPN.com Thursday. "Gani is still very confident, as I am. It's just a matter of us staying even-keel and not getting too high or too low."
Hewitt has said from the outset of the season that the Yellow Jackets can compete for the ACC title. Duke has played the most consistent of any contender and heads into the conference play as the favorite. But this isn't Carolina of a year ago. No one is living in fear of playing Duke or anyone else in the league.
"I think it's wide open -- everybody has some sort of flaw," Hewitt said.
Hewitt had visions of playing Ole Miss, Kansas State or Villanova in Puerto Rico in November to get the power-rating up in the nonconference. But a opening loss to Dayton put the Yellow Jackets in the consolation bracket and against George Mason and Boston University. Tech won both, but missed out on the higher-level games.
That's why Hewitt is glad the Yellow Jackets have the loaded ACC slate.
"It's going to help our strength of schedule," Hewitt said.
And he's right. Come March, an ACC record of let's say 9-7 at worst or even 8-8 against this slate will chart out much stronger than that of teams with similar records.
• Don't bag on New Mexico for losing to San Diego State. Winning on the road in the Mountain West can be as difficult as any other league. Too often the power six conferences get the preferential treatment in terms of "good losses" on the road. The Aztecs are a MWC contender and have won 22 of 23 at Viejas Arena, including 13 straight. But the Lobos may have to steal one big road win and that means winning at UNLV or BYU. Even if they lose all three, and let's say finish with a total of four losses in the conference, they should still be fine for an NCAA bid based on the overall resume.
• Notre Dame is playing and looking like an NIT team right now. The Irish blew a 13-point lead at South Florida before Luke Harangody made 1 of 2 free throws for the one-point win. Harangody, my preseason pick for national player of the year, probably can't win the award if the Irish aren't in the NCAA tournament. He should be in line to be a first-team all-American, but not the player of the year.
• OK, Rhode Island, you've done what you're supposed to by going 12-1 in the nonconference play. The Rams have wins away from home against Brown, Davidson, VCU, Boston College, Drexel, Oklahoma State and Akron. Two seasons ago, the Rams were 14-1 heading into the A-10 but then flopped when they couldn't defend in the league and finished 7-9. That's not going to cut it for a bid this season. The Rams must be a title contender to get a bid. It starts Sunday against Temple.
• Arkansas will be a much more dangerous team in the SEC with Courtney Fortson eligible. He made the Razorbacks look alive by going off for 19 points, seven assists and two steals in 33 minutes against Texas. Without Fortson, the Hogs have looked comatose at times in slogging through home losses to South Alabama, Morgan State and East Tennessee State.
• I'm not sure why there isn't more traction on this, but Texas senior Damion James should be one of the leading contenders for national player of the year. Kentucky's John Wall is a favorite, of course, but James has been just as stellar in his own way, playing up in the biggest games (25 and 15 against North Carolina, 23 and 13 against Michigan State).
• Seton Hall coach Bobby Gonzalez said early Wednesday that he probably made a mistake scheduling a Jan. 2 meeting with Virginia Tech in Cancun, Mexico. The Pirates were coming off Big East home games against West Virginia and Syracuse and are at Connecticut on Wednesday night.
"I'm not lying that it was tough for us," Gonzalez said of the whirlwind scheduling. "But we'll be alright. We've got a good team. We had two Big East wars, lost in front of sold-out crowds and then find ourselves on a neutral site in Cancun."
So the Pirates head into the UConn game on a three-game slide.
"Some people want to say the sky is falling, that we're not going to make the tournament," Gonzalez said. "We'll be fine. We'll beat some people. We're better than last year's team and we found a way to win seven league games. We'll find a way to do better than that."