Saturday, May 30 2020
ACC 7, BIG TEN 2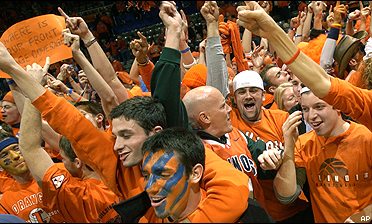 Illini students got the answer they wanted: Their team's legit.


The Matchups
MONDAY, NOV. 29
North Carolina State 60, Purdue 53
• Recap | Box Score

TUESDAY, NOV. 30
Georgia Tech 99, Michigan 68
• Recap | Box Score

TUESDAY, NOV. 30
Florida State 70, Minnesota 69
• Recap | Box Score

TUESDAY, NOV. 30
Duke 81, Michigan State 74
• Recap | Box Score

TUESDAY, NOV. 30
Wisconsin 69, Maryland 64
• Recap | Box Score | Katz: Badgers get point

WEDNESDAY, DEC. 1
Illinois 91, Wake Forest 73
• Recap | Box Score | Katz: Illinois' one to lose

WEDNESDAY, DEC. 1
Clemson 80, Ohio State 73
• Recap | Box Score
WEDNESDAY, DEC. 1
North Carolina 70, Indiana 63
• Recap | Box Score | Forde: Tar Heels can tussle

WEDNESDAY, DEC. 1
Virginia 48, Northwestern 44
• Recap | Box Score

More Features

Katz: Second to none
Chris Paul might have received all the preseason accolades, but it's backcourt-mate Justin Gray who has the more accomplished resume.

Katz: Unsung hero
Despite all of Wake Forest's stars, it might be an 'Inspector Gadget'-like player who pulls it all together for the Deacs.

Shelman: Matta feels at home
Thad Matta, simply put, is a Big Ten guy. That's why he's at Ohio State.

Katz: In for the long run
Wake Forest is built for the postseason, and they showed it on Monday Night against George Washington.

Bilas: UnACCeptable change


I simply don't agree with or like what the ACC has done, by expanding in the name of football.

Katz: Leader of the Pack
Tony Bethel is going to make an impact. He will be different than a host of other four-year transfers.

Katz: End of an era
Anything's possible for the nation's toughest and deepest conference -- except crowning a true regular season champ.

Forde: Davis on the line
"On the line" is the operative phrase for Mike Davis this season at Indiana. His job could be on the line, and his serenity absolutely will be.

Katz: Program with a buzz
Dave Braine gives Bobby Cremins credit for building Georgia Tech. But he admits that he was lucky to nab Paul Hewitt before someone did.

Katz: Justice For All
The NCAA got it right this time, punishing Missouri's coaching staff instead of its current players, who did nothing wrong.

Katz: Quin to win
Quin Snyder survived at Missouri. He's not going anywhere, at least not for the next few seasons.

Shelman: Spartans get the point
Drew Neitzel hasn't received the reception that typically accompanies a 6-foot, 170-pound freshman's arrival at Michigan State.

Katz: Carolina's unsung star
If all of this talk of national championship comes true, then it could be because of the cool and calm Jawad Williams.

Katz: Shavlik's time
Shavlik Randolph actually had a bit of a swagger. He was beaming with confidence. He didn't look timid at all.

Katz: Shades of Gray
Midnight Madness is less than 24 hours away, but teams who took preseason trips got a jump on the competition.