Field Goal %

Three Point %

Turnovers

Rebounds
Capacity: 16300
Referees:
Mark Whitehead, Paul Janssen, Keith Kimble
Freshman Ben McLemore had a career-high 33 points, including a tying 3-pointer with a second left in regulation, and No. 6 Kansas rallied to beat Iowa State 97-89 in overtime Wednesday night.
| | 1 | 2 | OT | T |
| --- | --- | --- | --- | --- |
| Iowa State | 38 | 41 | 10 | 89 |
| Kansas | 42 | 37 | 18 | 97 |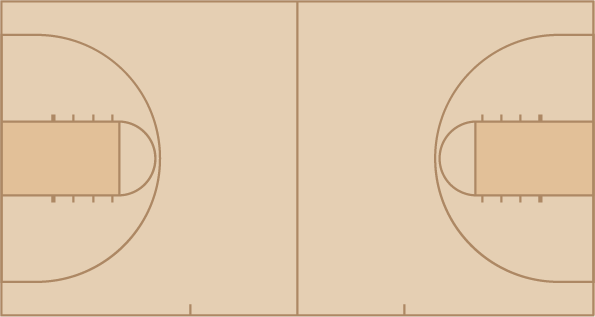 Iowa State
Ben McLemore scored 33 points while shooting 6-for-6 on 3's and 7-for-7 on free throws. McLemore is the 4th player in Big 12 history to score 30 points and shoot 100 percent on 3-pointers and free throws. The other 3 are Mike Singletary, LaceDarius Dunn and Denis Clemente.

Ben McLemore scored 33 points tonight, shooting 6 of 6 from 3 and 7 of 7 from the line.The last college player to hit at least 6 3-pointers and 7 free throws without missing one was Da'Sean Butler (WVU) on Feb. 6, 2010 against St. John's. He also scored 33 points, hitting 7 of 7 from 3 and 8 of 8 from the line.It's only the 4th time the feat has been accomplished in a conference game over the last 15 seasons.

Ben McLemore poured in a career-high 33 points tonight, tied for the most by a Kansas player under Bill Self. The last Jayhawk to score more? Paul Pierce in a win over Vanderbilt in December 1997.

Ben McLemore finishes 6-for-6 from beyond the arc Wednesday night against Iowa State. That ties a Kansas record for most threes made in a game without a miss, and sets the school's record for conference play.
Kentucky's Malik Monk talks to Paul Finebaum about how playing for the Wildcats has prepared him for the NBA draft.

A report analyzing the effects of Title IX shows that while spending is up across the board and progress has been made, gender gaps still remain.

Eduardo Perez and Kyle Peterson breakdown what it takes to figure out what pitch is coming before it's thrown at the College World Series.
2016-2017 Big 12 Conference Standings